President Barack Obama's job approval rating is up to 56 percent, his highest three-day reading since October 2009, according to the latest Gallup poll.
Although the president's job approval rating has been in the 50 percent range for much of the time since his re-election, the new high point this week coincides with the aftermath of the Dec. 14 mass school shootings in Newtown, Conn., according to Gallup.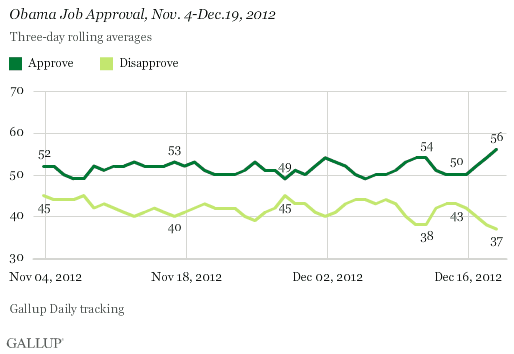 Obama's job approval had reached 54 percent during the week prior to the Newtown shootings, but had dropped to 51 percent from Dec. 11-13, the three days just prior to Dec. 14.
The timing of the increase in Obama's ratings could reflect a broad-based public reaction to the Newtown shootings, similar to the "rally around the flag" effect often seen at the start of wars and other threats to national security, in which Americans rally behind their leader, Gallup concludes from the numbers. It could also reflect the impact of the president's specific actions after the tragedy, including his attendance and speech at a Newtown prayer service Sunday night, and his appointment on Wednesday of a national task force to recommend steps that can be taken to reduce gun violence in the future.
The president is also in the middle of continuing negotiations with Speaker of the House John Boehner over a solution to the looming "fiscal cliff" crisis. Gallup polls find that the president gets significantly higher approval ratings on his handling of the fiscal cliff than does Speaker Boehner.
In the current three-day average of Obama's job approval rating, 91 percent of Democrats approve, along with 54 percent of independents and 16 percent of Republicans. The approval rating among Democrats is unchanged from last week, while the approval ratings among independents and Republicans are both up significantly, from 47 percent and 9 percent, respectively.
Survey Methods
Results are based on telephone interviews conducted as part of Gallup Daily tracking Dec. 17-19, with a random sample of 1,605 adults, aged 18 and older, living in all 50 U.S. states and the District of Columbia. For results based on the total sample of national adults, one can say with 95 percent confidence that the maximum margin of sampling error is plus or minus 3 percentage points.
© 2012, Glynn Wilson. All rights reserved.