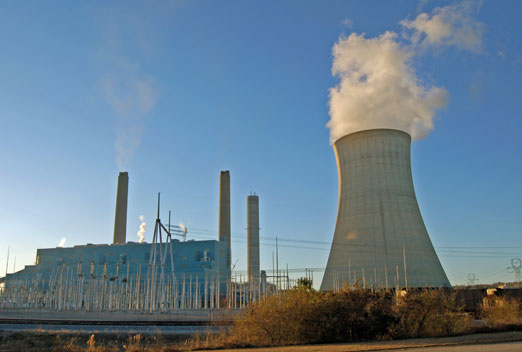 Alabama Power's Miller Steam Plant on the Locust Fork River emits more mercury into the air than any other power plant in the country. It is also a source of fine particulate pollution and ozone. –
By Glynn Wilson –
WASHINGTON, D.C. – The U.S. Environmental Protection Agency has finalized changes to Clean Air Act standards for boilers and incinerators that will achieve "extensive public health protections by slashing toxic air pollution," including mercury and particle pollution, according a release just out Friday from the Obama administration.
The agency admits the final regulations deal with feedback from industry and labor groups, but claims an increase in the rule's flexibility while at the same time reducing costs to industry.
"As a result, 99 percent of the approximately 1.5 million boilers in the U.S. are not covered or can meet the new standards by conducting periodic maintenance or regular tune-ups," the EPA says. "The final adjustments to the standards are based on an extensive analysis of data and input from states, environmental groups, industry, lawmakers and the public."
As a result of information gathered through this review, EPA says, "the final rule dramatically cuts the cost of implementation by individual boilers that EPA proposed in 2010. At the same time, these rules will continue to deliver significant public health benefits."
EPA estimates that for every dollar spent to reduce these pollutants, the public will see $13 to $29 in health benefits, including fewer instances of asthma, heart attacks and premature deaths.
This regulation sets numerical emission limits for less than one percent of boilers, "those that emit the majority of pollution from this sector," the agency says. "For these high emitting boilers and incinerators, typically operating at refineries, chemical plants and other industrial facilities, EPA is establishing more targeted emissions limits that protect public health and provide industry with practical, cost-effective options to meet the standards."
Although the most restrictive limits will affect just 1 percent of the nation's nearly 1.5 million boilers, industry had fought restrictions in the past because these facilities are integral to the operations of hospitals, paper plants and factories. Boiler owners will have three years to meet the new standards, with a possible extension for another year after that, so they have until 2016 to upgrade plants with new pollution control equipment.
EPA has also finalized revisions to the Non-Hazardous Secondary Materials Rule to provide clarity on what types of secondary materials are considered non-waste fuels and provide greater flexibility in implementation.
"This final rule classifies a number of secondary materials as categorical non-wastes when used as a fuel and allows for operators to request that EPA identify specific materials through rulemaking as a categorical non-waste fuel," the agency says.
Particle pollution and other harmful pollutants released by boilers and incinerators can lead to adverse health effects including cancer, heart disease, aggravated asthma and premature death. Toxic pollutants such as mercury and lead that will be reduced by this rule are linked to developmental disabilities in children.
"These standards will avoid up to 8,100 premature deaths, prevent 5,100 heart attacks and avert 52,000 asthma attacks per year in 2015," the agency says.
In a separate EPA action today, to meet a court deadline, the agency issued final amendments to the 2010 clean air standards for the cement manufacturing industry. The final amendments maintain the significant emission reductions from the 2010 standards, while providing industry additional time to implement the revised rules. Cement plants will not have to comply with the new limits until September 2015, two years after they were originally set to take place.
There are fewer than 115 cement plants in the United States, but they account for 7 percent of the mercury released into the air from stationary sources. Mercury contamination gets into the food chain when it enters waterways and soil in the form of precipitation, and it can cause neurological damage in infants and young children.
Click here for more information.
More detailed information on the final standards for boilers and incinerators is available here.
© 2012 – 2015, Glynn Wilson. All rights reserved.