By Glynn Wilson –
A significant majority of the American people oppose the U.S. government stepping in to enforce federal anti-marijuana laws in states where the people have voted to make it legal for medical or recreational use, according to the latest Gallup poll on the subject, which found that 64 percent of Americans want the federal government to leave pot smokers in those states alone.
Americans who personally believe that marijuana should be legal overwhelmingly say the federal government should not get involved at the state level, and even 40 percent of those who are opposed to legalizing marijuana share this view.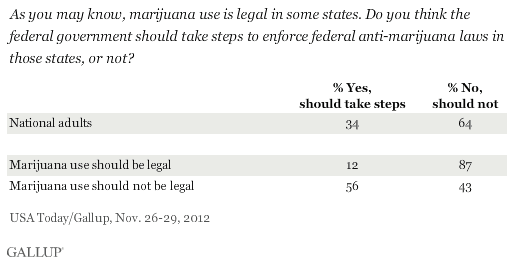 The issue of what the federal government should do in these situations is now at the forefront of public policy discussions since a majority of voters in Washington state and Colorado have now spoken and say legalized possession of small amounts of marijuana should be legal.
Of course these state laws are at odds with the federal Controlled Substances Act that makes marijuana use illegal, so it will be informative to see how the Obama Justice Department handles the issue. An aggressive federal stance would be quite shocking considering President Barack Obama's own public admissions that he was at least once a pot smoker himself. Such a public policy stance would also be bad for the economy, since moving in the direction of regulating and taxing marijuana would help get the herb off the black market and into the mainstream economy. Taxes on the legalized product could bolster federal, state and local government coffers in a time of austerity in the wake of the Bush Great Recession.
While all of the precise policies on how the new law making recreational use of pot legal in Washington must still be worked out, Gallup concludes that the number of people who gathered near the Space Needle in Seattle last week to publicly celebrate their state's new law "underscored this potential conflict between what could be legal under new state laws while remaining illegal at the federal level."
"The results from the Nov. 26-29 USA Today/Gallup poll indicate that the average American sides with the states in these instances of conflict," Gallup says.
At the same time, according to Gallup, Americans remain divided in their overall support for legalization of marijuana use, with 48 percent saying it should be legal and 50 percent saying it should not be.
Americans' views are roughly the same as they were last October, but as recently as 2005, only about a third of Americans supported marijuana legalization. In 1969, when Gallup first asked about the issue, 12 percent supported legalizing use of the herb.
"Gallup's trend question wording does not specify whether the legalization in question is at the federal or the state level," Gallup concedes. "It is possible that Americans have differing views on the issue of making marijuana legal in certain states as opposed to a blanket law at the federal level that covers the entire country."
About 60 percent of Americans between the ages of 18 and 29 support legalizing marijuana, while about the same number of those 65 and older say they are opposed. The bulk of middle-aged Americans between the ages of 30 and 64 are split on the issue.
Americans also differ on this issue by partisan affiliation. A majority of Democrats favor legalization and a majority of Republicans oppose it, while independents are split.
While this is not mentioned in Gallup's analysis, this is one of those issues where there is a clear conflict between the stated goals and platforms of the Republican Party and the position Republicans take on public policy issues. One of the stated fundamental beliefs of Republican politicians is that states should have a right to make their own laws. They often cite the fact that the U.S. Constitution itself reserves all lawmaking to states not specifically outlined for the federal government in the Constitution. No where in the Constitution does it say the federal government should outlaw marijuana. In fact, a number of the founding fathers grew hemp as a commercial product in their time.
Gallup's Bottom Line
"The legalization of marijuana in Colorado and Washington has highlighted the challenges the federal Justice Department faces in its decision-making on how to handle state laws on marijuana use that conflict with national laws," Gallup concludes in its analysis of the public opinion data. "The significant majority of Americans would advise the federal government to focus on other issues, even though public pot smoking in states where it is legal flouts national laws currently on the books."
"By contrast, there is no clear-cut direction from the American public on the underlying issue of legalizing use of marijuana," Gallup says. "Although support for legalization has risen substantially over the past 43 years, the public remains divided, with Democrats and young people most in favor, while Republicans and older Americans are most likely to be opposed."
The Locust Fork News-Journal Bottom Line
The Obama administration would do well to let the people in Washington, Colorado, Oregon, California and other states have their way on this issue and spend limited federal law enforcement resources on other things in other areas. There are already way too many people filing the nation's overcrowded prisons for minor, non-violent drug offenses as it is. This is expensive and foolhardy, when taxes from marijuana could be used like taxes on alcohol, cigarets and gambling to shore up federal, state and local budgets at a time of great national austerity and while the public remains overwhelmingly against increases in income taxes.
While Republicans always claim to be so damn conservative and for "state's rights" and "individual liberties," on this issue they prove to be hypocrites on a regular basis. It is high time the herb marijuana be removed from the so-called "war on drugs" to save millions of dollars in law enforcement costs and to raise money governments desperately need.
This could be a great legacy of President Obama's second term if he would embrace the idea. While he is at it, we should move with all haste to lift the trade embargo on Cuba completely. It is a Cold War era policy that, if lifted, could cause many economic boats to rise, especially in the American South.
Survey Methods
Results for this USA Today/Gallup poll are based on telephone interviews conducted Nov. 26-29, 2012, with a random sample of 1,015 adults, aged 18 and older, living in all 50 U.S. states and the District of Columbia. For results based on the total sample of national adults, one can say with 95 percent confidence that the maximum margin of sampling error is plus or minus 4 percentage points.
© 2012, Glynn Wilson. All rights reserved.