By Glynn Wilson –
The latest Gallup poll on the subject of immigration reform, one of the big issues facing the 113th Congress, shows that a majority of the American people stand with the position taken by Democrats, and that as the Republicans continue their obstructionism on this issue, they risk losing what little minority support they've had in the past in future elections.
Much of U.S. policy discussion about immigration and immigration reform is focused on illegal immigration from Latin America, making the subject particularly relevant to Hispanics, according to Gallup, which finds that 60 percent agree more with the Democratic Party on immigration, while only 26 percent agree more with the Republican Party.
"This represents a greater preference for the Democrats among Hispanics than is seen in their general political party identification," Gallup says.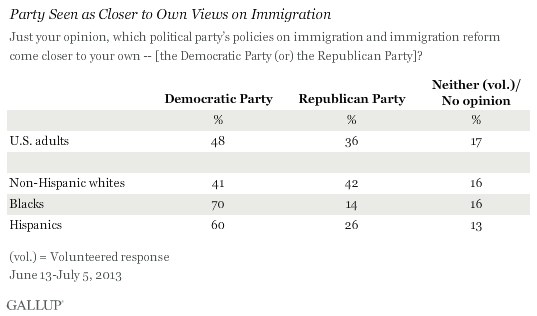 Throughout 2012, Gallup found 51 percent of Hispanics identifying with or leaning toward the Democratic Party and only 24 percent identifying as or leaning Republican. But they are watching how this Congress deals with the issue, and even many Republicans have recently come out and said publicly that the party risks losing what little minority support they have received in the past.
Even Karl Rove, the polling guru who orchestrated the presidential elections of George W. Bush in 2000 and 2004 with a percentage of Latin American voters, says the Republican Party could lose Latino voters for good if some form of immigration reform isn't passed.
"This is a threshold issue," Rove said on Fox News. "And if Republicans don't get past it, we may end up seeing the Latino vote go the way of the African-American vote. And that is totally in the Democratic column."
American blacks also heavily favor the Democratic Party on immigration policy, with 70 percent saying its policies come closer to their own views on the issue, while only 14 percent name the Republican Party.
"This represents a slightly weaker favoritism toward the Democrats than blacks show in basic party identification," Gallup says. "Whites, on the other hand, are about evenly split in their party preferences on immigration, similar to their overall party ID."
Blacks aged 50 and older are the most likely to say the Democratic Party's views on immigration more closely match their own (76 percent), followed by younger blacks (67 percent), older Hispanics (64 percent), and younger Hispanics (59 percent).
Whites aged 18 to 49 also show a slight tilt toward the Democrats on this question, with 44 percent saying their views are more in line with that party, versus 39 percent choosing the Republican Party.
"Whites 50 and older are the only racial/ethnic age group to skew the other way, with 46 percent naming the Republicans and 39 percent the Democrats," Gallup says.
High percentages of Republicans (85 percent) and Democrats (89 percent) identify with their own party on immigration, while independents are about evenly divided.
The same poll found Americans broadly supporting each of four proposals for dealing with immigrants living in the U.S. illegally that are found in the Senate's immigration reform bill.
Notably, those who favor tightening border security and requiring employers to check the immigration status of their employees — two signature Republican issues — are about equally likely to name the Democratic or the Republican Party as the one they more agree with on immigration.
At the same time, the slight majority of those who favor expanding short-term visas for skilled workers and creating a path to citizenship for illegal immigrants — two proposals strongly advanced by the Democrats — say the Democratic Party's immigration views match their own.
The association between Americans' specific views on immigration and the party they believe more closely represents their immigration views is somewhat stronger when it comes to immigration priorities.
Those whose say that halting the flow of immigrants coming into the U.S. illegally should be the priority are more likely to say the Republican Party's policies rather than the Democratic Party's are closer to their own: 50 percent vs. 32 percent.
By contrast, those who say the priority should be dealing with immigrants currently in the U.S. illegally identify even more strongly more with the Democratic Party on immigration, 61 percent to 25 percent.
Gallup's Bottom Line
"The Democratic Party has an edge over the Republican Party in Americans' perceptions of which major party more closely shares their own views on immigration and immigration reform," Gallup concludes.
Survey Methods
Results are based on telephone interviews conducted June 13-July 5, 2013 with 4,373 adults, aged 18 and older, living in all 50 U.S. states and the District of Columbia, including oversamples of black and Hispanic adults. All respondents had previously been interviewed in the Gallup Daily tracking survey. The total sample is weighted to represent racial and ethnic groups proportionately to their share of the U.S. population. For results based on this sample of national adults, one can say with 95 percent confidence that the margin of error is plus or minus 2 percentage points. For results based on sample of 2,149 non-Hispanic whites, the maximum margin of sampling error is plus or minus 3 percentage points.
© 2013, Glynn Wilson. All rights reserved.