Newspapers Are Still Taking a Nose Dive
By Glynn Wilson –
If you want to understand what's going on in American politics, it's critical to keep up with public opinion survey research. It's a flawed tool to be sure, but it's the best tool we have.
At election time, politicians of all stripes claim they don't pay attention to "polls." Perhaps that's another reason many Americans think all politicians are liars. You can't get elected to public office in this country without paying attention to polls. Most campaigns, at least on the national level, are tailored with the additional social science tool of focus groups.
To understand what's going on in the world, it is also critical to know where people get their information. That's why pollsters also ask people where they turn for news. This also helps identify key trends, like the growing number of people who get their news online as opposed to print newspapers.
The latest Gallup poll on the subject shows that, when asked, 21 percent of the American public say they are now turning to the Web, which they access via the Internet, as their primary method of finding out what's going on in the news around the world, in their country, state or community.
Of course television is still the dominant medium of communication that has captured peoples' attention for the past 60 years, although independent data not covered by the Gallup poll shows that more and more people are becoming disillusioned with the information they get from the "boob tube" and are searching around for people who know what they are talking about who publish on the Web.
Gallup finds that a majority of the American public, 55 percent, say they turn to television as their primary medium for news, while only 9 percent now name newspapers and only 6 percent say radio.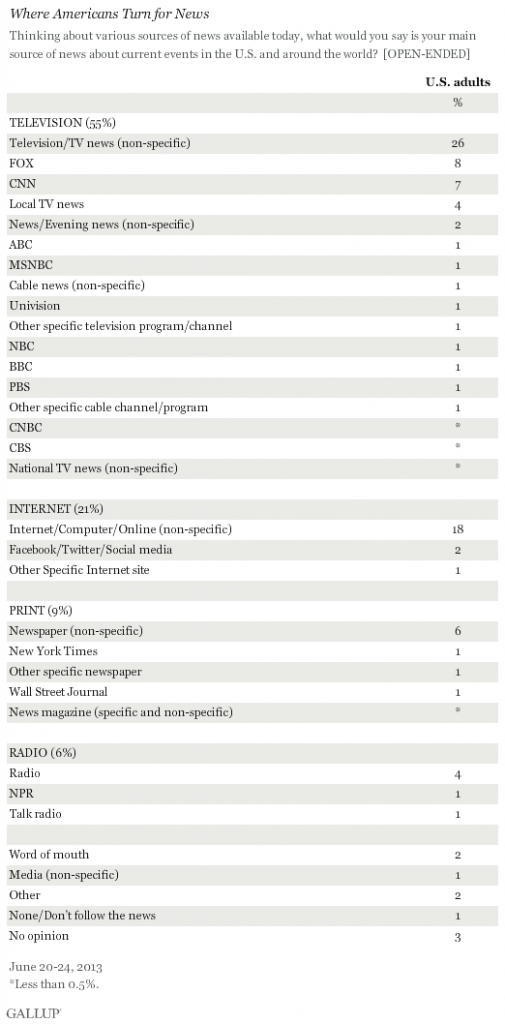 Considering the dominance on commercial radio by "conservative talk," the downward trend of radio might be considered a good thing by many, although a tiny fraction of those folks may be talking about National Public Radio, which of course conservatives think is "liberal." Although since is supposed to be "educational" in its mission for having the right to be broadcast over the "public" airwaves, it should operate on the scientific definition of objectivity, not the economic one. So sensationalism just to get traffic on Twitter should not be the goal.
While NPR is still an interesting part of the mix for any truly educated American, it appears to have succumbed to a perceived conservative trend on the part of Americans, and with a large part of its funding coming from big corporations, it too seems to have become compromised for those seeking independent news on the Web. Of late with the competition for the publics' attention with social networking sites such as Facebook and Twitter, it has lagged in its standards in the chase for "hits" with sensational headlines.
One of the problems with Gallup's research is that when people say they turn to television for news, it is not clear whether they are talking about the national network nightly newscast, local news or cable news. So Gallup has begun asking people probing questions to get more specific in its analysis. It's still not perfect, so as someone trained in public opinion research, I always add some of my own analysis in the mix and do not just rely on the Gallup story from its Website, which is really just a press release anyway.
The latest research shows that more than half the references to television are general, with 26 percent simply saying they watch television or TV news. When probed, 4 percent say they turn to local TV news, and only 2 percent indicate they still watch the national, nightly "evening news."
Another 8 percent say they turn to Fox News, and 7 percent keep up with CNN.
No other specific channel — including MSNBC, PBS, BBC, and all of the U.S. broadcast networks that once dominated the news landscape, including CBS, NBC and ABC — is mentioned by more than 1 percent of Americans in a country of 313.9 million people.
Now 18 percent of Americans say they turn to the "Internet" as their primary medium on which to get news and information, but again the reference is too general. So when probed for where on the Web they turn, Gallup found that 2 percent identify Facebook, Twitter, or "social media" as their source, while 1 percent mention a specific online news site such as the New York Times or the Wall Street Journal, which are specifically named by 1 percent of Americans.
No other news site was named by as much as 1 percent of the people, even though there are some really great sites on the Web that are now in ascendency, including this site and the Washington Post, for example. The Post has actually done a better job of becoming a national newspaper on the Web over the past decade covering key, important news than either the Times or the Journal, in my educated view.
So Gallup is lumping all those together and calling it "the Internet," which would also include e-mail lists, when what they really mean is "the Web." That's where the 21 percent number comes from.
Here's the way to look at it.
The Internet is the on-ramp to the Information Superhighway, the World Wide Web. The Internet is made up of all the wires, connectors and computer servers connecting Internet Service Providers (ISPs) and their customers by phone lines, cables and satellite. The World Wide Web, or Web for short (remember www dot), is made up of the information you can read on the Web by accessing it through the Internet. That's why I call this the Web Press. Articles that are publicly available through a Web browser like Safari, Firefox and Explorer are "published" on the Web. Of course you have to be connected to the Internet to read them.
To have an intelligent conversation, people need to know the definitions of the words they are using. Otherwise, confusion reins over our public affairs.
BTW or by the way. It is probably the over simplistic reporting on television that has caused this confusion. I doubt there is a single broadcast journalist in American who understands this distinction. I doubt there is one who cares enough to find out.
Now to the demographic break downs.
TV's the Primary News Source for All Age Groups
"If the current media preferences of young adults are any indicator of the future, the data offer good news for TV, but bad news for print media," Gallup finds.
Half of adults aged 18 to 29, and half aged 30 to 49, identify television as their main source of news. This is nearly double the rate for the Web even among these more tech-savvy populations. However, it does differ from older generations who put relatively more emphasis on TV and less on the Internet.
At the same time, heavy reliance on print is exclusive to seniors, among whom 18 percent cite newspapers or other print publications as their main source of news. By contrast, 6 percent to 8 percent of younger age groups rely on print.
Few adults of any age say their main source of news is radio, Gallup says. While many Americans certainly tune in to radio for entertainment as well as talk radio, it is clearly not the place most turn for hard news about current events, which does not bode well for public radio.
In addition to older folks, highly educated Americans — college postgraduates — put the most emphasis on newspapers or other print publications, with 19 percent name it as their main source of news.
However, this drops to 7 percent among college graduates, 8 percent among those with only some college education, and 7 percent among those with no college experience at all.
Employment a Key Factor
Working Americans — those employed, either full or part time — are much more likely than those not currently working to identify the Internet as their main source of news, 26 percent vs. 15 percent. Those not working prefer television at a higher rate, but TV is still the top choice among both groups.
Employed adults are also more likely to cite radio as their primary news source, "likely reflecting the listening habits of some commuters," Gallup says.
Republicans Watch Fox – Some Democrats Still Read Newspapers
Gallup also finds partisan differences in where Americans choose to get their news, although television dominates among all three major groups.
Republicans are more likely than independents or Democrats to say their main source of news is television. At the same time, independents rely the most of the three groups on the Internet, while Democrats put the most emphasis on print.
Fox News is a clear driver of Republicans' higher tendency to turn to television for their news, with 20 percent of Republicans saying they get most of their news from Fox. Only 6 percent of independents say they watch Fox and only 1 percent of Democrats do.
"No other television, print, or online news source generates as much loyalty from either Democrats or independents," Gallup says, which could indicate a bad trend for American, since Fox News is an ideological conservative, patriotic Republican entertainment network, not a news network. It is owned by Rubert Murdoch, king of the sensational British tabloids, and is not even registered as a news network with the Federal Communications Commission. It is registered as an entertainment network to get around having to be "fair and balanced," even though it uses that very slogan to promote itself.
CNN, which was started by Ted Turner in Atlanta in the 1970s and just came to national prominence 20 years ago during the first Gulf War, is named as the top news medium by 10 percent of Democrats, 6 percent of independents and 4 percent of Republicans.
Fox and CNN Viewers Differ
"Underscoring the different partisan preferences of those who rely on Fox News vs. CNN for their news, the demographic and political profile of Americans who name each as their top news source are highly distinct," Gallup says in its analysis.
For example, nearly two-thirds of Fox News-oriented news consumers are 50 and older, compared with barely a third of CNN news consumers. Sixty-nine percent of the Fox News group say they are involved in a traditional marriage between a man and a women, while only 37 percent of the CNN group say they are married. Core CNN viewers are more likely than Fox viewers to be male, while core Fox viewers are much more likely to be white, Protestant, to attend church weekly and to earn more than $75,000 a year.
"The demographic profile of Americans who name Fox News as their main news source is similar to the profile of Republicans, and for good reason," Gallup says.
Two-thirds of core Fox viewers identify themselves as Republican, and 94 percent either identify as or lean Republican. By contrast, 46 percent of core CNN viewers identify themselves as Democrat, and 63 percent lean toward supporting the Democratic Party at election time.
Almost 80 percent of the Fox viewers describe their political views as ideologically "conservative, while only 17 percent identify themselves as "moderate." Only 2 percent say they are "liberal."
By contract, only 21 percent of CNN viewers identify themselves as conservative, and a majority, 51 percent, say they are moderates, which shows that mainstream, normal, working Americans still turn to the more balanced CNN for news. Only 26 percent of CNN viewers say they are liberal, which might be a good thing since CNN has lost its aggressive edge for getting the facts sometimes and has gone just as sensational in its approach to news as all the other networks supported by big business, corporate advertising dollars.
Gallup's Bottom Line
"Americans have an abundance of sources at their disposal for acquiring news," Gallup says. "Still, the television medium leads all others."
This does not mean Americans get no news from print, radio or the Internet, according to Gallup. They are just not named as their main source of news.
This poll also documents the so-called "balkanization" of news, the idea that people turn to news sources which reflect their own ideological and partisan biases.
Republicans clearly have latched onto Fox because of its blatantly conservative Republican slant, while moderates and Democrats are still more likely to turn on CNN.
Younger Americans are seeking out better sources of news over the Internet.
"Scientific polling has been around for less than a century, but had it existed from the nation's start, it surely would have documented dramatic changes in how Americans receive information about national and global events, shifting from word of mouth, to pamphlets and newspapers, to magazines," Gallup points out. "The advent of radio ushered in the modern era of people experiencing the news together, herding families into their living rooms. This was eventually replaced by the television set."
"Today, the Internet is ascending, but it remains to be seen if it will displace television as much as it will newspapers," Gallup concludes. "Right now, the Internet is strongest among younger, working Americans, but presumably, this will change as the population ages. At the same time, newspapers strongest market, seniors, will disappear, leaving the future of that medium in serious doubt."
This is the first time Gallup has measured Americans' media habits with this particular open-ended question, but in 1957, Gallup approached the same issue by asking: "If you had to give up one of these — radio, television, the newspaper, or magazines — which one would be the hardest for you to give up?"
Americans at that time were most likely to name television, at 45 percent, followed by newspapers (27 percent), radio (21 percent), and magazines (4 percent).
Survey Methods
Results for this Gallup poll are based on telephone interviews conducted June 20-24, 2013, with a random sample of 2,048 adults, aged 18 and older, living in all 50 U.S. states and the District of Columbia. For results based on the total sample of national adults, one can say with 95 percent confidence that the margin of sampling error is plus or minus 3 percentage points.
© 2013, Glynn Wilson. All rights reserved.