By Glynn Wilson –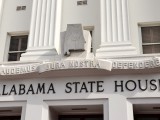 MONTGOMERY, Ala. – The Alabama Legislature opened its regular session of 2013 on Tuesday with a tea party rally outside the State House, then with the introduction of pro-gun legislation, anti-abortion and anti-union bills, a flat budget and a proposal for a pay raise for teachers that would be the first since 2008.
Rep. John Rogers of Birmingham, one of the few Democrats left in office here, said the session would be like a prize fight, and he promised to introduce the Republicans to legislative delaying tactics like nothing they have seen yet.
"Some of these bills are so bad they should have been written on toilet paper," Rogers said. "We going to fight with everything we've got."
Sen. Hank Sanders also vowed to mount a fight against the tea party Republicans, but said the worst thing to come out of this new era with Republicans holding a Super Majority in both houses is redistricting.
"They are about to turn the Democratic Party into an all black party," he said. "Unless we are smart, creative and reach out in different ways."
Watch the video here.
Republican Gov. Robert Bentley gave his state of the state speech Tuesday night and called for a 2.5 percent pay raise for teachers, but the Democrats are asking for 10 percent.
Alabama Democratic Party Chairman, Judge Mark Kennedy, responded to Governor Bentley's State of the State address by saying it shows a failure of leadership.
"All the rhetoric in the world wouldn't be enough to hide the truth from Alabamians," Kennedy said. "The truth is that Governor Bentley continues to fail to lead our state and, worse, his party has made clear that partisan politics will continue to come before the most pressing issues facing Alabama.
As a result of his failure to lead, it's clear that we are now facing yet another session dominated by extreme legislation targeting women, children, the poor and the elderly and policies aimed at lining the pockets of Republican fat cat donors," Kennedy said. "It's more clear than ever that Alabama needs a Governor and leadership in the State House that cares about the future of the state—not just upcoming elections and ensuring money making opportunities for a select few."
On the proposed "flexibility bill" Republicans have proposed, Henry Mabry of the Alabama Education Association called it a "pig in a poke" and vowed to fight it.
© 2013, Glynn Wilson. All rights reserved.