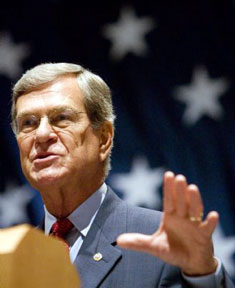 Tuscaloosa News
Former Senate Majority Leader Trent Lott
You don't have to look any further than the list of people and businesses that paid up to $1,500 Tuesday to get to meet privately with former U.S. Senate Majority Leader Trent Lott and incumbent Alabama Sen. Jeff Sessions — at the third annual Tuscaloosa County Republican Party's Lincoln-Reagan Dinner — to know who the Republican big-money donors are in Tuscaloosa County, according to Tuscaloosa News reporter, columnist and blogger Tommy Stevenson.
Lott, who represented Mississippi in Congress for 35 years before retiring last year, was the keynote speaker at the banquet in honor of Sessions, who is running for reelection this year against lightly-regarded Democratic state Sen. Vivian Figures, Stevenson reported. Party officials said they sold more than 400 tickets to the dinner at the Bryant Center on the University of Alabama campus and hope that translates into as much as $40,000 to use for local campaigns.
And while individual tickets to the dinner went for a modest $50, you could buy 10 seats at one of the 40 tables for $500, $1,000 or $1,500, depending on how much access you wanted to the once and present senators. The higher priced tickets entitled you and up to nine others to a private reception with Lott and Sessions, complete with photographs with the two men.

The party listed seven "Gold Sponsors," who contributed the maximum $1,500, eight "Silver Sponsors" who contributed $1,000, and 18 "Friends of the Party," who paid $500 for a table.

The Gold list: BFGoodrich Tire Co.; Chet Boston; Ernest C. Brock, Jr. M.D.; Fred Hahn; Nucor Steel Tuscaloosa, Inc.; and Ron Turner. The Silver list: Weldon and Delores Cole; Bill Lawley; James, III & P.T. Harrison; Lee Henderson; Mr. and Mrs. Leroy McAbee; Paul Reynolds; Jack Warner; and Jim and Elois Zeanah.

The Friends of the Party were: Alabamians for Luther Strange; Gov. Bob Riley; Kay Ivey; LeGrand Hutchison; Lewis Fitts; Magaria Bobo; McGiffert and Associates, LLC; Morrow Realty; Mr. and Mrs. James Odom Jr.; Mr. and Mrs. John C. Duckworth; Patterson-Comer Law Firm; Randall-Reilly Publishing; Senator Richard Shelby; Spruell and Powell; The Fisher Law Firm, PC; The [Tim] James for Governor [campaign]; Tuscaloosa County Circuit Court Judges; and the Tuscaloosa County Republican Women.

The dinner, which has previously honored Shelby and U.S. Rep. Spencer Bachus and two years ago featured former Massachusetts governor and failed presidential-candidate Mitt Romney, attracted a slew of statewide candidates and office holders (Shelby and Riley not included) and is quickly becoming known as one of the must-attend events in political years….
Now I don't know why Lott is such a big draw for Republicans in Alabama, unless it is his racist past.
I've been wanting to revisit Lott's story lately to demonstrate something for blog readers in Alabama and elsewhere about one of the lessons of Web journalism. This looks like as good a time as any.
Back in 2002, I was living in New Orleans and had stopped chasing a research-tenure track career as a college professor after 9/11 to get back into daily journalism full-time, freelancing. It was a great time and place to freelance, since a lot of national news organizations were interested in New Orleans — but not enough to fund a full-time bureau.
So when news broke in the region, they would call upon a local freelancer like me. For a time I had about all the best freelance contracts and contacts in town, including the Dallas Morning News, Christian Science Monitor, The New York Times and even People magazine.
So when some of the first so-called bloggers started going after Lott for his remarks in support of Senator Strom Thurmond at his 100th-birthday party, the editor of the national desk in New York called me and said, "How fast can you get to Hattiesburg?"
We found out that the papers of William L. Colmer, an old segregationist in Congress, had just been opened up to the public at the University of Southern Mississippi, and no one, not even a research librarian, had been through them yet. Since I had a lot of academic research experience as well as investigative news reporting experience, I got the assignment to go through them first for The New York Times.
And what I found ended up being crucial to ending Lott's career as Senate Majority Leader. In other words, the bloggers didn't take Trent Lott down. We did, in the Sunday New York Times.
I wasn't the only reporter to work on the story, and in those days, the Times rarely gave byline or even tagline credit to freelancers on the national desk.
So the byline went to David Halbfinger, a new, young guy who had been promoted from the New Jersey suburban desk to the Atlanta bureau — and needed all the help he could get covering eight states in the Deep South. But the critical information that must have made Lott's jaw drop when he read it was from my research at Southern Miss. showing his racist past.
The story ran Sunday, December 15, 2002. Lott stepped down as Majority Leader that Friday, December 20, 2002.
You can read the full story here:
In Lott's Life, Long Shadows of Segregation
Here's the key segment. This came out of a much longer e-mail accompanied by faxed documents in the form of what we called a "feed." It was basically an intel report to the lead correspondent, also copied to the copy editor in charge of the story, partly written like a news story. It included direct quotes for them to pull for the story, like the choice ones from all the letters (see below). There were many more letters. Only a couple of the best ones got used in the paper.
On to Washington

In the spring of 1968, Mr. Lott was named the top assistant to Representative William L. Colmer, an aging Pascagoula Democrat who the year before had become chairman of the House Rules Committee, where he and other Southerners had fought tooth and nail to block enactment of the landmark Civil Rights Act and Voting Rights Act in the mid-1960's.

Mr. Colmer's papers, stored at the University of Southern Mississippi in Hattiesburg, include Mr. Lott's analyses of other civil rights measures, including those that outlawed racial covenants in housing transactions and gave enforcement power to the Equal Employment Opportunities Commission.

Mr. Colmer continued to fight a rear-echelon battle against civil rights laws, urging President Richard M. Nixon to veto as unconstitutional a 1970 extension of the Voting Rights Act of 1965. Mr. Colmer, like Nixon, objected to the law's applicability only to seven Southern states – the same reason Mr. Lott gave years later for voting against a similar extension of the act. But Nixon ignored Mr. Colmer's advice and signed the extension into law.

Perhaps the most revealing documents in the Colmer papers, which have escaped attention for 30 years, are the numerous letters from his constituents fulminating over the progress of integration in Mississippi. Many were answered by Mr. Lott, either in his own name or over Mr. Colmer's signature.

One letter, dated Nov. 17, 1969, and marked with Mr. Lott's initial as its author, is addressed to "My dear Laura," a woman who agreed with Mr. Colmer's position against the Voting Rights Act. Mr. Lott laments that like-minded Southerners are simply outvoted, and "cannot stop the enactment of legislation undully favorable to the Negro race any more than we can prevent the Supreme Court from issuing decrees inimical to the Constitution."

Another letter writer, a Justeen Strange, wrote angrily in July 1969 that "Mississippi is no more, thanks to our politicians, we are slaves to the gorilla race, our proud white race is now in servitude to the NAACP jews and negroes."

Mr. Lott, above Mr. Colmer's signature, politely replies that he was "not insulted" by Ms. Strange's letter. "I was just disappointed that you were not more appreciative of my efforts in behalf of sound government and against the things you complained of."

Mr. Lott's entry into the race in 1972 as a Republican came as a surprise to Mississippi Democrats, but was again an astute move politically. The Democratic primary had 12 contestants. Mr. Lott ran unopposed as a Republican. And he had the backing of Mr. Colmer, who arranged for his own financial supporters to throw their weight behind Mr. Lott. Mr. Lott won the seat easily in a Nixon landslide. His first bill in Congress was an anti-busing measure.
Who knows if the Times would even bother to do a story like that if it broke today. We live in a different world now. It would most likely be up to bloggers to tell a story like that today. It was great fun while it lasted. See you later Mr. Lott…
— Glynn Wilson
© 2008 – 2015, Glynn Wilson. All rights reserved.