It's news quiz time in Alabama, although a good number of people from New York, LA and DC are in on the game over on a certain listserv originating out of Huntsville, if you know what I mean…
They are playing 20 questions.
1. Go to this Website and look at the picture of Air Force One being refueled by a Doss Aviation truck. Who can guess who owns a controlling interest in this corporation?
Just to make it easy, here's the picture.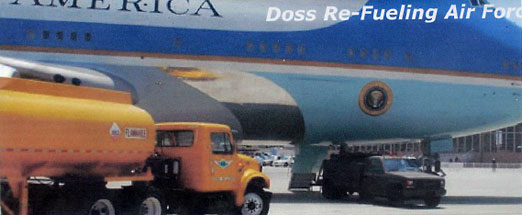 Doss Aviation
A Doss Aviation truck fueling Air Force One
Winner on question one: New York lawyer and writer Scott Horton:
But of course. Doss Aviation is owned and controlled by Mark Everett Fuller, a former member of the Alabama GOP Executive Committee who ran a series of campaigns for the Alabama GOP in which Don Siegelman campaigned in opposition, and who then was elevated to the federal bench by George W Bush. Fuller sat as Siegelman's trial judge after failing to disclose a series of disqualifications, including a statement he made to a TV station in Enterprise, Alabama to the effect that an audit of his records as district attorney, which he believed to have been started by Siegelman, was "politically motivated." Following a trial marked by extraordinary connivance between Fuller and the prosecutors, Fuller entered a sentence of nearly unprecedented severity against Siegelman. He was immediately awarded with a massive no-bid contract awarded to Doss Aviation. The upshot of the no-bid contract is that Fuller will be a wealthy man until the end of his days, thanks to taxpayer largesse.
Not to mention the fact that Fuller failed to fully investigate the e-mails that would prove jury misconduct in the Montgomery case against Siegelman and Scrushy, and immediately qualify the case for a mistrial.
Whether the three judge panel over at the Eleventh Circuit Court of Appeals in Atlanta will rule on that issue is up in the air. If Fuller had recused himself from the case, chances are Jill Simpson would never have signed and filed her affidavit. And of course, there's all likelihood that Siegelman and Scrushy would never have been convicted in the first place.
Even with a sympathetic judge with a grudge on Siegelman and a mandate from Bush, the jury was hopelessly hung to the point of fisticuffs — until Fuller issued that late Friday afternoon "dynamite" charge.
But there are many more unanswered questions originating down there in Montgomery and Enterprise, home to a very important component of the military-industrial complex of America and with all kinds of secret intel deals going on under the noses of the sleeping press in Alabama.
Like Bush likes to say, we know, "It's hard." Of course he was talking about governing, not investigative journalism, or his reaction to the U.S. Women's Olympic Volleyball team in China the other day…
This pat on the butt is for you, Bush fans…
How Ms. Simpson Discovered A Corrupt Judge
2. The next question is: Does this Website called DossAviation.com show that it does business with the FBI and, if so, does it concern anyone in Alabama and why?
© 2008 – 2012, Glynn Wilson. All rights reserved.