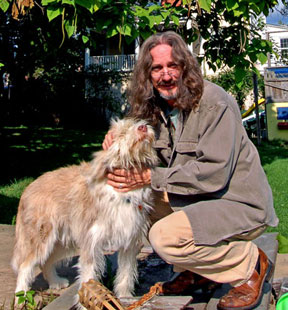 Glynn Wilson
Brooks Boliek with his dog Ripken in Silver Spring, Maryland, taken in the fall of 2007. He lives there with his wife Jeri, also of Birmingham, along with a son, West, and daughter Livi…
by Glynn Wilson
One of the best reporters and writers from Alabama soil was on the receiving end of a pink slip this week in the continuing meltdown of the mainstream print news business.
Brooks Boliek, 49, originally of Vestavia, Alabama, was let go from the Hollywood Reporter on Tuesday, as indicated in this tabloid media blog post from Nikki Finke:
Tuesday Massacre At THE Hollywood Reporter
Boliek had become something of an institution in Washington circles for covering Congress and the Federal Communications Commission and stories related to the politics of the entertainment industry, especially the movie business.
Boliek, who received a journalism degree from UAB in the mid-1980s, started his professional journalism career in Leeds, Alabama – home of Charles Barkley – at the Leeds News.
I met Boliek in the newsroom of the Decatur Daily in 1985, where we started out as competitors but soon became fast friends who collaborated on a few stories before I sued the paper and he left for the Florence Times-Daily. As I moved to the Southside of Birmingham and launched a free-lance career from the NewsBreak bookstore and coffee shop, he migrated to the Montgomery Advertiser for a time.
After the Democratic Party's convention in Atlanta in 1988, he moved to Washington and got a start there at the now defunct State's News Service, eventually moving to Congress Daily and then the Hollywood Reporter, where he worked for a long 16-year run.
He's not sure what the next move will bring, but the applications are out and he's working on a Website inspired by his favorite professional hobby, fine wood working.
"It's been a hell of a run, but now it's time to move on," Boliek said. "The outpouring of support from all the people I've worked with in this town has been overwhelming, and gratifying."
The link to his popular Think Tank column still works for now on the Locust Fork News page under his name and Columnists, if you care to read any of his work.
He joins a growing list of reporters who have recently been let go, including 150 staffers at the Los Angeles Times. He gets a bit emotional and upset at some of the criticism reporters face from the blogosphere.
"I fought for the First Amendment every day of my life," he said. "The First Amendment is first, by God."
He is one of those reporters who can figure out what is going on, explain it well, "and do it really fast," he said. "You read all this junk about how rotten we are. But most of the reporters I know, even when they are not making jack shit, work really hard to tell the truth. How long can the body politic stand this?"
© 2008 – 2016, Glynn Wilson. All rights reserved.