By Glynn Wilson –
Internet use by Americans has just about reached the saturation point similar to telephone usage in the early 20th century and television viewing in the late 20th century, according to the latest Gallup poll on the subject.
Now 87 percent of Americans say they have access to the Internet and use it for news and entertainment, compared to just 69 percent in 2002.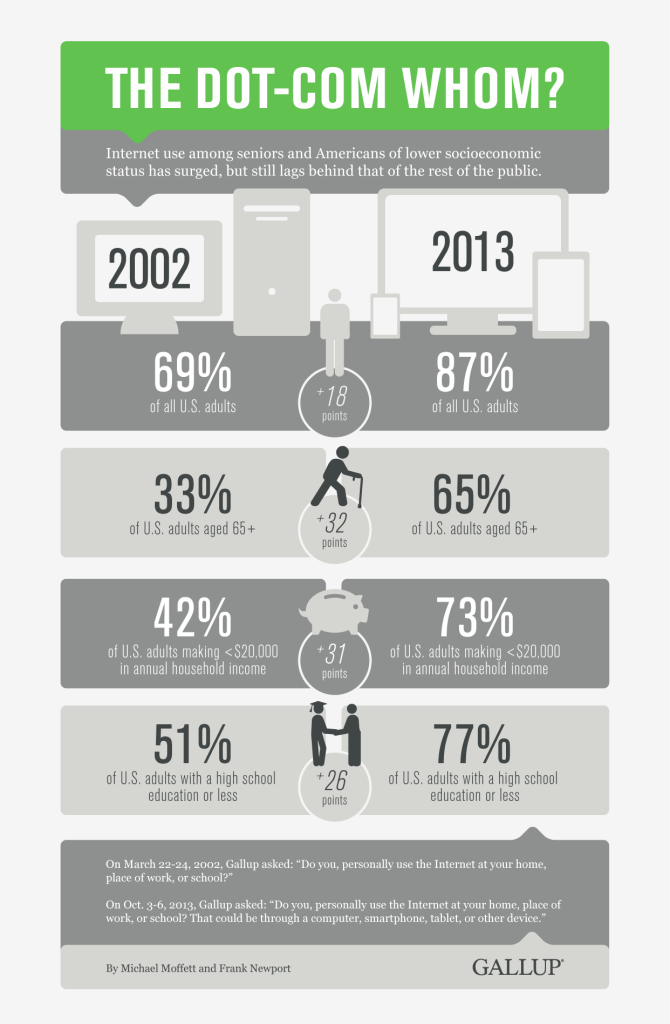 Significant gaps in Internet use remain in the U.S. across age groups, education levels and income groups, according to Gallup, with more than a third of seniors saying they still do not have access to the Internet or know how to use it. Yet Americans aged 65 and older saw the biggest change in Internet use among any age category over the last 11 years. Internet use among that age group is up 32 percentage points.
"But even with those gains, a third of older Americans say they don't personally use the Internet," Gallup says in its analysis of the public opinion data.
In contrast, 30- to 49-year-olds report almost universal use of the Internet today, with slightly lower but still high levels of use among adults younger than 30, and between the ages of 50 to 64.
Those making less than $20,000 a year have experienced growth almost as large as that among seniors, Gallup reports.
"But again, a considerable percentage of low-income Americans still do not use the Internet," Gallup says. "On the other hand, use of the Internet is essentially universal among those making $50,000 a year or more."
Even adults with no more than a high school education have increased their use of the Internet significantly over the past 11 years.
"But, at 77 percent, their rate of use remains the lowest of any educational category," Gallup says.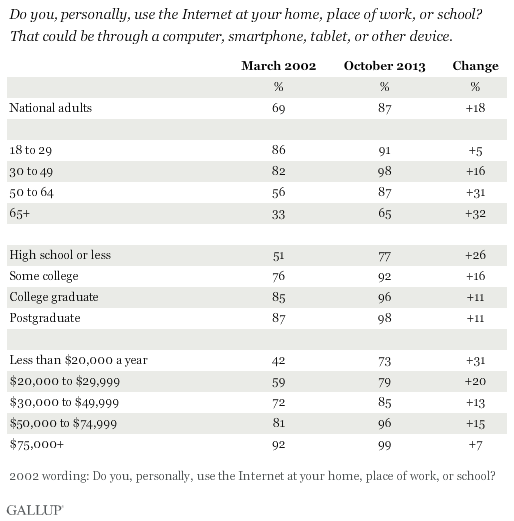 More than nine in 10 Americans with at least some college education use the Internet, including nearly universal use among those who have postgraduate education.
Gallup's Implications
"Clearly the Internet has taken its place as a fixture in Americans' daily lives," Gallup concludes. "Still, certain pockets of Americans remain disconnected from this increasingly central portal for news, business and communication, including in particular older Americans and those with low levels of education and income."
Survey Methods
Results for this Gallup poll are based on telephone interviews conducted Oct. 3-6, 2013, on the, with a random sample of 1,028 adults, aged 18 and older, living in all 50 U.S. states and the District of Columbia. For results based on the total sample of national adults, one can say with 95 percent confidence that the margin of sampling error is plus or minus 4 percentage points.
© 2013, Glynn Wilson. All rights reserved.