Get Involved to Stop Fracking on Public Land –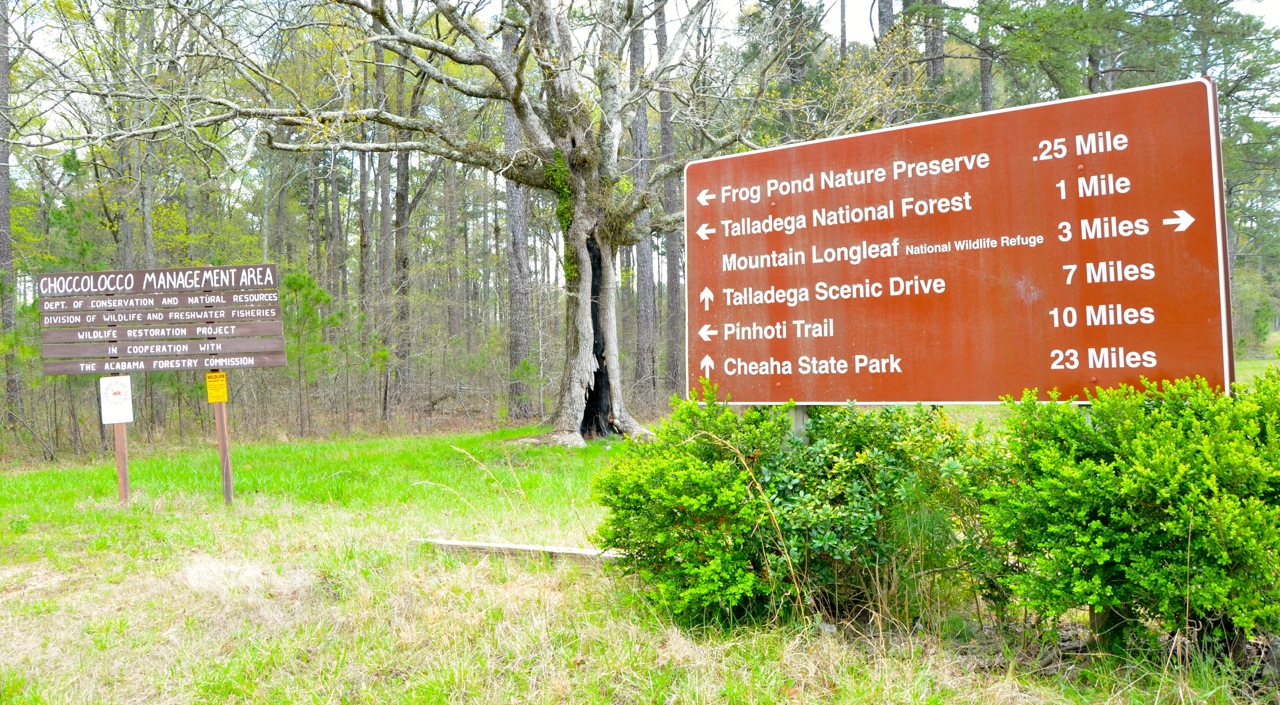 The Big Picture
–
By Glynn Wilson –

CANE CREEK, Ala. — Sitting here by the creek listening to the water flow over the rocks and the birds sing in the trees, it's hard to believe anyone would want to clear off the top of every road-accessible ridge-top on public land in a national forest to install an oil or gas well and dump chemicals into the ground, potentially ruining an entire national forest for a little bit of profit from the minor amount of energy that could be extracted here.
But that's exactly why we're here — to tour and document the area before the Bureau of Land Management comes to town April 25 to hold a so-called "public meeting" (as opposed to a town hall style "public hearing") on leasing 43,000 acres in the Talladega National Forest for oil and gas development.
We have learned that the meeting will be held in the middle of nowhere by a golf course at the Gateway Park Lodge at 3800 Davenport Drive in Montgomery. It was scheduled for Thursday on a work day in the afternoon, when many working people would not be able to come, but due to the public outcry over that, the time has been changed to 5-8 p.m.
Me and my friends and my dog have camped all over this forest, from Desoto State Park in the north to Coleman Lake, Mt. Cheaha State Park and Lake Chinnabee. Unfortunately for a working Web journalist, there is no Internet service available in the national forest, and even cell phone reception is hard to find. But we found the Cane9Creek RV Park and Campground on Highway 46 in Heflin, not far from Interstate 20 and just on the edge of the national forest.
Nestled in the mountains and surrounded by the national forest, Cane Creek is a dog friendly, owner operated campground conveniently located midway between Birmingham and Atlanta. There are large campsites, some with natural buffers and privacy, with abundant trails and large mountain meadows for the dogs to run around in (see photos below). We camped in a clutch of river birch right by the creek and found it a peaceful oasis — but with power, water and WiFi.
But as we have noticed in other areas of the forest, while it is still a beautiful place for tourists and wildlife, it is already stressed from timber harvesting and over hunting. So for policy makers to allow hydraulic fracturing or "fracking" here would be a real travesty.
If the people and local governments are serious about getting visitors from other states and countries to come here for a visit to see the new birding trails and other sights, destroying the forest with up to 400 drilling pads and miles and miles of pipelines and new roads — as well as the great potential for contaminated surface and groundwater — they better get up off the couch and get involved to bring political pressure to bear and stop this plan from going forward.
We are still gathering more photos, video footage and interviews for a long investigative news feature on this issue to be published before April 25. But for today I just want to say we visited the Shoal Creek Ranger Station near Heflin and drove over the Talladega Scenic Drive through the forest, a road that was cut by the Civilian Conservation Corps during the 1930s when many of the national forests were set aside by the federal government under the administration of Franklin Roosevelt, a Democrat who knew that government spending was necessary to provide jobs and bring the U.S. out of the Great Depression.
Not many people use this stretch of road, since most just turn north toward Mt. Cheaha State Park. But it is where here you can see a large swath of what some private corporation wants to develop (maybe Dick Cheney's Haliburton?) with Mt. Cheaha in the distance.
The U.S. Forest Service is experimenting with bringing back sections of a park-like long-leaf pine forest, but just try getting anyone to talk to the press these days and you run into a stone wall. Nobody is talking. The pro-big business BLM is in charge, and all they care about is the little bit of money to the federal treasury the leases bring in. They are only charging $2-$5 an acre, so at best, the leases will only generate about $215,000 for the federal treasury, and no local jobs will be created. Fracking crews are small operations with non-union labor, but they bring in heavy-duty equipment and leave visible destruction in their wake.
If you have ever been involved in a fight to save a place in nature before, or if you are just an average Joe or Judy has never fought city hall, this fight is worth fighting. But I suspect many people are not too keen on getting involved in controversy, and I'm told the Friends of the Talladega National Forest group is no longer taking a stand against fracking.
When I checked into the campground, the woman who took my money said she would more than welcome fracking on her land. I had to point out that drilling on private property is one thing. To approve such a massive development in a publicly-owned forest is quite another.
If the people and the politicians allow this, we might as well all pack up and move somewhere else. Once you ruin a place it stays ruined, and not just the environment. This fracking plan will also have a devastating impact on the economy — as if we could handle another setback on that front at this juncture.
Just say no to fracking in our national forests, and please get involved. You can make a difference. I have seen it happen many times before.
Gas Fracking Coming to Talladega National Forest?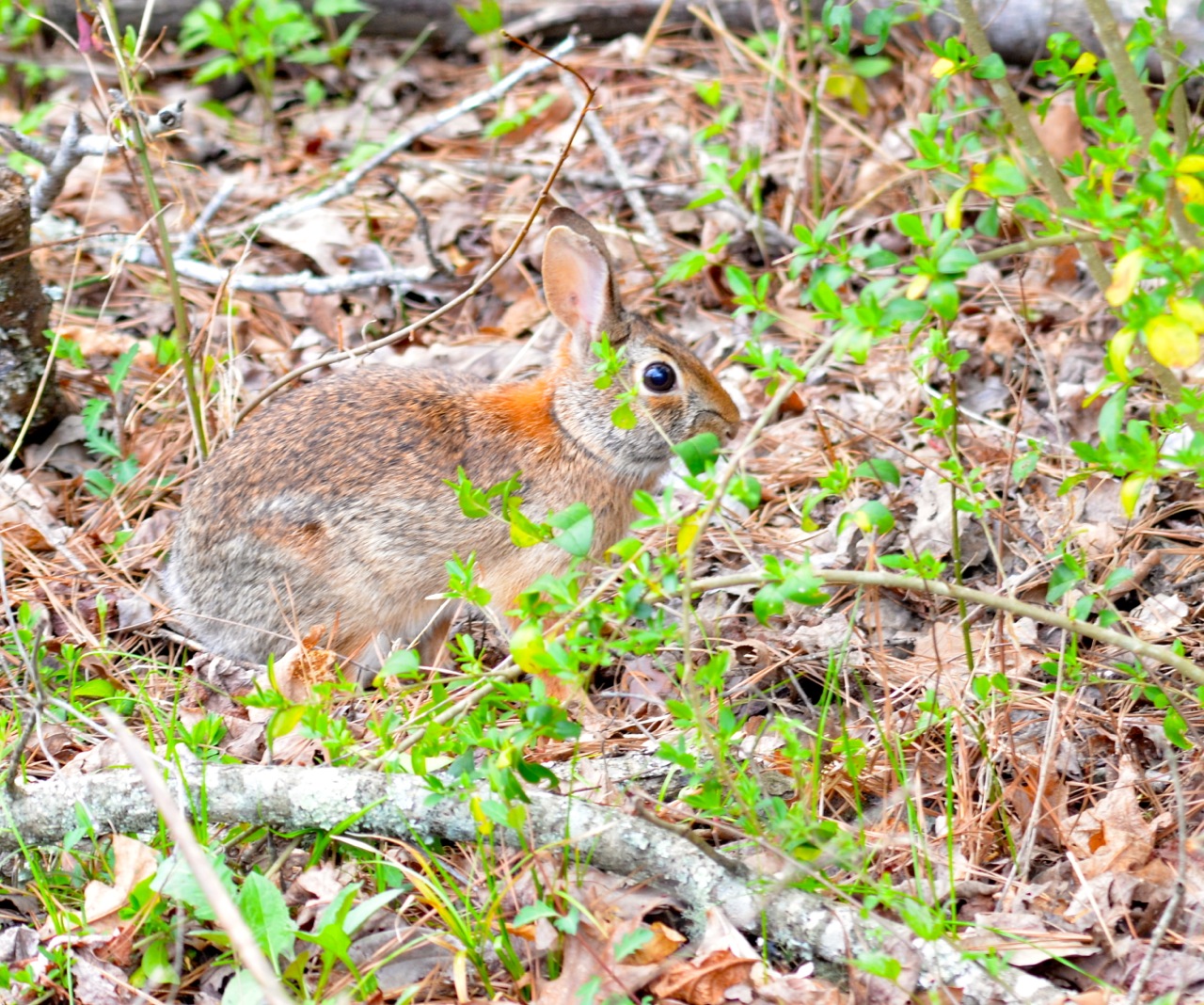 We tried to find the golden eagles at Sweetwater Lake. No luck, but I did manage to get a snap shot of a rabbit along the side of the road.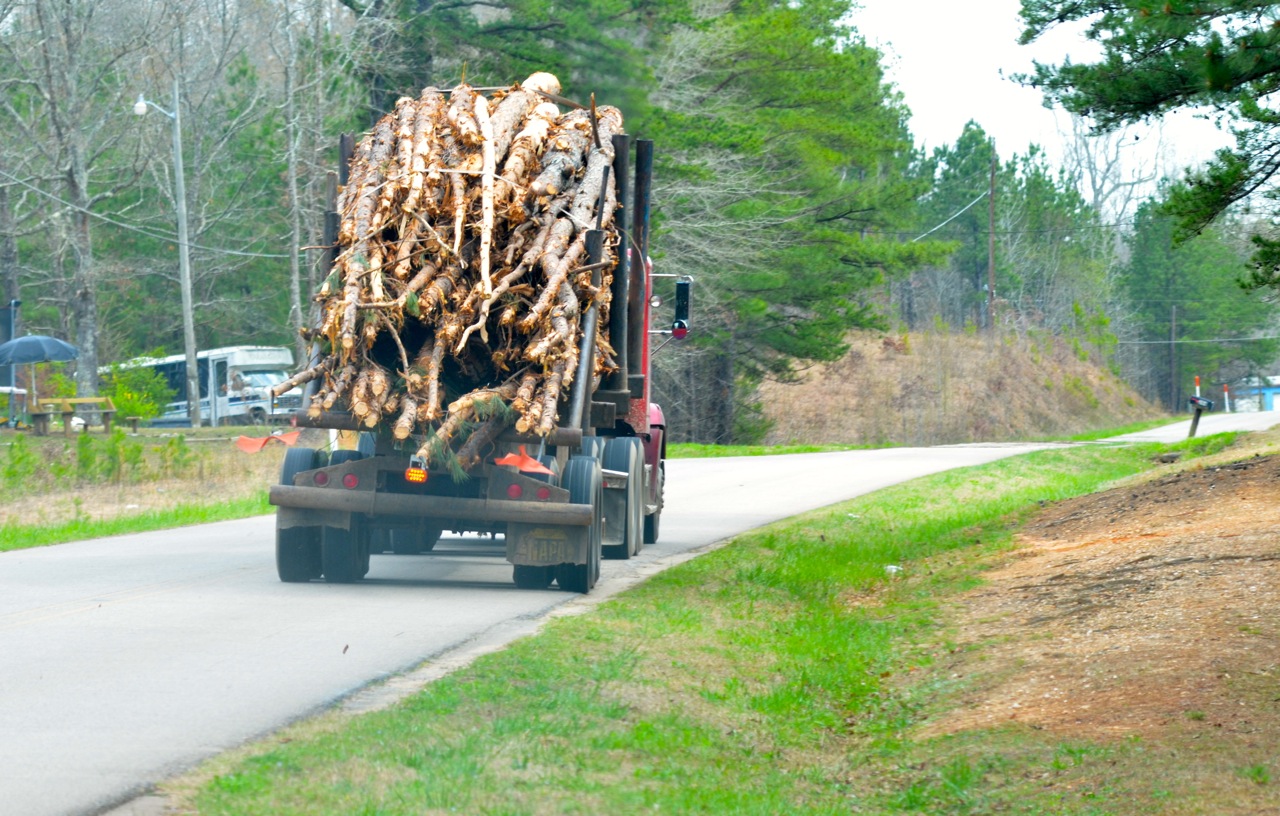 But we also ran into a few logging trucks doing their work dragging the trees out of the forest.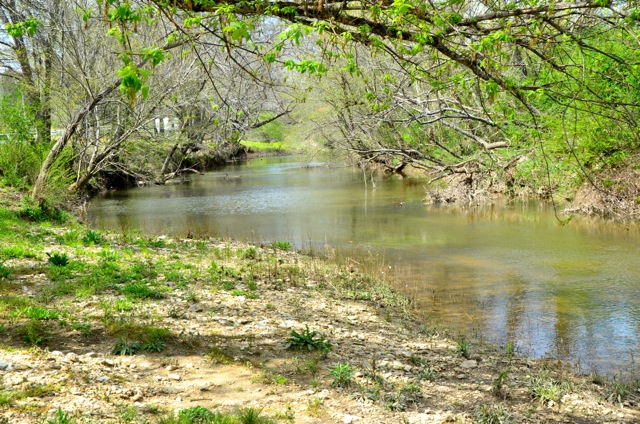 Cane Creek from our campsite.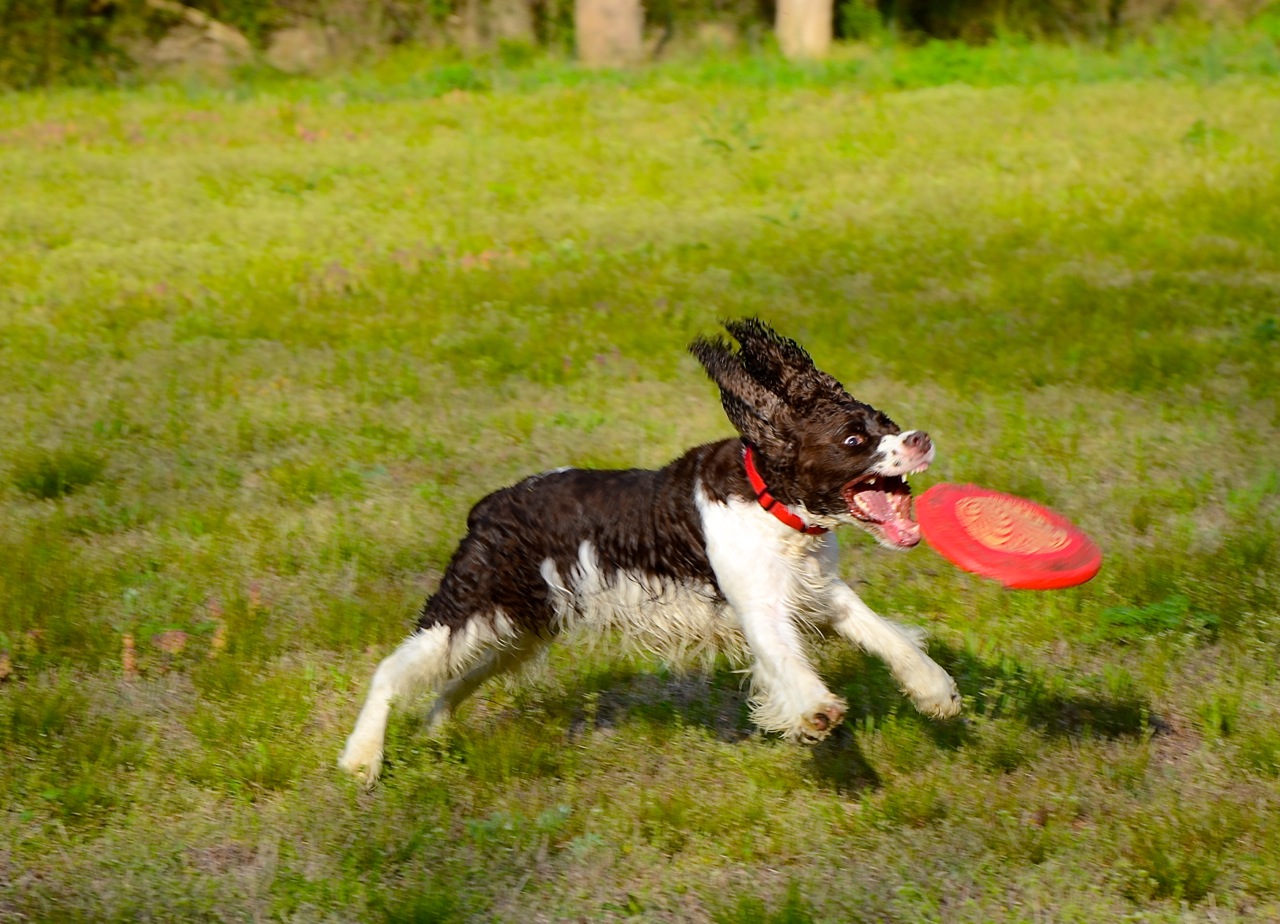 Jefferson the Springer Spaniel had a ball chasing the frisbee in a mountain meadow and swimming in the creek.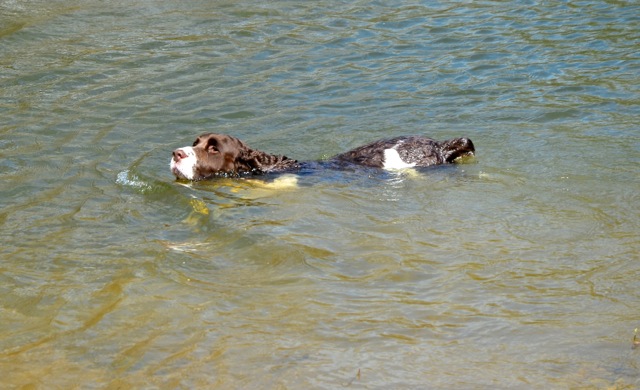 © 2013, Glynn Wilson. All rights reserved.