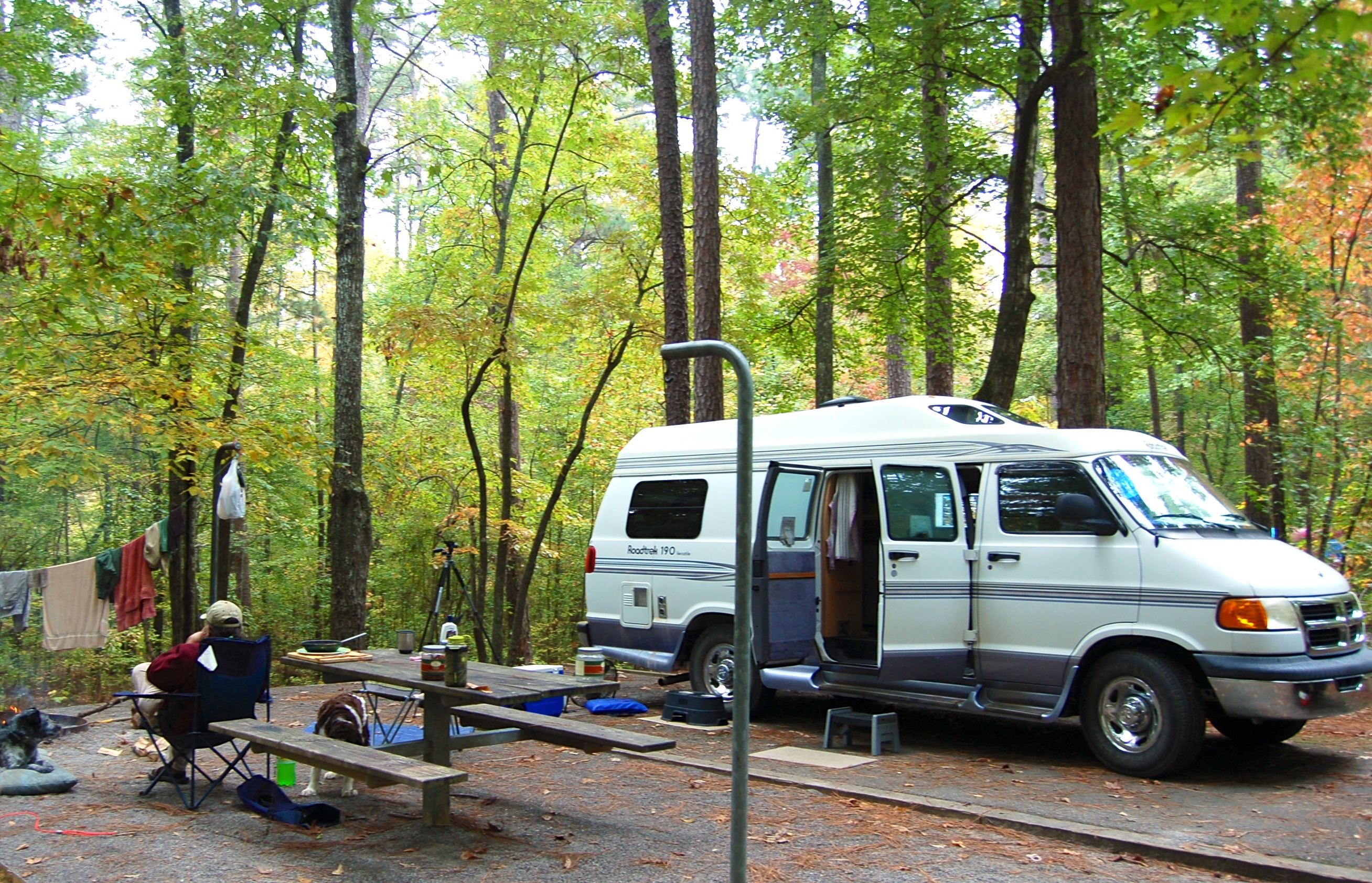 A Lake Coleman campsite, just a short walk through the forest to the lake
Secret Vistas
by Glynn Wilson
When the summer heat begins to fade away, the days grow shorter and the leaves start falling from the trees and changing colors, I don't know about you but it's hard to resist packing up the van and heading into the woods for a few nights.
Last week's weather report seemed perfect for a fall camping trip with temperatures in the lows 70s in the day time and the 50s at night. So Jefferson and I met another friend with a dog and made the trek to DeSoto State Park for a couple of nights. It was moderately crowded, and I'm sure it will be full this time of year on the weekends during "leaf season." But you can find a spot during the week.
There is limited cell phone service and WiFi in the park, although I found it to be quite weak.
Little River Canyon is only about 10 miles away, so we spent a day exploring that area looking for pics. You can watch a slide show from the trip here.
The last I time I was there two years ago, you could still walk down to the falls from the overlook. But now since the new boardwalk is complete, and due to a number of injuries and fatalities, you can no longer hang out within 50 yards above the falls.
According to Chief Ranger Troy Mueller, a half a dozen people have slipped and washed over the falls in the past three years and died. After a couple of women with young children fell victim to the fall, authorities made the decision to close off access for the rest of us.
There is one small break in the boardwalk, however, where you can slip through to the old trails running around the rim of the canyon. Then below the bridge, there is a trail where you can get to the river. But there is a sign saying you cannot approach within 50 yards of the top of the falls.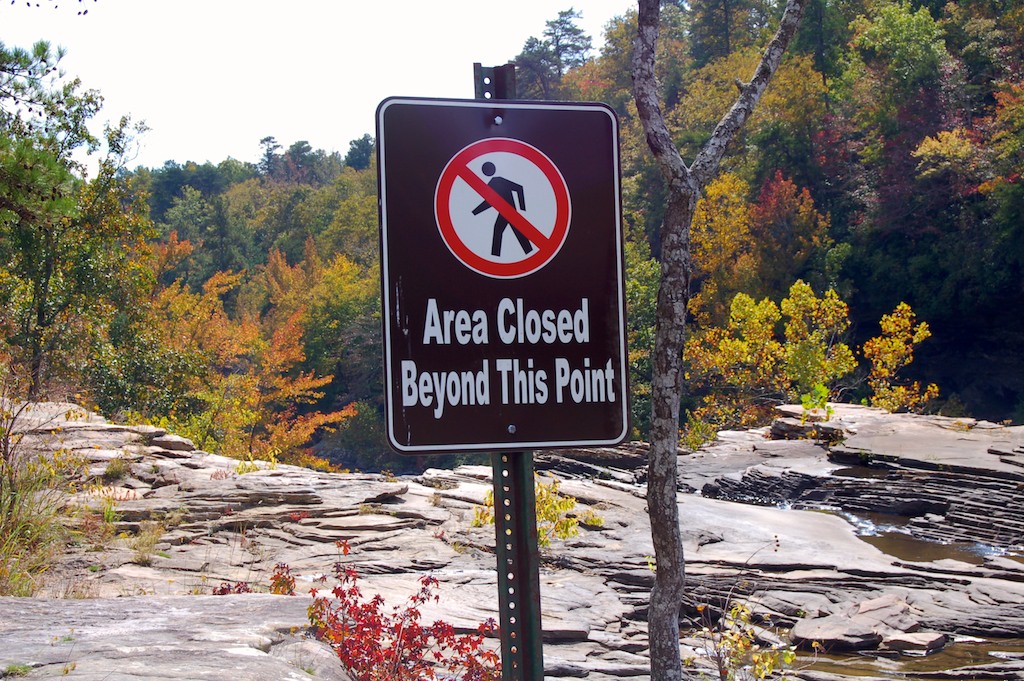 The restricted view from atop Little River Falls
Autumn color was already beginning to break out early this year like 2011, according to interpretive ranger Larry Beane, a sign of climate change due to global warming. Peak color should move through in the next five or six weeks, he said, maybe sooner. It used to happen in November, but Beane said the winters appear to be getting milder in the Southern Appalachians over the past few years.
There are black bears to watch out for in the canyon area these days too, Mueller said. While they had lived in the area in the past, sightings stopped for years. But in recent years, they are on the rise again. One was hit by a car and another was killed by a hunter already this year.
We didn't see any bears, but we did see a rafter of wild turkeys, and two eagles later in the week by Sweetwater Lake and what appeared to be an ivory-billed woodpecker on the way out between Lake Coleman and Heflin, Alabama. I know it was probably a pileated woodpecker, but Tab and I both saw it and it had the distinctive white feathers on the back wings you could clearly see in flight.
Pulling out of DeSoto at checkout time on Wednesday morning, we studied multiple maps to find the back way south to the Lake Coleman Campground. If you follow County Roads 35 and 9 all the way to Piedmont, then turn left and ask around, you can find the entrance to Dugger Mountain Road. It traverses Dugger Mountain and skirts the Dugger Mountain Wilderness Area. The mountain, between Anniston and Piedmont, is the second highest peak in Alabama next to Cheaha with an elevation of 2,140 feet.
Be warned that it is a single lane dirt and gravel road, however, and there are still logging trucks to look out for. We ran into a logging operation on the way to Forest Service Road 500, the road that leads to Lake Coleman. Some locals were hiking in the area and seemed upset about the logging, but it is allowed in the national forest. Clear-cutting is not, but they conduct what is called "thinning," a form of select cutting that picks out the more mature pines and leaves the younger ones for another day. Americans have to have our paper towels and toilet paper, after all.
After driving for awhile on a dirt stretch of 500, we arrived at Lake Colman and set up camp for the night. There are water and power hookups, but no cell phone service or Internet access. Although if you drive around you might find a bar or two on the iPhone up along the peaks.
Even with the remote access, we found it fairly crowded and it will probably fill up on the weekends for the next few weeks. But if you don't mind more primitive camping, there are some delightfully surprising options less than two miles from Birmingham.
Pine Glen is a beautiful little campground way out in the woods — for only $3 a night. The Pinhoti National Recreation Trail crosses nearby too if you want to really get out in nature in a tent and escape other people and the grid entirely.
Then there's Warden Station Horse Camp, where you can camp out with your horse for only $6 a night, or ride a mountain bike on the 30 miles of trails.
You really have to study the maps to find it, but we happened upon a little known and rarely used road leading to a beautiful spot in nature called Sweetwater Lake. You need a four-wheel drive pickup truck, a jeep or a four-wheeler to get down to it, but the instant reward for us was the appearance of two eagles fishing.
Unfortunately, I had the wide angle lens on the Nikon, and by the time I switched to the big lens, they were gone. We are planning another trip up there during the next three or four weeks, however, and if things go as planned, I should have a new Nikon D7000 for the next trip. Next time I will be ready to get the shot.
One the way home Friday afternoon, we found the only paved road in and out of the area by heading down 500 toward Fruithurst and Heflin. We will definitely be going back this way again soon.
The new Dodge Roadtrek Sprinter van performed admirably, although it did scrape bottom a couple of times going over Dugger Mountain. Then there's still some work to do to figure out the water system and get the generator working.
Eventually we will spring for satellite Internet service, but for now the Verizon Jetpack MiFi 4G Mobile Hotspot Global Ready Wireless Router turned the van into a Wifi hotspot — at least when you're in range of cell phone towers.
The dogs enjoyed the adventure, but Jefferson appeared glad to be home Friday night. He slept like a baby but snored like an old man. He was not alone.
This map shows our route broadly in black and pink. Click on the map for a larger view.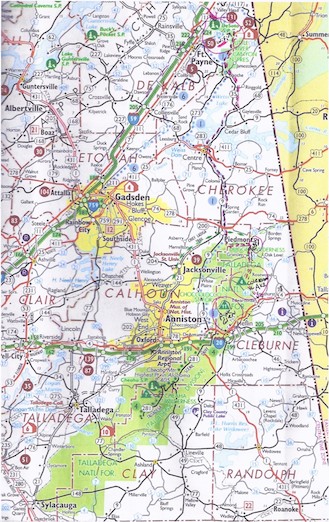 You have to find better maps than a state map or an atlas to see the Forest Service roads. There are a few maps as pdf files on the U.S. Forest Service Website, although they don't seem to want you to save them or print them out. They sell maps.
Link to bigger map of the entire trip.
Link to a better map of the Lake Coleman area.
© 2012, Glynn Wilson. All rights reserved.