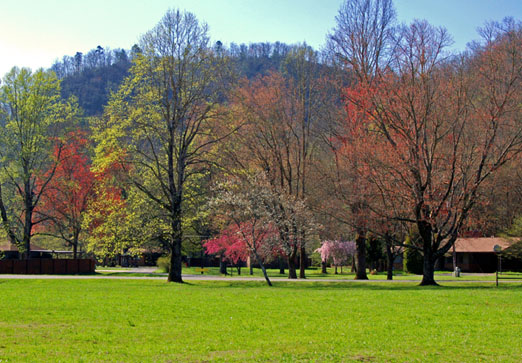 Glynn Wilson
A mountain meadow along the Davidson River during the spring blooming season.
(Click on the images for a larger view. More photos and videos below.)
Secret Vistas
by Glynn Wilson
ASHEVILLE, N.C., March 25 — Sitting in a camp chair in front of the computer by the French Broad River, one of those rare stretches of water that flows north — from the Eastern Continental Divide through the Appalachian Mountains to Tennessee — I witnessed a true optical illusion, without the need of a magician or a television set.
While watching the cold water run fast over the rocks through the shallows, a section of river too treacherous for a man and a dog in a canoe, I watched a freight train loaded with coal for TVA's power plants traverse the track on the other side of the river heading south. With the water running north and the train moving south, when I held my head and eyes just right I got the feeling I was moving sideways — while sitting still.
It reminded me of being a kid again, watching puffy pink and white clouds move across a cobalt blue sky on a beautiful spring day, while laying back in a moving swing looking at the world upside down.
You can't experience something like that sitting in the suburbs watching television or staring at the news feed on Facebook. Although I guess you could get a similar thrill playing computerized video games.
The point being: This is why we travel. This is why we camp. For a change of perspective on the world that makes us think.

When I started out on this trip to the Wild South Green Oscar's on Thursday, the plan was to head out of Birmingham up Interstate 59 through Chattanooga and turn right before reaching Cleveland, Tennessee, and follow old Highway 11 to where it intersects with scenic Highway 64. Just a few miles from that old Native American trail now paved with blacktop, you enter the Cherokee National Forest.
This area is not as famous as the Great Smoky Mountains National Park, which means it is less crowded and easier to find a secluded campsite where you can think. And the Appalachian terrain is identical. The Ocoee River did put the first stretch of this road on the map in 1996 when the Olympic committee chose Atlanta for the Summer Games and fixed the area up for white water kayak races.
The timing of this trip was about a week too early for some campgrounds in the mountains, however, which don't open until March 30 or April 1. But for the first night on the road, I did locate the small Parksville Lake Campground, with only 17 sites, but located deep in the shade of the woods by a babbling brook. Talk about the perfect audio backdrop for a restful night's sleep.
About the only way to duplicate that experience in the suburbs is to download an iPhone App. But somehow that is just not the same. Until Apple figures out how to include the aroma emitted by fir trees and an oak wood fire, you have to get out of your recliner, get on the road and find a spot amongst the trees.
The next morning we headed further into the forest on the winding mountain road with ancient rocks on one side and fast moving, frothy water on the other. There is no mistaking it. This is white water country, the perfect venue for extreme sports adventure.
You leave the national forest when you pass through Ducktown, but when you cross the state line into North Carolina, you enter the Nantahala National Forest. As you get closer to Murphy, North Carolina, the venue changes from kayaks to huge rubber rafts, which get to and from camping areas and the river by old, used school buses. In places there is flowing water on both sides of the road, and the blue mountain fog is ever present, filling the scented air and just making you crave strong coffee and breakfast.
There was no time to stop for a river run on this leg of the trip, however, since my destination was Asheville. We took the faster Highway 74 northeast through the mountains, saving the old stretch of 64 east for the trip home.
We arrived at the French Broad River campground on Friday afternoon with plenty of time to get set up and cleaned up for the party. At the Celine & Co. Catering venue on Broadway in downtown Asheville, one of the most politically progressive and culturally diverse cities in the American South, I ran into a few old friends from Alabama. But mostly I met new friends who are actively engaged in preserving the rivers and forests of the region for future generations to enjoy.
I had not seen my old friend Lamar Marshall who started Wild South in probably a decade, and it was interesting to find out why he finally abandoned the Sipsey Wilderness in North Alabama and moved to the mountains.
Wild South's Roosevelt-Ashe Society is a merger from 2007 of Wild Alabama and the Southern Appalachian Biodiversity Project. Marshall told me a similar tale of a lot my aging Baby Boomer friends these days who are leaving the Sun Belt coasts, becoming even hotter due to global warming, and moving to the higher elevation of the mountains.
Marshall said the heat and humidity of the Sipsey Wilderness finally started getting to him — along with the chiggers — so he moved to the mountains of North Carolina.
Plus, he said the local redneck conservatives in Alabama "who wanted to kill me," he said, "tried to burn down my store." He operated out of a Sipsey Wilderness trading post for a number of years, but I guess his activism was too effective for the tea party types who think nature is man's to pollute and destroy.
It is true there are ignorant rednecks everywhere you go in this country. But at least in a place like Asheville, you get a concentration of educated folks who know the score — and do something about changing things for the better.
After the party, we hung out at another bar in downtown Asheville for awhile and I got to know the staff of the group and some of their close friends. But around 2 in the morning, we headed back to the campsite for the night.
Thinking everyone was asleep and would not mind, I let my new dog Jefferson off the leash for a few minutes to see how he would handle it. I hate to keep a dog tied up all the time. But being an English Springer Spaniel bred and trained to flush birds, he could not resist playing with the ducks a little. He chased two male Mallards and a female into the river, so he had to sit on the leash by the fire wrapped in a beach towel for a couple of hours before we could go to bed.
The campground was so interesting with a little community of small mountain cabin dwellers that we stayed another day and night. But the occasional drizzling rain and wind out of the north made working less than ideal.
So the Chevy van got packed up again on Sunday morning and we found our way out of Asheville and back into the wilderness. A woman writer I met by the fire suggested a side trip down scenic Highway 276 to Looking Glass Falls, so we headed over the curvy mountain road to Brevard, North Carolina and to the Davidson River campground in the Pisgah National Forest, the birthplace of conservation in America and the Cradle of Forestry.
I highly recommend Davidson River, a spectacular spot on the map and one of the best campgrounds in the country, with large sites and plenty of tree buffers in between. The only downside is many of the sites do not have power and water, and there's no WiFi, but it is close enough to town to pick up a cell phone connection and get online that way.
Jefferson had a blast swimming in the river and walking the wide trails. I took in the spring beauty with my Nikon in hand. The redbuds, dogwoods, cherry trees and yellow bells were busting out with blooms, a few weeks early this year due to global warming.
Campsite number 54 and the weather was so nice on Monday morning that I really did not want to pack up again and leave, but the mountain road was calling. So we headed from Brevard back west on 64 until we found a neat coffee shop in Cashiers with WiFi and homemade biscuits. I totally recommend this drive, and wish we had the time to stop in the quaint mountain town of Highlands. It looked like a great place to do some shopping, but I was looking for another campground closer to Alabama to camp for one more night.
We passed the Bridal Veil Falls along the way, and there were a number of private RV campgrounds, some of them in fantastic mountain meadows surrounded by Appalachian peaks. But none of them lured me in, so we kept on going until we arrived back at Parksville Lake, where there was a public boat launch. With a couple of hours of daylight left, we put the boat in the water and tooled around the mountain lake with amazing views.
There never seems to be enough time to do everything you want to do on a trip like this. But as the sun crept behind the blue-green and golden peaks, and with the dog's nose resting on my right leg as I drove, we headed on back toward Chattanooga.
We passed the sign for the Cloudland Canyon State Park in Georgia, and it was tempting. But from there we were only a couple of hours more from Birmingham, so I decided to call it a trip.
If you live in the Southeast and feel that need to get out in nature, that urge called Biophila by Alabama native E.O. Wilson, try following Highway 64. Stop as often as you like and stay as long as you can. Your physical health, your mental state and your soul will be the better for it. Believe me when I say it is worth the time and trouble. I hope you have as much fun as we did. But just like people, Jefferson was so happy to get home he barked with joy.
I am reliving the trip through the photos and videos and writing about it on a gorgeous spring day on the screened-in porch. But now it is time for lunch, so until next time, we hope you like our Secret Vista report and decide to duplicate the experience. You will be glad you did.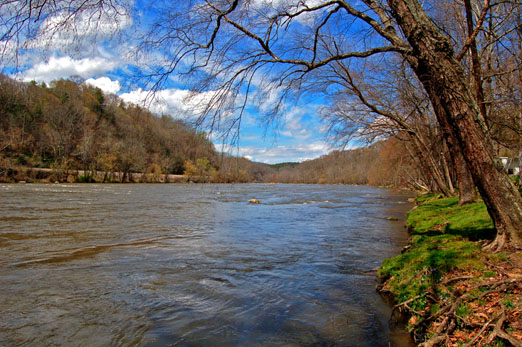 Glynn Wilson
A view of the French Broad River looking north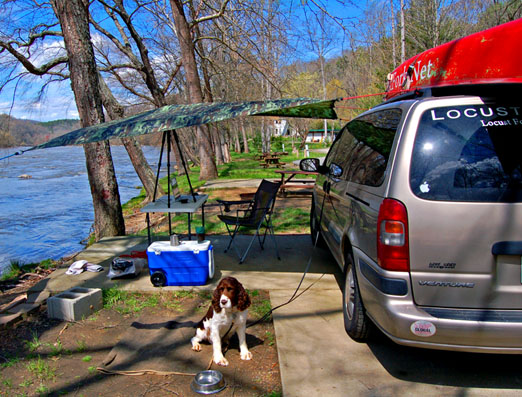 Glynn Wilson
Jefferson enjoys the French Broad River camp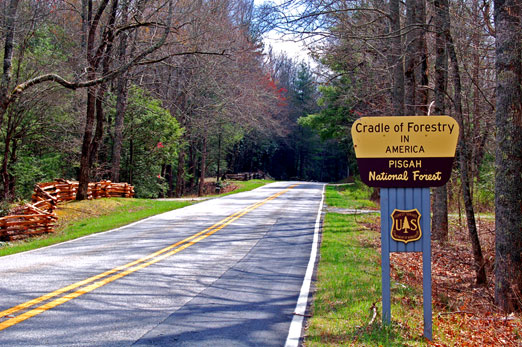 Glynn Wilson
Conservation and forestry in America got its start here in the Pisgah National Forest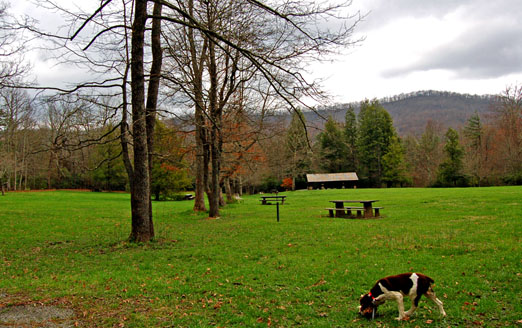 Glynn Wilson
Jefferson enjoys a break from the leash in a huge mountain meadow the size of about eight football fields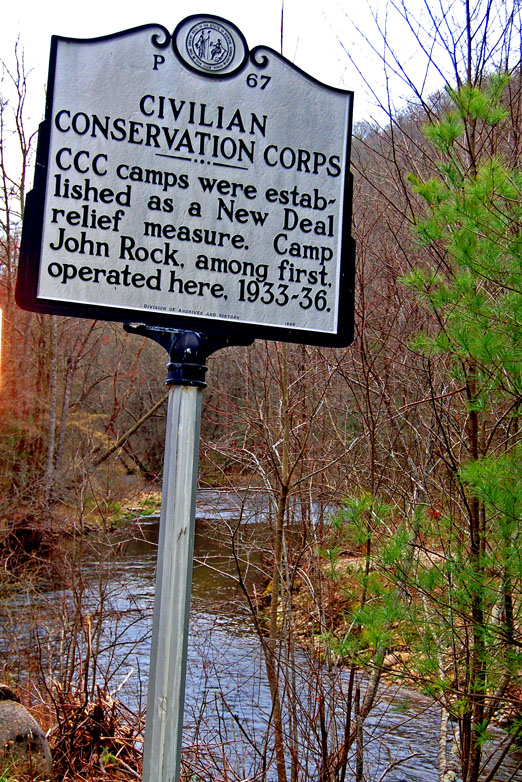 Glynn Wilson
Perhaps we have forgotten how important government spending is to our economy in these tea party times. Should we consider bringing back the Civilian Conservation Corps?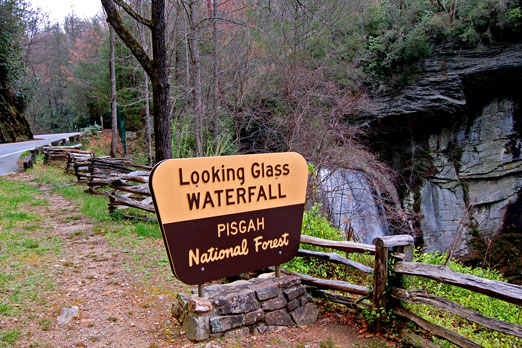 Glynn Wilson
Looking Glass Falls along Highway 276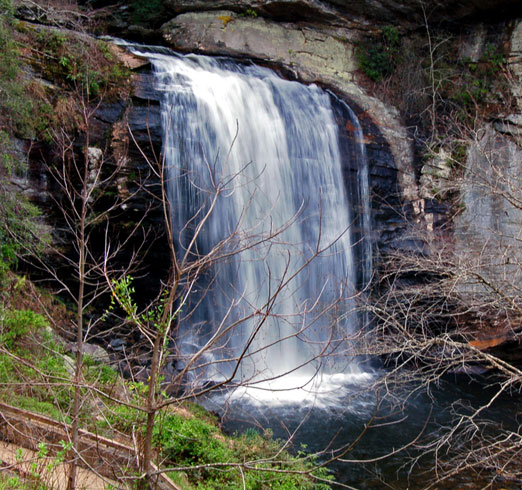 Glynn Wilson
Looking Glass Falls along Highway 276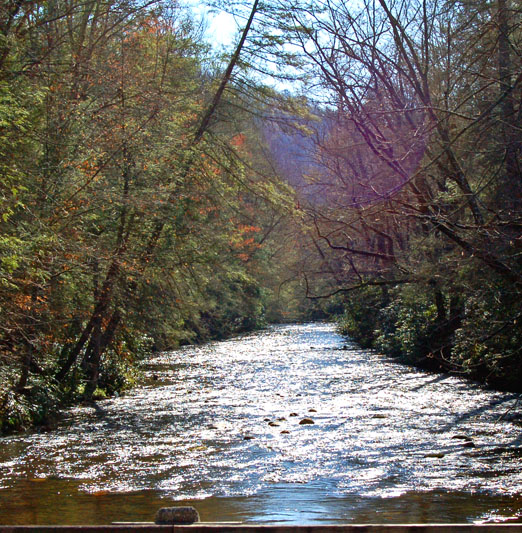 Glynn Wilson
The Davidson River in spring, 2012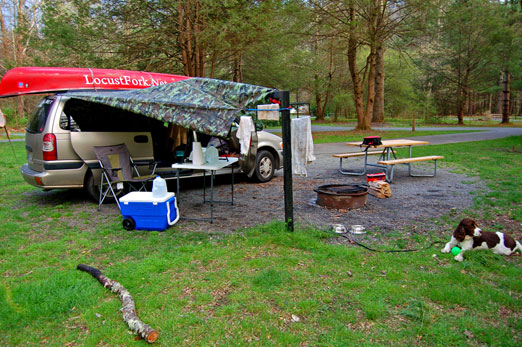 Glynn Wilson
Campsite 54 in the Davidson River Recreation Area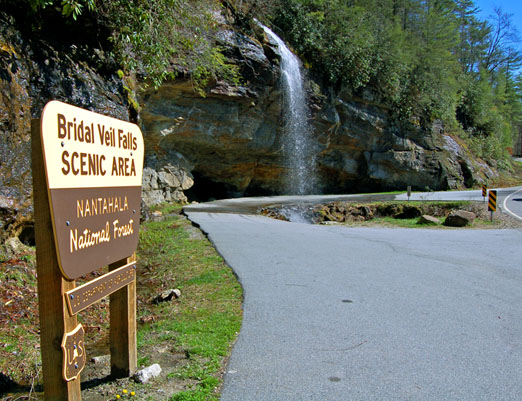 Glynn Wilson
Bridal Veil Falls along Highway 64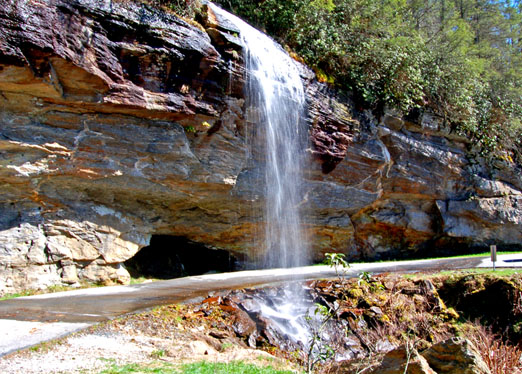 Glynn Wilson
Bridal Veil Falls along Highway 64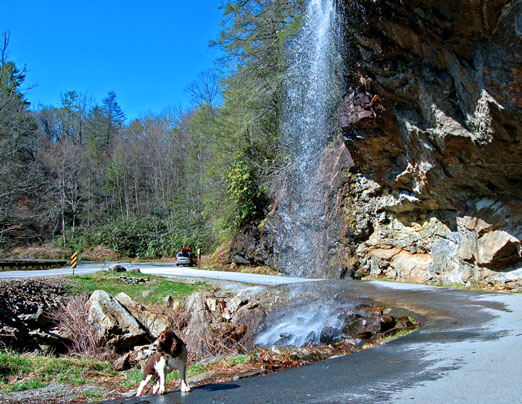 Glynn Wilson
Jefferson checks out Bridal Veil Falls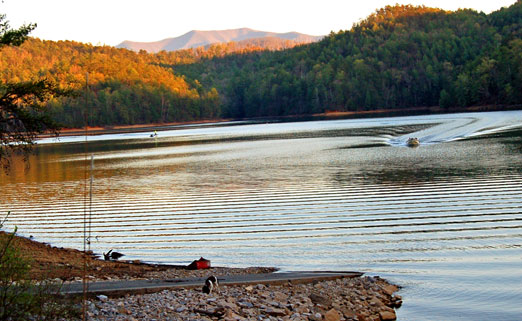 Glynn Wilson
Parksville Lake coming up on sunset
© 2012 – 2016, Glynn Wilson. All rights reserved.