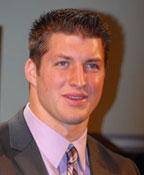 Tim Tebow
Womens' rights campaigner and attorney Gloria Allred has joined the growing chorus of folks angered at the decision by CBS to allow an pro life group to air an ad during the upcoming Super Bowl on February 7. The ad will feature University of Florida quarterback Tim Tebow and his mother Pam, who claims to have chosen not to have an abortion when she was pregnant with him over the recommendation of doctors in the Philippines.
Allred contends abortion was illegal there and she doubts the story, she says in an interview.
Allred says she will lodge a complaint with the FCC and FTC "if this ad airs and fails to disclose that abortions were illegal at the time Ms. Tebow made her choice."
Despite resistance from women's groups, the ad is expected to air. It focuses on Ms. Tebow's 1987 pregnancy, when she fell ill in the Philippines.

According to news reports and previous interviews, doctors recommended that she abort the pregnancy, but she chose to go through with the birth of her son Tim, who grew up to be one of the most accomplished and celebrated stars in college football history, capturing two national championships and the first sophomore to win a Heisman trophy.
Because abortion under any circumstance has been illegal in the Philippines since 1930 and is punishable by a six-year prison term, Allred says she finds it hard to believe that doctors would have recommended the procedure.
A right-wing religious group, Focus on the Family, is behind the ad, and you know how fast and loose the religious right can be with the facts at times.
We say CBS should reconsider and refuse to run the ad. Also, we suggest the Obama administration take a look at the books of non-profit 501C3 groups that illegally engage in partisan political activity, which is prohibited under the IRS code. This also goes for tax exempt churches that use membership roles and e-mail lists to engage in political propaganda, especially on issues such as abortion.
© 2010, Glynn Wilson. All rights reserved.