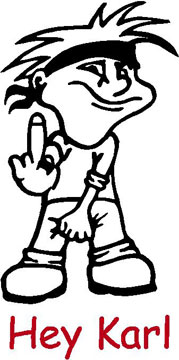 Some juvenile degenerate is passing this disgusting image around over the Internets. We felt a moral obligation to report it. Take that Turd Blossom.
by Glynn Wilson
Karl Rove, the former political adviser to President George W. Bush, was a no show again this morning at the House Judiciary Committee, sources say, where he once again faced a subpoena to testify under oath about his role in political prosecutions and firings from his perch in the White House for seven years.
A staff member for the committee confirmed this on the telephone, saying simply: "He did not show up."
Republican sources say Rove is laughing his ass off and having a party in Illinois Monday night, while House Judiciary Committee Chairman John Conyers is back in his district in Michigan and not even in Washington, D.C., even though his office said last Thursday that the deposition was still on for Monday morning.
Apparently the U.S. Court of Appeals for the District of Columbia has given Rove's attorneys, the White House counsel and the Obama Justice Department another week to reach an agreement on whether Rove should be covered under "executive privilege," and thus be immune from having to testify about his knowledge of political manipulations of justice in the U.S. attorney firings scandal and the prosecution of former Alabama Governor Don Siegelman.
According to Scott Horton, a New York attorney and contributing writer to Harper's magazine, Karl Rove has stated repeatedly that he was uninvolved in the prosecution of Alabama Governor Don Siegelman, and that he has no Executive Privilege to assert in this regard.
"Yet when subpoenaed to testify on this subject he refuses to appear," Horton said. " At this point the record is clear: Rove won't repeat his claims about the Siegelman case under oath and subject to cross-examination. That fact is extremely revealing, and it suggests strongly that Rove's public, unsworn comments are not truthful."
It's another sad day for democracy, and the press is sound asleep.
[poll id="3″]
© 2009, Glynn Wilson. All rights reserved.