House Judiciary Panel Moves Forward on Political Justice Investigation
by Glynn Wilson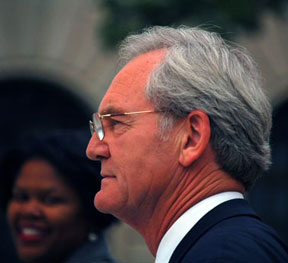 Glynn Wilson
Former Alabama Gov. Don Siegelman on trial
Don Siegelman will be free at last Friday morning after spending nine months in a Louisiana prison, and he will be on his way to Washington in early May to testify before Congress about the politics behind his prosecution at the hands of a Justice Department that has been called "out of control," where politics mattered more than justice under President George W. Bush and his political brain Karl Rove.
Chances are Siegelman will see no more jail time in a case that should have ended in a mistrial in 2006, when jurors violated their oath against the standard charge by Chief U.S. District Judge Mark Fuller and based their decision on reading online news reports and pressure from improper communications carried out by e-mail.
Writing for the 11th Circuit Court of Appeals in Atlanta, judges Susan H. Black and Stanley Marcus, just days after finally obtaining the long-awaited transcript from the two year old trial, ordered his release saying he proved he was not a flight risk and there are significant questions worthy of a full hearing on appeal.
"After a thorough review of this complex and protracted record, we conclude Siegelman has satisfied the criteria set out in the statute, and has specifically met his burden of showing that his appeal raises substantial questions of law or fact," they wrote in the four page order.

Mobile attorney Vince Kilborn told a Montgomery TV news station he was at a loss for words at the surprisingly quick announcement, coming on the heals of an inquiry by U.S. House Judiciary Committee Chairman John Conyers, after touring a Louisiana prison, asking the Justice Department to release Siegelman so he could testify about the politics behind his prosecution.
Kilborn then said Siegelman would be released sometime Friday and the legal team will continue working on briefs to get Siegelman's conviction reversed.
"His wife and his daughter, Dana, are driving out to get him," Kilborn said. He called it "a big win in a very long war. It's a good feeling. He's an innocent man and he's been in prison for nine months."
The House panel has been investigating claims Rove was involved in the dismissal of at least nine U.S. attorneys, as well as the prosecution of at least three Democrats who served as public officials, including Siegelman, who served as Alabama's governor from 1999-2003.
The tainted jury convicted him and former HealthSouth CEO Richard Scrushy of bribery, conspiracy to commit mail fraud, mail fraud and obstruction of justice, but acquitted him of other charges, including racketeering and extortion.
While Siegelman maintained that the case against him was political for months leading up to his trial and then his sentencing in June 2007, it was a signed affidavit in May 2007 and later sworn testimony by North Alabama Republican lawyer Jill Simpson that became the key evidence bringing the case to national attention.
That story hit the New York Times and Time magazine in June. Then, following an in-depth report in the Locust Fork Journal days later, New York lawyer and writer Scott Horton began blogging about the case at Harpers.org. The story made its way finally onto the CBS investigative magazine show "60 Minutes" last month, and was then picked up by hundreds of bloggers.
Rove resigned from the White House last August, days after Attorney General Alberto Gonzalez also walked away in the wake of Ms. Simpson's agreement to testify under oath in Washington. Rove has since declined to answer questions under oath before Congress and faces an ongoing perjury probe for his failure to appear along with former White House legal counsel Harriet Miers and Josh Bolton, Bush's chief of staff.
The Alabama Democratic Party, which was reluctant to get out front in support of Siegelman in his election bid in 2006 while he was under the cloud of indictment, put out a press release today welcoming the news of his release.
"This is the correct step that should have been taken many months ago by Judge Fuller," party executive director Jim Spearman said. "Fortunately the 11th Circuit is righting this wrong. The people of Alabama and this nation need to be reassured that justice is truly blind."
Party chair Joe Turnham said he supports the House Judiciary Committee's call for Siegelman to testify about the possible political influence within the Department of Justice.
According to House Judiciary Committee spokeswoman Melanie Roussell, "The chairman has determined it would be appropriate to hear from Mr. Siegelman himself and believes he would have a lot to add to the committee's investigation into selective prosecution."
"Hopefully today's call for Governor Siegelman to testify by the House Judiciary Committee is the first step to investigate charges of partisan justice in the U. S. Attorney's Alabama offices," Turnham said. "We renew our call for the U. S. Attorney General to name an independent investigation to look into these serious allegations of all current political prosecutions so as to reassure the people of Alabama that the justice system is not being influenced by partisanship at any level."
The appeals court denied former Healthsouth CEO Richard Scrushy's request to be released pending his appeal, indicating he failed to prove he was not a flight risk.
Assistant U.S. Attorney Louis Franklin, who prosecuted Siegelman and Scrushy, told the AP he was "absolutely" surprised by the court's ruling, but added the government would continue to contest Siegelman's appeal.
"We lost this battle, but we'll still fight for the conviction," he said.
Mike Hubbard, chair of the Alabama Republican Party, told the AP he was disappointed in the ruling.
"The former Governor's release pending appeal does not change the conviction by a jury of his peers," he said. "It would be premature to turn this development into anything other than a formality."
Jill Simpson said Hubbard's response was surprising, treating the issues at stake as mere politics and not worthy of a full investigation.
"These are very serious issues," she said. "Everyone should respect a person's right to a fair trial under the Sixth Amendment to the U.S. Constitution. What he said was just distasteful and classless."
At stake, according to Hiram Eastland of Greenwood, Mississippi, lead counsel for Siegelman, are "profound issues that should concern every American, Republican or Democrat" regarding political expression through campaign contributions.
Experts, including 44 U.S. attorneys, have said the alleged quid pro quo of Scrushy's donations to help pay off the debt on Siegelman's lottery for education campaign appear to be no more than typical campaign contributions, in part because none of the money went into Siegelman's pocket.
Another Siegelman attorney, David McDonald of Mobile, said his client is "emphatically" eager to appear before the House committee.
"We welcome the inquiry," McDonald said. "We will continue to cooperate in every way."
No matter what happens before the House Judiciary Committee, and what ruling the 11th Circuit makes in the case, chances are Siegelman will never see another day of jail time, and may be poised for a political comeback with his newfound fame, some sources say.
Siegelman would most likely be pardoned by either Democratic candidate in the presidential race, University of Alabama political scientist Bill Stewart told the AP, if they are elected in November.
"If he's out until January and we elect Clinton or Obama," he said, "I expect he will be pardoned just like Scooter Libby."
Bush commuted the sentence of Libby – the former top aide to Vice President Dick Cheney – just days after Scrushy and Siegelman were hauled off to jail in shackles last summer without the benefit of 45 days to put their affairs in order before self reporting, which is typical of white collar defendants in federal court.
That drastic action fired up Siegelman's supporters to begin a campaign to get him freed by raising a cry that echoed all over the Internet and the World Wide Web, calling Siegelman, "America's number one political prisoner."
The e-mail lists and blogs lit up with hundreds of comments today as the news spread of Siegelman's release.
"When I read your e-mail I actually started to tear up," said Butch Lambard of the South Baldwin County Democrats, a regular reader of The Locust Fork News and Journal and a member of our e-mail list.
"If we, or anyone, can organize a 'Welcome back, Don' party, I want to be there," he said.
"Hopefully, there will be a homecoming celebration of some sort," said a commenter on another list. "There should be huge fanfare for his homecoming."
After reading all the coverage of the case today, Ms. Simpson said the 11th Circuit Court made the right decision based on the evidence and the law. And she said it was gratifying to see the House Judiciary Committee move forward with the investigation by taking testimony from Siegelman.
"He will be the best witness," she said. "And I believe Scrushy and Siegelman will be vindicated in the end. They did not receive a fair trial, and it was political."
© 2008 – 2016, Glynn Wilson. All rights reserved.