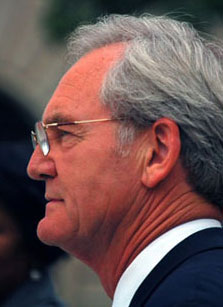 Glynn Wilson
Don Siegelman: Political prisoner?
by Glynn Wilson
The much anticipated segment on the CBS News magazine show "60 Minutes" about the political prosecution of Don Siegelman will run this Sunday, according to reliable sources, on the former Alabama governor's 62nd birthday and his 8th month in a Louisiana prison.
North Alabama lawyer Jill Simpson, the whistleblower who revealed the phone call that led to a Congressional investigation in the Siegelman case in a sworn affidavit, said in an interview she was pleased the show is finally going to air.
"I feel very happy now that we know for sure the show is going to run, after reading all the stories about it," she said. "I think after people watch the show they will see that Don Siegelman is America's number one political prisoner."
She said while some stories on some blogs had indicated that pressure had been brought to bear on "CBS corporate" by some Republicans, including some in the White House, Alabama Governor Bob Riley and Senator Jeff Sessions, she never believed they would be able to stop the show from airing.
"Working with the '60 Minutes' people was wonderful," she said. "I knew all along they could not be pressured by anyone and I never had any doubt they would run the show."
The show's producers took their time putting the segment together, she said, so that they would be able to make it a "signature piece" of the highest quality. It could run as long as 12-15 minutes, she said, which would make it one of the longest TV magazine stories ever to air on the show or any other of its kind.
"They got all the details of the entire story," she said. "They took the time to start at the beginning, get all the details and tell it to the end."

This is also now being reported simultaneously in New York lawyer Scott Horton's "No Comment" blog column at Harpers.org.
I am advised by CBS News that their long-awaited feature dealing with the trial of former Alabama Governor Don E. Siegelman will air on the next 60 Minutes program, on Sunday, February 24. I am told by people who have seen it that this is one of the best pieces of domestic exposé journalism the 60 Minutes team has put together in the last several years. Mark your calendar and if you're out, this is the time to master the Tivo or the VCR record function.
Siegelman Asks Again for Appeal Bond
Meanwhile, the Associated Press is now reporting that Siegelman's attorneys have filed a new motion asking the 11th U.S. Circuit Court of Appeals in Atlanta to order Siegelman released on an appeal bond, saying Chief U.S. District Judge Mark Fuller made numerous errors when he refused to release the former governor from prison while he appeals his questionable conviction on bribery charges.
A jury that was hung for days finally convicted Siegelman under a dynamite charge from judge Fuller for allegedly being involved in a scheme to appoint HealthSouth founder Richard Scrushy to a state hospital board in exchange for two $250,000 checks to help pay off the debt on a campaign to pass a state lottery. The lottery campaign failed due the undue influence of convicted lobbyest Jack Abramoff and disgraced former Christian Coalition leader Ralph Reed, who took money from Native American Tribes in Texas and Mississippi to kill the lottery plan and other casinos in Louisiana and Alabama.
Vince Kilborn, an attorney for Siegelman, said there was a substantial reason to believe Siegelman's appeal would succeed, in part because there was no "quid pro quo" in the hospital board appointment, and because the charges were filed against Siegelman after the federal statute of limitations had passed.
"Our beloved governor needs to be out until they hear his appeal," Kilborn said. "He's still serving time for what we believe was no crime."
More Political Indictments Expected
In a related story, there is a report circulating in Montgomery legal circles that U.S. Attorney Alice Martin, a Bush appointee, plans to issue and serve more indictments on Democrats in the Alabama Legislature in the days after the "60 Minutes" show airs.
Sources say perhaps nine Democrats will be dragged from the floor of the Legislature in handcuffs, and that the Alabama wing of the Bush Justice Department is trying to include one Republican lawmaker among the indictments to make it appear the two-year college probe – reported on ad nauseum by Alabama's corporate, chain press – is non-partisan.
Related Stories
Siegelman 60 Minutes Update
'60 Minutes' Source Confirms Locust Fork Journal Story
Siegelman '60 Minutes' Story IS NOT DEAD!
Jill Simpson's Affidavit May Help Justice Prevail in the Siegelman, Scrushy Case
Justice Off the Tracks in Alabama
The Nation: A Whistleblower's Tale
© 2008 – 2016, Glynn Wilson. All rights reserved.