There will be a public lecture at the Archaeology Museum and Jaguar Productions at the University of South Alabama Thursday Feb. 6 with Dr. Brian Fagan, one of the world's leading archaeological and historical writers.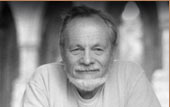 Dr. Fagan will be delivering a free public lecture The Attacking Ocean: Rising Sea Levels, Sea Surges, and Humanity at Laidlaw Performing Arts Center, on USA's main campus at 7 p.m.
Brian Fagan was born in England and studied archaeology at Pembroke College, Cambridge. He was Keeper of Prehistory at the Livingstone Museum, Zambia, from 1959-1965. During six years in Zambia and one in East Africa, he was deeply involved in fieldwork on multidisciplinary African history and in monuments conservation.
He came to the United States in 1966 and was Professor of Anthropology at the University of California, Santa Barbara, from 1967 to 2003, when he obtained Emeritus status.
Since coming to Santa Barbara, Dr. Fagan has specialized in communicating archaeology and the past to general audiences through lecturing, writing, and other media. A former Guggenheim Fellow, he lectures about the past all over the world. His many books include three volumes for the National Geographic Society, including the bestselling Adventure of Archaeology.
The Attacking Ocean tells the story of the complex relationship between human societies and rising sea levels over the past 15,000 years. This is not about climatology, but, instead, a summary of what we know about the impacts of climbing sea levels on humanity since the end of the Ice Age, some 15,000 years ago.
A book signing will follow the lecture. Dr. Fagan's book is available for purchase at the Archaeology Museum Shop.
"This lecture fulfills part of the Archaeology Museum's main mission," notes Barbara Filion, the museum's Education Curator, "learning from the past to help better inform our future. Our specific focus this year is the environment, so Dr. Fagan was a natural fit."
This public lecture is made possible thanks to contributions from Archaeology Museum members as well as Jaguar Productions and the University of South Alabama Anthropology Club.
The University of South Alabama partnered with community organizations to co-sponsor this event including the Mobile Bay Sierra Club, Dauphin Island Sea Lab and Mobile Bay National Estuary Program.
Related Links
Reviews of The Attacking Ocean
The Archaeology Museum
Mobile Bay National Estuary Program

© 2014 – 2016, Glynn Wilson. All rights reserved.