Republican Identification the Lowest in 25 Years –
By Glynn Wilson –
Forty-two percent of Americans identified themselves as political independents in 2013, the highest percentage Gallup has measured since it began conducting interviews by telephone 25 years ago.
Meanwhile, Americans identifying themselves as Republicans fell to 25 percent, the lowest recorded since the Reagan era, while 31 percent of Americans still self identity as Democrats, a number that has remained steady for the past four years but is down from 36 percent in 2008.
At least 40 percent of Americans have identified as independents for the past three years, the only years in Gallup's records that the percentage of independents has reached that level.
"Americans' shift to independent status has come more at the expense of the Republican Party than the Democratic Party," according to the latest Gallup poll on the subject.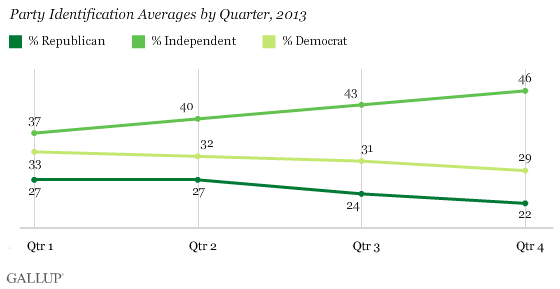 "Republican identification peaked at 34 percent in 2004, the year George W. Bush won a second term in office," Gallup says. "Since then, it has fallen nine percentage points, with most of that decline coming during Bush's troubled second term."
When Bush left office, Republican identification was down to 28 percent.
"It has declined or stagnated since then, improving only slightly to 29 percent in 2010, the year Republicans 'shellacked' Democrats in the midterm elections," Gallup says.
Not since 1983, when Gallup was still conducting face-to-face interviews, has a lower percentage of Americans, 24 percent, identified as Republicans, the year President Ronald Reagan remained unpopular as the economy struggled to emerge from a recession.
By the following year, amid an improving economy and re-election for the increasingly popular incumbent president, Republican identification jumped to 30 percent, a level generally maintained until 2007.
Democratic identification has also declined in recent years, according to Gallup, falling five points from its recent high of 36 percent in 2008, the year President Barack Obama was elected. "The current 31 percent of Americans identifying as Democrats matches the lowest annual average in the last 25 years."
Fourth Quarter Surge in Independence
The percentage of Americans identifying as independents grew over the course of 2013, surging to 46 percent in the fourth quarter, according to Gallup, which coincided with the partial government shutdown in October and the problematic rollout of major provisions of the Affordable Care Act, commonly known as "Obamacare."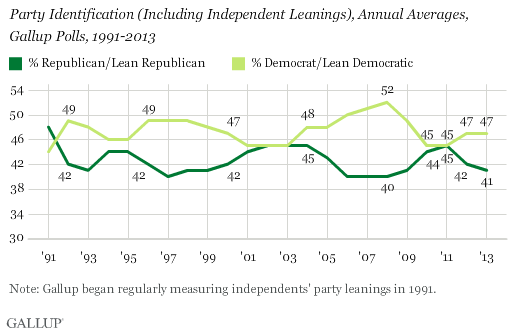 "The 46 percent independent identification in the fourth quarter is a full three percentage points higher than Gallup has measured in any quarter during its telephone polling era," Gallup says.
Democrats Maintain Edge in Party Identification
Democrats maintain their six-point edge in party identification. However, when independents' "partisan leanings" are taken into account, in addition to the 31 percent of Americans who identify as Democrats, another 16 percent initially say they are independents but when probed say they lean toward the Democratic Party.
An equivalent percentage, 16 percent, say they are independent but lean to the Republican Party, on top of the 25 percent of Americans identifying as Republicans.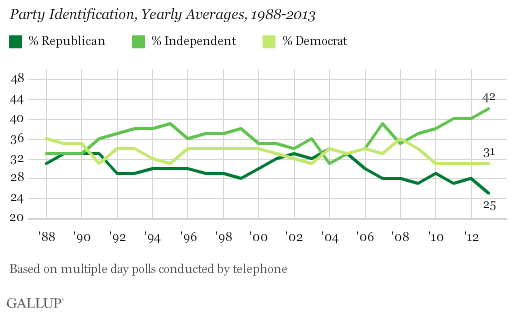 So 47 percent of Americans identify as Democrats or lean to the Democratic Party, while only 41 percent identify as Republicans or lean to the Republican Party.
Democrats have held at least a nominal advantage on this measure of party affiliation in all but three years since Gallup began asking the "partisan lean" follow-up in 1991. During this time, Democrats' advantage has been as high as 12 points back in 2008.
"However, that lead virtually disappeared by 2010, although Democrats have re-established an edge in the last two years," Gallup says.
Gallup's Implications
"Americans are increasingly declaring independence from the political parties," Gallup says in its analysis of the data. "It is not uncommon for the percentage of independents to rise in a non-election year" like 2013.
"Still, the general trend in recent years, including the 2012 election year, has been toward greater percentages of Americans identifying with neither the Republican Party nor the Democratic Party, although most still admit to leaning toward one of the parties," Gallup says. "The rise in political independence is likely an outgrowth of Americans' record or near-record negative views of the two major U.S. parties, of Congress, and their low level of trust in government more generally."
The increased independence adds a greater level of unpredictability to this year's congressional midterm elections, Gallup says. "Because U.S. voters are less anchored to the parties than ever before, it's not clear what kind of appeals may be most effective to winning votes. But with Americans increasingly eschewing party labels for themselves, candidates who are less closely aligned to their party or its prevailing doctrine may benefit."
Survey Methods
Results are based on aggregated telephone interviews from 13 separate Gallup polls conducted in 2013, with a random sample of 18,871 adults, aged 18 and older, living in all 50 U.S. states and the District of Columbia. For results based on the total sample of national adults, the margin of sampling error is plus or minus 1 percentage point at the 95 percent confidence level.
© 2014, Glynn Wilson. All rights reserved.