By Glynn Wilson –
Now that a major logjam has been broken in the U.S. Senate with a change in the filibuster rules to allow votes on judicial nominees by simple majority, President Obama will soon have an opportunity to fill at least three Alabama vacancies on the federal courts.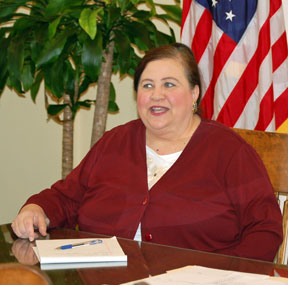 Six Alabama lawyers have been recommended to President Barack Obama by the state Democratic Party for nomination to fill a vacancy on the 11th U.S. Circuit Court of Appeals in Atlanta created in October when Circuit Judge Joel Dubina moved to senior, semi-retirement status.
Acting Democratic Party chair and former Secretary of State Nancy Worley said party officials reviewed 12 applications and interviewed 10 candidates before forwarding six names to the White House.
"We met such well-qualified people," Worley said. "We would be proud for any of them to be selected."
The president may consider the recommendations but is not bound to choose them, and the state's sole Democratic Party Representative in Congress, Terri Sewell of Birmingham, may also make recommendations, although the state's two Republican Senators, Richard Shelby and Jeff Sessions, would also be consulted since the nominee must be confirmed by the U.S. Senate.
The party recommended Birmingham attorneys Tamara Harris Johnson and Ben Morris, along with former state legislator and Guntersville lawyer Jeff McLaughlin, Dallas County circuit judge Collins Pettaway, federal prosecutor Susan Redmond of Montgomery and Montgomery attorney Mark Sabel.
Sewell refused to release the names she recommended after consulting with a panel of legal experts, but Nichole Francis, her chief of staff, issued a statement saying she was working "closely" with the Senators and the White House.
"It is Congresswoman Sewell's priority to ensure that highly qualified and diverse candidates are nominated and confirmed to fill the federal judicial vacancies in Alabama," Francis said. "Given the collaborative nature of this process and its complexity, names have not been released."
Two other federal judgeship vacancies have also opened up in Alabama since U.S. District Judges Lynwood Smith in Huntsville and Myron Thompson in Montgomery both took senior status in August.
The president could elevate a U.S. district judge to the appellate bench, which would create a third district court vacancy and an additional presidential appointment.
The 11th Circuit Court handles appeals from Alabama, Georgia and Florida, and the seat Dubina occupied was traditionally held by a jurist from Alabama. Dubina replaced former Judge Robert Vance, killed by a mail bomb in 1989 at his home near Birmingham.
The federal courts have been dominated by Republican appointees in recent years since President George W. Bush made a record number of appointments and the Republicans in the U.S. House for years blocked President Obama's appointees by using the filibuster to require a two-thirds majority vote in the Senate to confirm nominees. The state courts are still dominated mostly by pro-big business Republicans.
© 2014, Glynn Wilson. All rights reserved.