Democrats and Independents More Dissatisfied Than Republicans –
By Glynn Wilson –
Two out of three Americans are dissatisfied with the way income and wealth are distributed in the United States, according to Gallup's Mood of the Nation poll.
This should come as no surprise considering all the news stories over the past decade or more demonstrating the growing income disparity between the haves and the have nots in the U.S. and the shrinking middle class.
President Barack Obama spoke about income disparities in a speech Dec. 4, saying he wanted to prioritize lowering income disparity and increasing opportunities, particularly for the poor, during the rest of his second term.
"He most likely will return to that topic in his State of the Union speech at the end of the month," Gallup reports.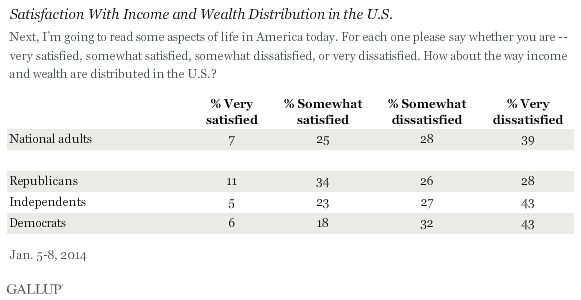 Only 7 percent of Americans say they are "very satisfied" with the situation with most of the wealth held by 1 percent of the population, and 39 percent of Americans say they are "very dissatisfied" with the distribution of wealth. Another 25 percent say they are "somewhat satisfied," while 28 percent say they are "somewhat dissatisfied" and 39 percent indicate they are "very dissatisfied."
Not surprisingly, attitudes about the distribution of income and wealth vary according to stated partisan alliances.
Predictably, 45 percent of those who claim to be Republicans say they are very or somewhat satisfied with the situation, while 38 percent of Democrats say they are very or somewhat dissatisfied. Those who claim independent status are the most dissatisfied. A majority of independents, 53 percent, are dissatisfied with the way wealth breaks down in America.
Of course many Republicans consider any discussion about the distribution of wealth itself tantamount to "socialism," and those on the right who run for office always seem to promote a false idea that unbridled capitalism can "lift all boats." Yet economists know that a successful economy depends on a balance between private enterprise and government regulations and involvement in the economy of a nation.
Opportunity to Get Ahead?
The same Gallup survey found that 54 percent of Americans are satisfied that there is an opportunity for an American "to get ahead by working hard," yet 45 percent said they were dissatisfied with the current state of job opportunities in the U.S.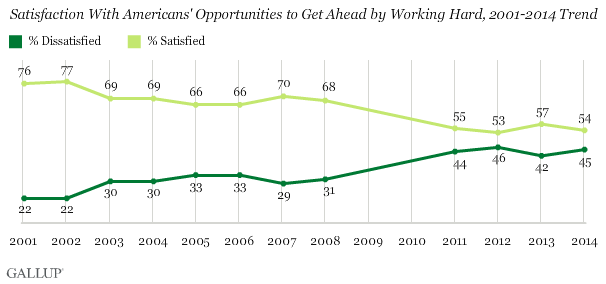 "This measure has remained roughly constant over the past three years," Gallup says, "but Americans are much less optimistic about economic opportunity now than before the (Bush Great Recession) and financial crisis of 2008 unfolded."
Prior to that, at least two in three Americans were satisfied with opportunities associated with the economy. This feeling reached a its zenith in American life in 2002.
According to Gallup, satisfaction with the opportunity to get ahead does not show a significant partisan split, with 61 percent of Republicans and 60 percent of Democrats saying they are satisfied with the way things stand. Among independents, 53 percent are dissatisfied and 45 percent are satisfied.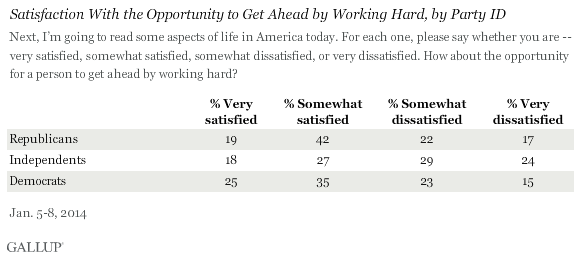 Gallup's Bottom Line
"(President) Obama will almost certainly touch on inequality in his State of the Union address on Jan. 28," Gallup says. "This will certainly resonate in a general sense with the majority of Americans who are dissatisfied with income and wealth distribution in the U.S. today. Members of the president's party agree most strongly with the president that this is an issue, but majorities of Republicans and independents are at least somewhat dissatisfied as well."
Although Americans are more likely to be satisfied with the opportunity for people to get ahead through hard work, their satisfaction is well below where it was before the economic downturn, Gallup concludes.
Survey Methods
Results for this Gallup poll are based on telephone interviews conducted Jan. 5-8, 2014, on the Gallup Daily tracking survey, with a random sample of 1,018 adults, aged 18 and older, living in all 50 U.S. states and the District of Columbia. For results based on the total sample of national adults, the margin of sampling error is plus or minus 4 percentage points at the 95 percent confidence level.
© 2014, Glynn Wilson. All rights reserved.