Secret Vistas –
By Glynn Wilson –
TALLADEGA NATIONAL FOREST, Ala. — The night was quiet and still except for the owls hooting and the coyotes howling off in the distance when we let the fire burn down in the Turnipseed Campground and climbed into bed Sunday evening after hiking to Cheaha Falls during the day. Not sure what woke me up at 3 a.m., but I heard a small plane circling overhead.
I thought that was odd. It is not that unusual to hear a plane fly overhead while camping in a national forest, but one flying in circles right over your head this low at 3 a.m.? I wondered if something was up.
Then I heard a helicopter circling overhead, so I sat up and looked out the front window of the Dodge Roadtrek camper van and saw a police cruiser pull up to the front of the campground. Then another showed up. Then another, and another.
At this point I wished I had a police scanner in the van so I could find out what was going on without getting into the middle of a scene. That will now move up the priority list of equipment for the MoJo setup.
It looked like the Clay County Sheriff's Department might be out looking for an escaped convict or an armed robber on the loose, so I stayed hunkered down in the dark of the van and watched for awhile.
At moments like this a person's natural paranoia is triggered. I wondered if a Forest Service ranger or the forest supervisor himself had seen my photos from our hike into the closed down Lake Chinnabee Recreation Area and Campground, posted with a sign that said anyone caught in the area could be subject to a fine of up to $5,000 or six months in jail. But since there were also signs indicating that walk-ins are welcome, I didn't figure they would put that many resources into tracking me down for some illegal photos.
Part of the Chinnabee Silent Trail is closed along with the recreation area and campground due to some flooding back in May, and the Lakeshore Trail is supposed to be closed too. But we ran into numerous hikers in the area on Saturday. Someone had broken the tape across the trail. Hikers from the Pinhoti 100 trail race were all over the place. We ran into one right as we arrived at the Skyway Trail while bushwhacking through the forest taking a shortcut from Forest Service Road 645 to the Chinnabee Lake area.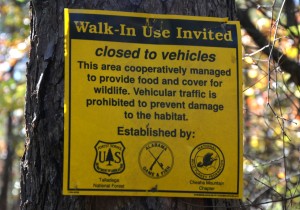 But after awhile early Monday morning, the police cruisers, the plane and helicopter seemed to move away, so we settled back down to sleep.
Later on Monday, we stopped at the Cheaha State Park store and I asked someone there what had been going on the night before, but she indicated that park personnel are not allowed to comment on such things. One the way home out of the forest on Monday, we stopped for lunch in Lineville and I lobbed a call into the dispatcher at the Lineville Police Department and asked what was going on the night before in the Cheaha State Park area. She indicated there were some hikers lost in the woods.
Monday night, I called the Clay County Sheriffs Department dispatcher and she said they do not make such police reports public, but indicated I could call Sheriff Ray Latham in the morning. He took my call and referred me to the Clay County Rescue Squad for an official report, but indicated that a family had gotten lost hiking in the forest after it got dark and cold and their cell phone battery had gone dead. The wind picked up early Monday morning, so it was colder than indicated by the projected low of 43 degrees on the Weather Service forecast.
On Tusday I talked to Brian Andrews, the operations officer who led the search and rescue, and he confirmed what the sheriff said and indicated that the Air Force Air Rescue plane got involved along with an Alabama State Trooper helicopter because the original GPS coordinates for the location of the lost family turned out to be wrong.
"Normally we can find people and get them out within a couple of hours," Andrews said. But because of the inaccurate coordinates and the dead cell phone battery, he said: "It turned into a 15-hour ordeal" that ended in the state park maintenance area by 10:30 a.m. on Monday.
There were no injuries and everyone was rescued intact, he said.
According to the official report, which was posted on Facebook Wednesday morning, the Clay County Rescue Squad was called about a missing man, woman and 4-year-old child that were lost in the Talladega National Forest Sunday around 6:15 p.m. The original call was placed to 911 and routed through Talladega County around 5:32 p.m. and eventually made its way to Clay County around 6 p.m.
Officially the police agency would not release the names of the family or where they were from. But according to information picked up on Facebook, it was Frank Reaves of Lincoln, Alabama and his wife and child.
The report was that the family was OK when the call came in, just lost in the woods with no food, water or supplies. The call was placed by cell phone and connected to Talladega 911 but the cell battery went dead before any location information could be given.
"We were gathered on scene and headed in the woods within about an hour," Andrews said in his report.
The first set of coordinates turned out to be approximately one mile off location due to the battery dying immediately after the lost persons placing the call and the phone unable to get a good GPS signal due to heavy foliage canopy.
"After arriving at the location and learning the lost hikers were nowhere to be found, two things had become apparent," Andrews said. "Either the coordinates were inaccurate or the hikers were moving, which is never the right thing to do. So we contacted 911 to advise they were not at the location given or nearby."
At this time multiple agencies were contacted due to unknown injuries, cold temperatures and high winds coming, and a 4-year-old child involved with the possibility of no supplies or way to keep warm.
The Clay County Emergency Management Agency, the Alabama State Troopers Aviation helicopter, the Civil Air Patrol and an Air Force Reserve Special plane got involved.
"The pilots checked on the lost hikers with me multiple times because they knew how bad the cold and wind was up there," Andrews said.
Civil Air Patrol and an Air Force Reserve unit got involved in dissecting cellular info to pinpoint a new location and later to check on the lost hikers.
"Using the most of today's technology, they contacted us and were able to send KMZ files, maps and coordinates to our phones in the field," Andrews said. "With that information we were able to pinpoint a new location and immediately started hiking in."
Within a couple of hours, he said, they were at the location and the lost hikers were safe.
"We spent some time making sure they were OK, especially the child, and split the group again," Andrews said. "By 6:30 a.m. we were connected back up with the other group hiking in and started out to the command post. About 10 a.m. we were all back safe and warm and headed down the mountain. Another successful mission and most fortunate no one lost or in our group were hurt or stressed."
It's a serious reminder to respect the woods, Andrews said. "It only takes one or two events to turn a search and rescue into a recovery mission. We would much rather come get you out safely."
Let this be a warning, people. Be more careful when hiking in the forest and try to plan ahead to avoid trouble in the woods.
Andrews indicated this was the third time in the past three weeks that law enforcement agencies had to be deployed to find lost hikers in the area.
On the Clay County Search and Rescue Squad Facebook page, another indecent was reported on Wednesday, October 30.
"Last night at 8 p.m. we received a call from 911 for two lost hikers in the Talladega National Forest," the report said. "They were not hurt, just simply missed the trail and could not find it again as it got dark. We had approximately 12 members and Clay County Sheriff's Office respond. By 11:30 p.m. we were back out of the woods and headed off the Mountain. Thank you to all who responded, and those who called to stand by if needed, especially having to work the next morning. You guys and girls are what makes the Rescue Squad what it is. Events like this make us proud to be a part of Clay County."
"Please remember these things," Andrews said on his Facebook page. "If you're going hiking for a day, be prepared for that night. Anything can happen."
He said people should always pack fire starter, lights, a jacket, high carb snacks and water.
"A charged cell phone would have gotten these people out five times faster," he said. "And we would not have had to look for them. We could have walked in and out, or even told them how to get out on their own. Simply reading the sign they saw to me over the phone, I could have said, 'Walk south down this trail. See you in 90 minutes'."
Stay safe out there. The autumn color is peaking now and will be for the next two or three weeks. It is a beautiful place. But do try not to get lost. There are maps available at any Forest Service Office and online.
© 2013 – 2016, Glynn Wilson. All rights reserved.