By Glynn Wilson –
An overwhelming majority of Americans, 76 percent, now say they support an increase in the federal minimum wage, according to the latest Gallup poll on the subject.
Gallup says "momentum is building" in Washington and in states across the country to increase hourly base pay, and public opinion survey data indicates that three-quarters of Americans say they fully support raising the minimum wage to $9 per hour from the current level of $7.25.
The polling indicates this is a five-percentage-point increase since March. Now only 22 percent of Americans would vote against raising the minimum wage, mostly hard core, anti-government Republicans, including those who control the U.S. House of Representatives.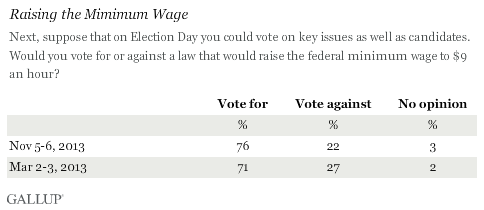 President Barack Obama called on Congress to raise the minimum wage to $9 an hour in his 2013 State of the Union address. The Obama administration has voiced support in recent months for the Harkin-Miller bill, which would raise the minimum wage even higher, to $10.10 an hour.
Widespread rallies held mainly by fast-food workers paid by the hour support this idea, yet legislation that would accomplish this goal has languished in the Republican-controlled House. The House in March voted down a proposal to raise the minimum wage to $10.10 by 2015, with all Republicans voting against it.
Republicans are the least supportive of hiking the minimum wage to $9, according to Gallup, with 58 percent saying they would vote in favor of it and 39 percent saying there are against it. By comparison, 91 percent of Democrats and 76 percent of independents would favor it.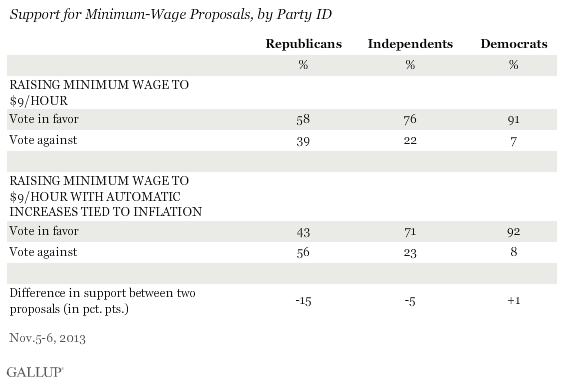 Tying the minimum wage to inflation sparks stronger resistance from Republicans, with an outright majority, 56 percent, saying they would vote against it and 43 percent saying they would vote for it, while 71 percent of independents and Democrats say they would vote for it.
A law that would raise the minimum wage to $9 an hour with automatic increases tied to the inflation rate is only slightly less popular with the general public. Surveys show that 69 percent say they would vote for it, while 28 percent indicated they are against it.
As background on action in the states, voters in New Jersey amended their state constitution last week to raise the minimum wage $1 to $8.25 an hour by a vote of 61 percent to 39 percent. Other states are considering similar legislation. The New Jersey amendment links the wage to inflation, but many legislative bills across the country have not taken that approach.
The federal minimum wage is currently not adjusted for inflation and its real, inflation-adjusted, value has varied significantly since the wage was established in 1938. Even as the nominal rate of the minimum wage has increased by 2800 percent from its original value of 25 cents per hour, the real value of the wage has declined from its 1968 peak by 33 percent in real dollars.
Gallup's Implications
"As Democratic leaders in the U.S. Senate are poised to introduce legislation raising the federal minimum wage, doing so remains a popular proposition with Americans," Gallup says in its analysis. "Support for the proposal has increased since earlier this year, and now reaches majority levels across all three major political identifications."
Linking automatic minimum-wage increases to inflation is only slightly less popular. The real value of the wage has generally declined since 1968, and it appears most adults would support measures to counteract this trend.
"Yet, behind the large majority support lurks a potential partisan battle if any legislative proposal were to incorporate this element, because the majority of Republicans oppose this measure," Gallup says.
Political Implications
Just as this issue was used in states such as Alabama in 2006, candidates who publicly support state increases in the minimum wage could make political hay with the issue and fire up a base of supporters who may not otherwise vote. Taking a stand for a $1 increase in the minimum wage raised Democratic candidate for governor Lucy Baxley from 32 percent support in the polls two weeks before the November election in 2006 to 42 percent on election day. If she had taken our editorial advice to come out strong for the environment in that race, she may have defeated Bob Riley and become the second female governor of Alabama.
Survey Methods
Results for this Gallup poll are based on telephone interviews conducted Nov. 5-6, 2013, on the Gallup Daily tracking survey, with a random sample of 1,040 adults, aged 18 and older, living in all 50 U.S. states and the District of Columbia. For results based on the total sample of national adults, one can say with 95 percent confidence that the margin of sampling error is plus or minus 4 percentage points.
© 2013, Glynn Wilson. All rights reserved.