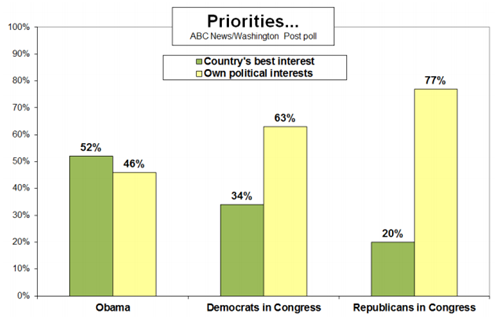 By John Anzalone, Jeff Liszt and Lisa Grove –
In addition to the estimated $24 billion impact on the country's economy, public opinion surveys show the government shutdown has dragged down confidence in the country's direction, support for incumbent politicians, and Americans' views of the Republican Party, according to the Anzalone Liszt Grove Research National Polling Summary sent out by e-mail.
Almost half of Americans, 48 percent, think the recent budget dispute that resulted in a near complete shutdown of the federal government has "seriously damaged" the economy, resulting in one of the most negative outlooks on the country's direction in recent history.
According to a recent Pew Research poll, only 14 percent of Americans are satisfied with the way things are going, while 81 percent say they are dissatisfied. The only time in the last two decades that Pew recorded lower satisfaction was in October 2008, during the height of the financial crisis and the month before President Obama was elected.
Views on the economy are also increasingly negative. Almost half of Americans, 48 percent, rate economic conditions as poor, up 16 percent from September. And Gallup's Economic Confidence Index fell twelve points in the first week of the shutdown, the largest weekly decline since Lehman Brothers collapsed in September 2008.
Americans overwhelmingly disapproved of the partial government shutdown, with 81 percent saying they disapproved.
Most do not support the stand House Republicans took to cause the shutdown. A National Journal poll finds that by more than a 2-to-1 margin, the public opposed tying the funding of the federal government to the future of the Affordable Care Act.
Overall, 65 percent of adults thought "Congress should provide the funding to keep the government operating and deal with the health care issue separately" versus just 24 percent who believed the House "is right to fund the continuing operations of the federal government only if Obama agrees to delay or withdraw his health care plan." Even a majority of Republicans, 50 percent, believed that the issues should be kept separate.
Similarly, by a 2-to-1 margin or more, Americans thought that an increase in the federal debt ceiling should be dealt with separately from agreements on a variety of other proposals, including a one-year delay in the implementation of the Affordable Care Act, cuts in spending for either discretionary or entitlement programs, and an authorization for the construction of the Keystone pipeline.
Americans' frustration with the shutdown has translated into record-high anti-incumbent sentiment. Almost three-quarters of registered voters, 74 percent, believe that most members of Congress should not be reelected in 2014, while only 18 percent believe they should. In comparison, merely a month before the midterm 2010 election, just half of voters thought most members of Congress should not be reelected.
When asked specifically about their own representative in Congress — a measure that historically has been more positive — 66 percent of adults in the ABC News/Washington Post poll said they were "inclined to look around for someone else to vote for," while only 24 percent said they were inclined to reelect their own member. This is the highest level of openness to a new representative in Congress in more than two decades.
While no one looks particularly good in the aftermath of the shutdown, Republicans have fared the worst. In an ABC News/Washington Post poll, 77 percent of Americans disapproved of the way Republicans in Congress were handling negotiations over the federal budget, while 61 percent disapproved of the way Democrats were handling negotiations. President Obama received less criticism, but a majority of Americans, 54 percent, still disapproved of his handling of the situation.
A majority, 53 percent of Americans place more blame for the shutdown on Republicans in Congress in both an NBC/Wall Street Journal poll and an ABC/Washington Post poll, while less than a third place more blame on President Obama.
The dichotomy voters see between President Obama and Republicans in Congress is evident in views on their motivation. While 50 percent of registered voters believe Obama is "interested in doing what's best for the country," 47 percent believe he is "interested in doing what's best for himself politically." But just 19 percent believe Republicans in Congress are interested in doing what's best and 78 percent believe they are only looking out for themselves politically.
© 2013, Glynn Wilson. All rights reserved.