By Glynn Wilson –
While the federal government remains shut down because of the inability of Congress to agree on compromises that would reopen it and raise the debt ceiling, public approval of Congress has dropped to just 11 percent, according to the latest Gallup poll on the subject.
That's down eight percentage points from last month and only one point above the worst rating in Gallup polling history.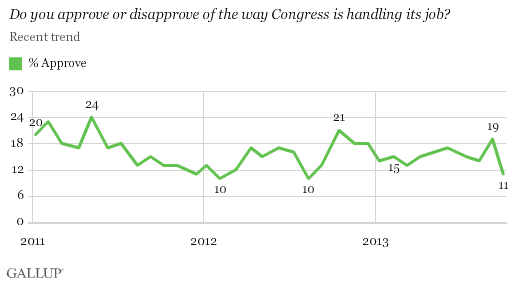 The drop is fueled in large part by the decline in approval by Democrats, which dropped from 20 percent in September to 5 percent in October. Yet approval ratings given by Republicans and independents have also fallen.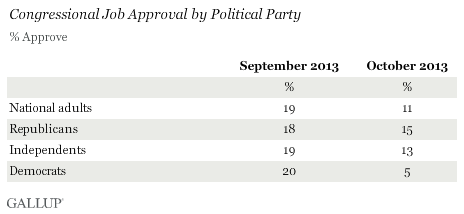 "The big drop in Democrats' approval of Congress most certainly reflects Democrats' negative views of the Republican-controlled House, in which leadership has publicly demanded that the president and Democrats in Congress agree to changes in the Affordable Care Act as a condition for passing a continuing resolution or a budget," Gallup says in its analysis. "Overall, however, approval of Congress is very low across all partisan groups."
Americans' Approval of Congress Remains Historically Low
Approval of Congress by the American people is well below where it was in the broad time period surrounding the government shutdown in December 1995. The job approval of Congress in September of 1995 was 30 percent prior to the shutdown, but it was 35 percent when Gallup next measured it in April 1996 after the shutdown and the government reopened. Those readings in 1995 and 1996 were roughly at Gallup's overall historical average approval rating of 33 percent.
There has been a downward trend in the job approval of Congress since the tea party Republicans took over in 2010. The all-time low of 10 percent came in February and August of 2012.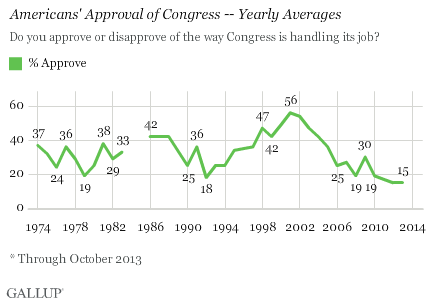 "While Congress as a whole gets dismal job approval ratings, Americans are significantly more charitable when it comes to the member of Congress representing their particular district," Gallup points out. "Americans now give their own representative a 44 percent approval rating, which is not an extremely high rating on an absolute basis, but is certainly high compared with Congress' overall 11 percent rating in the same survey."
"Typically, Americans have been much more likely to approve than disapprove of their own representative," Gallup says.
Gallup's Implications
"Members of Congress are no doubt aware that their work as a body receives extremely low marks from the American public — now within one point of being the lowest approval rating in Gallup history," Gallup concludes.
"Not only is Congress' overall approval rating near historic lows, but satisfaction with the way things are going in the country is now well below 20 percent," Gallup says. "Additionally, economic confidence continues to plummet, and 70 percent of Americans say that the shutdown is a crisis or a major problem."
Survey Methods
Results for this Gallup poll are based on telephone interviews conducted Oct. 3-6, 2013, with a random sample of 1,028 adults, aged 18 and older, living in all 50 U.S. states and the District of Columbia. For results based on the total sample of national adults, one can say with 95 percent confidence that the margin of sampling error is plus or minus 4 percentage points.
© 2013, Glynn Wilson. All rights reserved.