By Glynn Wilson –
The Republicans in Congress are at it again, refusing to consider compromising with the president and the Democrats in the U.S. House and Senate to find a way to fund the federal government and support the publics' right to health care.
At a time when disagreements and inability to reach consensus in Congress pose the threat of a federal government shutdown, according to the latest Gallup poll on the subject, a majority of Americans, 53 percent, express an increasingly strong preference for their political leaders in Washington to compromise, rather than stick to their principles at the cost of getting nothing done. Only 25 percent of the public say they should stick to their anti-government conservative principles, even if that means shutting down the government for lack of funding.
"The current situation in Washington involves leaders sparring back and forth about the circumstances under which they will — or will not — pass a continuing resolution before the end of the fiscal year, on Sept. 30," Gallup says. "That resolution is necessary in order to keep funding the government and to avoid at least its partial shutdown. Beyond that looms the need to raise the debt limit by mid-October to avoid additional significant economic consequences."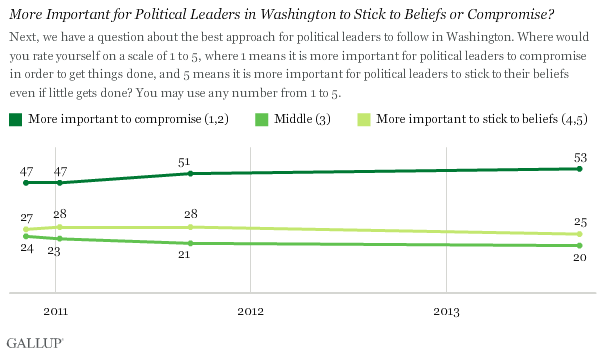 Gallup has asked Americans four times since 2010 to indicate where they stand on a 1-to-5 scale, where "5" represents the belief that it is important for leaders to stick to their principles even if little gets done, and "1" represents the belief that it is important to compromise precisely in order to get things done.
In each instance, a majority of Americans have favored compromise over sticking to principles.
Democrats More Likely to Want Leaders to Compromise
There continue to be significant partisan and ideological differences in Americans' views on this philosophical issue, according to Gallup. Democrats and liberals are most likely to come down on the "compromise" side of the scale — with more than six in 10 of each group placing themselves on that end of the scale. Yet the data shows that independents, moderates, and conservatives also tilt significantly toward compromise.
"Republicans are the most divided among the major political groups, with about as many preferring compromise as sticking to one's beliefs," Gallup says. "Notably, Americans who identify as tea party supporters are about as likely to favor compromise as sticking to core beliefs."
Implications
The constitution does not dictate a way in which bodies of elected representatives are supposed to operate when it comes to reaching agreement on key policy issues, according to Gallup.
"Clearly the Founding Fathers understood that House and Senate members, representing geographically and demographically diverse districts and states, would have widely differing views on important policy matters," Gallup concludes.
Equally clearly, the Founders assumed that these members would in some fashion be able to reach agreement on making policies and passing laws without the machinery of government coming to a complete halt.
"There has always been a fine line between a representative's sticking to his or her principles in congressional debates and votes, and in some instances being willing to compromise those principles in order to reach an agreement. The American people at the moment clearly tilt toward the sentiment that their representatives — as a whole — should compromise on important matters, even if it means voting against a particular representative's principles," Gallup says.
These sentiments are measured in reference to Congress as a whole without respect to specific issues, and Gallup says it's quite possible that Americans would feel their particular representative should not compromise on issues of great importance to them personally.
But if Congress wants to regain the trust of the people, it will have to show a willingness to compromise to get things done. Funding the government is the most basic task of them all.
"Congress continues to have very low approval ratings," Gallup says, and surveys show that the primary reason Americans give for their disapproval is indeed that Congress won't compromise and manage to find agreement on issues. "The current data suggest that if Congress is unable to find a way to avert a government shutdown or doesn't deal with the debt ceiling, its approval rating has little chance of getting better, and a significant probability of dropping even lower."
Survey Methods
Results for this Gallup poll are based on telephone interviews conducted Sept. 5-8, 2013, with a random sample of 1,510 adults, aged 18 and older, living in all 50 U.S. states and the District of Columbia. For results based on the total sample of national adults, one can say with 95% confidence that the margin of sampling error is plus or minus 3 percentage points.
© 2013, Glynn Wilson. All rights reserved.