Most Democrats Oppose Tea Party - Republican Support Dwindles
By Glynn Wilson –
As the nation braces for another budget showdown in Washington with the threat of defunding the new healthcare law and another government shutdown, the key political force pushing for conservative, anti-government policies continues losing popular support, according to the latest Gallup poll on the subject.
Fewer Americans now describe themselves as supporters of the tea party movement than ever, since it became a political force in 2009 in the wake of the election of the first African-American president in U.S. history who pushed for the passage of the first ever law regulating the capitalist healthcare industry in the world's richest democracy.
In November 2010, days after the Republicans recaptured the majority in the House of Representatives, 32 percent of Americans said they were sympathetic to the views of the tea party. Now just 22 percent say that and only 11 percent are really "strong" supporters.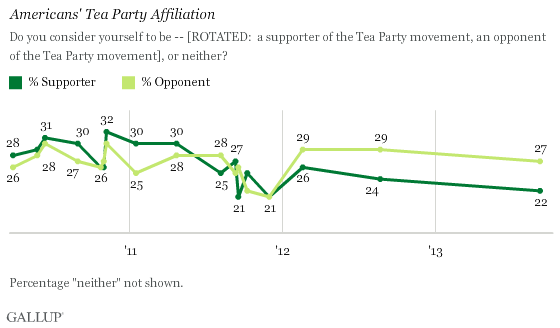 Strong opponents of the tea party now outnumber supporters 27 percent to 22 percent, while a majority of Americans, 51 percent, currently say they are neither a supporter nor an opponent of the tea party or have no opinion.
Tide of History Turns Against Them
Some experts say these anti-government, anti-tax, anti-regulation radicals have tried to distort American history by abusing a famous event in the American Revolution, when British tea was dumped into Boston Harbor to protest taxation without representation by a tyrant Monarch, and turn it into an excuse to oppose any federal government policies in Washington. What may have started out as a grass roots movement was of course captured by big money libertarian Republicans like the Koch brothers, and people are now starting to understand the damage they can cause the country.
They picked up some popular support for these views early on, but the data suggest the tide of public opinion is now turning against them. Strong opponents of this so-called tea party movement now lead supporters in intensity, according to Gallup. The majority of tea party opponents call themselves strong opponents, while supporters are evenly divided as strong and not strong supporters. The net result is that 17 percent of Americans now consider themselves strong opponents of this tea party, while only 11 percent are strong supporters.
The survey also suggests that the partnership between the tea party and the Republican Party is waning.
"Although some of the tea party's most visible representatives in politics today are associated with the Republican Party, and while rank-and-file Republicans are more likely to call themselves supporters than opponents of the tea party movement — a far greater number identify as neither," Gallup says. "To be sure, this is much more positive than Democrats' views of the tea party, with a majority describing themselves as opponents of the political movement."
However, it is also far less supportive than three years ago, when two-thirds of Republicans identified as tea party supporters.
Just as Republicans are mixed in their views of the tea party, supporters themselves have mixed views about the Republican Party. While 55 percent of those who identify as supporters of this tea party hold a favorable view of the Republican Party, now 43 percent hold an unfavorable view.
Gallup's Bottom Line
U.S. support for the tea party is at a low ebb at a time when key issues of concern for the movement — funding for the Affordable Care Act and raising the U.S. debt ceiling — are focal points in Washington, with tea party-backed Sen. Ted Cruz prominently fighting both policies.
"The discomfort he has created in the Republican caucus is merely emblematic of the ambivalence national Republicans feel toward the movement," Gallup says.
Although few Republicans will come right out publicly and oppose the tea party, far more are neutral toward it than support it when questioned by a public opinion pollster.
"Notably, while tea party supporters and activists may not be fully satisfied with the GOP, they feel just as negatively as Republicans do about the Democratic Party, indicating they have little alternative in national elections," Gallup concludes.
However, their frustration with the GOP could result in more tea party-backed conservative challenges to Republican incumbents who don't embrace tea party principles, so they will continue to influence American politics in a negative direction for at least one more election cycle before most likely disappearing like many third party movements in the past.
Survey Methods
Results for this Gallup poll are based on telephone interviews conducted Sept. 5-8, 2013, with a random sample of 1,510 adults, aged 18 and older, living in all 50 U.S. states and the District of Columbia. For results based on the total sample of national adults, one can say with 95% confidence that the margin of sampling error is plus or minus 3 percentage points.
© 2013, Glynn Wilson. All rights reserved.