U.S. Department of Labor Celebrates Centennial in 2013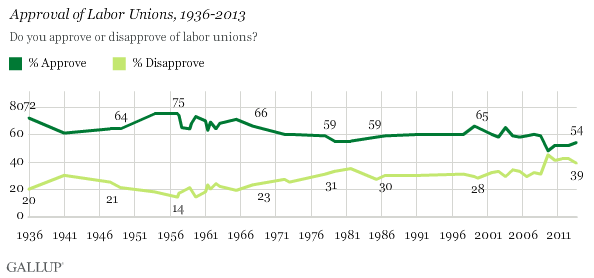 By Glynn Wilson –
As all Americans take a holiday to celebrate work and organized labor this weekend, keep in mind that all the public attacks from Republicans over the past few years have had little impact on public support for the concept that workers have a right to organize and negotiate for better wages and working conditions. In fact, broad public support remains strong even as the mega corporations try to drive down wages and exploit workers for higher profits in the global economy and spend more money than ever to influence politics in Washington and state houses around the country from Madison Wisconsin to Montgomery Alabama.
A majority of Americans, 54 percent, still say they approve of labor unions. And perhaps due to a growing involvement by labor management in public relations and marketing efforts on the Web over the past few years, the latest Gallup poll on the subject shows an increase of two percentage points over last year, when a slim majority, 52 percent, said they supported labor unions in 2012.
Remember, public approval of organized labor fell to an all-time low of 48 percent in 2009 during the first year of the Obama administration.
"This drop may have been a backlash against a Democratic administration that some feared would overly empower labor unions," Gallup speculates. Our analysis indicates that a majority of rank and file union members themselves did not support Barack Obama for president, and that afraid of the conservative nature of their memberships, labor union management across the country largely hid from the political fight facing them for the better part of 30 years.
When they witnessed the growing power of the people in Egypt due to the rise of the Web and social networking in 2010, however, organized workers starting in Wisconsin re-engaged in the fight. That movement spread all over the country, even down to Birmingham and Montgomery, Alabama, where labor union management began to engage the political enemy with the help of the independent Web Press.
This year should be remembered as a special Labor Day Holiday, since 2013 is the centennial year for the U.S. Department of Labor. This year's Labor Day holiday marks 100 years of the labor movement, a holiday dedicated to the social and economic achievements of American workers.
"It constitutes a yearly national tribute to the contributions workers have made to the strength, prosperity, and well-being of our country," according to the U.S. Department of Labor's Website.
You can watch a video produced by the department for the occasion below.

U.S. Department of Labor Celebrates Centennial in 2013
Democrats Support Unions, Republicans Don't
But still, according to survey research from Gallup, union approval is "a classic partisan issue."
Relatively few Republicans, just 34 percent, approve of labor organizations, while three-quarters of Democrats, 75 percent, approve. Americans living in the South, the region with the least labor union presence, are less likely to approve of labor unions than are those living in other regions. Just 47 percent of Southerners say they support labor unions when asked.
These numbers should inspire labor organizations to work even harder in the coming years if they expect to hold onto a special place in American politics and the peoples' hearts and minds.
Gallup reports that the future of labor union support appears to be "bleak," but that will depend upon how the management of unions reacts to the news and the numbers.
"Given that fewer than one in five households have a labor union member, it is perhaps not surprising that 52 percent of Americans believe labor unions will become weaker in the future," Gallup says.
Just 21 percent of Americans believe unions will stay the same in terms of influence, and only 22 percent believe they will become stronger.
"More Americans have said labor unions will grow weaker than stronger in the future since the question was first asked in 1999," Gallup says.
At the same time, Americans are divided on whether labor unions should have more influence or less influence. While 38 percent of Americans says unions should have less influence, 33 percent say they should have more.
Gallup's Implications
"Labor unions were a crucial part of the movement to create the popular Labor Day holiday, but their image among the public has struggled in the past few years," Gallup says. "More ominous for unions and their supporters is that over half of Americans say unions will become weaker in the future."
Gallup points to successful efforts to weaken union power around the country, such as recent passage of "right to work" legislation in Michigan and Indiana, as well as Alabama, "may be contributing to this sense that unions are in decline."
Survey Methods
Results for this Gallup poll are based on telephone interviews conducted Aug. 7-11, 2013, with a random sample of 2,059 adults, aged 18 and older, living in all 50 U.S. states and the District of Columbia. For results based on the total sample of national adults, one can say with 95 percent confidence that the margin of sampling error is plus or minus 3 percentage points.
© 2013, Glynn Wilson. All rights reserved.