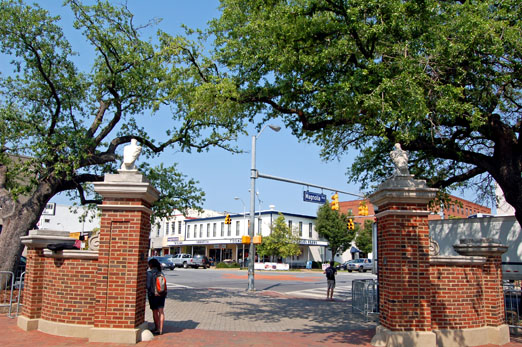 By Glynn Wilson –
Auburn University may not be number one in football anymore, but according to the Princeton Review and a sensational Twitter Tweet going around on every news site in Christendom, the student body at Auburn made the Top Ten list of the most conservative and Christian in the country.
This does not bode well for the academic programs at Auburn, since everybody who is anybody who knows anything about public opinion knows that the more educated a person becomes, the more liberal they tend to be.
Or at least that was true until George W. Bush, Dick Cheney and Karl Rove went on an all out campaign to rid the nation's college campuses of "liberal professors" who they were convinced were responsible for turning college students into Democrats. It was all part of Karl Rove's plan to turn America into a Republican nation for a generation.
Apparently it is working at Auburn. Not sure why the University of Alabama didn't make the list, since everybody knows Alabama has the most conservative, Christian journalism and communications program in the country now, with an old crony of Bush from the Texas Air National Guard in charge of the College of Communications.
You can Google this story all day long and you won't find much on it, since you have to pay to see the Princeton Review's rankings.
But it is good enough for many news organizations big and small to provide the short list, so why should we be any different? The results are based on public opinion surveys of students, and we have no reason to quibble with their methods.
Drum roll.
The Top Ten list of the most conservative universities for 2013, in order, are Auburn, Texas A&M, Grove City College, Hillsdale College, College of the Ozarks, University of Dallas, Thomas Aquinas College, The United States Military Academy (West Point), Hampden-Sydney College, and the United States Naval Academy at Annapolis.
The most liberal student bodies named were Sarah Lawrence College in New York, Warren Wilson College, Bard College, Marlboro College, the New College of Florida, Macaelester College, the College of the Atlantic, Vassar College and Skidmore College.
Auburn was also named number eight on the list of the most Christian schools, even beating out the Baptist college Baylor, which came in at 16th. Texas A&M topped that list.
Of course the College Republicans at Auburn are crowing loudly over this, as if it was something to be proud of.
It's too bad about the Toomer Oaks (seen in the photo above) being removed after dying from poison put there by a redneck Alabama fan. But I guess the outpouring of support for the oaks had more to do with the tradition of rolling the trees with toilet paper than for the old trees themselves.
Trashing the environment is a trait associated with idealogical conservatism and partisan Republican politics these days. It all adds up and makes sense.
Beth Clayton, a recent Auburn graduate and former president of the Auburn College Democrats, said in a Facebook interview that although Auburn's campus has many conservatives, "it also has a strong progressive base of students who support issues that matter most to young people — affordable access to education and healthcare, equality for women, minorities and the LGBT community and building a strong economy to afford everyone a shot at the American Dream."
"As a student who fought for Democratic values on such a conservative campus, it was surprising to see how many people were willing to attend forums and learn more about the issues," she said. "What I saw during my time at Auburn is that many of the students who vote Republican or claim to have conservative values can't really tell you what that means to them. When we pulled the issues apart, we found the student body to be very receptive to a progressive message."
She said there is only a select group of students who can honestly say they don't care about affordable student loans, access to healthcare including contraception and a healthy job market.
"The majority of the students at Auburn have to take the Democratic side on these issues for their own bests interests, even if they think they're conservative," she said.
We know most media blog comment sections are reserved for stupid, anonymous attacks by conservatives, but we welcome more thoughtful comments from progressive people below who actually have something constructive to say.
© 2013, Glynn Wilson. All rights reserved.