Television News Does Not Fare Much Better
ANALYSIS –
By Glynn Wilson –
The American public's confidence in newspapers as an institution to report accurate information and serve as "the press" under the U.S. Constitution to write about public affairs in a way that serves their interests continues its historical decline, according to the latest Gallup poll on the subject.
Survey research data from telephone interviews, the best research we have, shows that public confidence in newspapers has fallen to the lowest point since the numbers have been collected. Now only 23 percent of the American public express confidence in newspapers. That's down from 25 percent in 2012 and 28 percent in 2011.
"Overall, Americans in all key demographic and socioeconomic groups express low levels of confidence in news institutions," Gallup says in this latest analysis. "Negativity varies somewhat by age, education and gender" as well as ideology and party affiliation.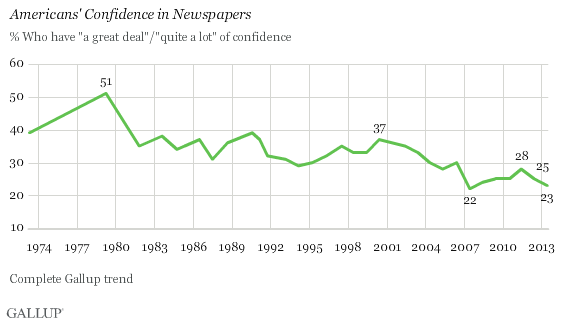 The downtrend trend started after 1979, the year California conservative Republican Ronald Reagan began bashing newspapers in his campaign to unseat Georgia Democrat Jimmy Carter in the White House, when public confidence in the traditional press reached its zenith at 51 percent.
Since the founding of the Republic, there have always been people who didn't read or like newspapers. But their product in today's economy has reached a new low, and maybe for good reason.
Today, newspapers rank near the bottom on a list of 16 institutions in American society, according to long-established Gallup research. Data from other polling outlets bare out the accuracy of this trend, although Gallup pioneered this research and has conducted it more consistently than any other company.
Newspapers are now tied with television news on the list, but this is not exactly a feather in the cap of corporate television news outlets. Still only 23 percent of Americans express confidence in television news, whether its national network news, cable news or local news. Gallup does not separate them out for this general survey.
Public confidence in news from television is up slightly from the all-time low of 21 percent found last year, however. But as Gallup points out, the only institutions television news and newspapers beat out this year were big business, organized labor, Health Maintenance Organizations (HMOs), and Congress.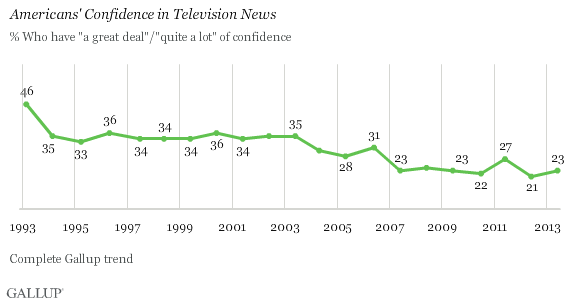 Analysis
The American public's confidence in television news was highest at 46 percent in 1993, when Gallup first asked about it. That was the year Ted Turner's upstart Cable News Network (CNN) beat out the competition with the only correspondent on the ground in Bagdad during the first Gulf War.
Gallup's research reminds me of the divide presented by the tradition press that no longer has the confidence of the public, however, when it divides everything into conservative vs. liberal, Republican vs. Democrat camps. Who knows if the American public has any confidence in their research anymore. They don't ask about themselves, but I'm here to tell you it would be impossible to run a democracy without data on public opinion. Gallup's analysis may be flawed, but the data is the best we've got.
Gallup's framing of the issue finds that only 15 percent of American conservatives have confidence in newspapers, although what they don't tell you is that conservatives don't like or read newspapers anyway because they have been called "liberal" by the likes of radio shock jock Rush Limbaugh since the late 1980s.
But this latest Gallup poll finds the confidence conservatives express for newspapers at an all time low, down from 21 percent in 2012 and 2011.
The data shows that confidence in newspapers among political "moderates" has been trending downward for the past two years, and now stands at 25 percent. Liberals remain the most confident in newspapers, according to Gallup, "although not by much." Only 31 percent of liberals place a great deal or quite a lot of confidence in newspapers anymore.
Confidence in newspapers by party mirrors the ideological findings, Gallup finds. Democrats are most confident, at 33 percent, while independents are less so, at 19 percent, and Republicans, at 16 percent, are least confident.
Too bad Gallup didn't ask about Fox News and talk radio, although I suspect if they had, they would find confidence in those institutions trending downward as well. I get the distinct impression from my own informal, anecdotal research that people are tired of this partisan divide on steroids and are trending back to the middle in a lot of ways.
Gallup also found confidence in television news among conservatives at a new low, 18 percent, tied with the lowest number ever recorded for that demographic group on record. That is down from 22 percent last year.
The confidence of liberals and moderates in television news improved this year, however, after tumbling in 2012. Now these groups express more confidence in television news than conservatives.
"Last year's survey was conducted amid a heated re-election campaign for President Obama, which may be one reason liberals' and moderates' confidence dropped at that time," Gallup says in its analysis.
Similarly, Gallup found that 34 percent of Democrats express more confidence in television news, while only 17 percent of independents and only 18 percent of Republicans do. Could this be an indication that there has been an erosion of confidence in their beloved Fox News due to the hacking scandals associated with owner Rupert Murdoch?
Other Demographic Variables
Only 20 percent of those between the ages of 18 to 64 have high confidence in television news, compared with 30 percent of seniors. Young adults have the most confidence in newspapers, with 30 percent expressing a great deal or a lot of confidence.
Americans with higher levels of education — a basic college education or more — are less confident in TV news than those with only some or no college education. Yet Americans of all educational backgrounds express low confidence in newspapers.
Women also have slightly more confidence than men in both television news and newspapers.
Gallup's Bottom Line
"Americans' confidence in newspapers and television news has been slowly eroding for many years, worsening further since 2007. By that point, newspapers and television news had been struggling for years to figure out how to adjust their strategy for a growing Internet audience," Gallup says, with analysts struggling to figure out these trends. "It was also around that time that social networking sites truly began to proliferate, causing news outlets and journalists to work to find their place on them and serving to expand the role of citizen media and user-generated content."
Twitter had launched in 2006, and by 2007-2008 was growing its audience rapidly. Facebook had reached 30 million users by mid-2007 and more than 100 million by the end of 2008.
"These and other social sites and the Internet in general, as well as the 24/7 television news cycle, have challenged traditional media outlets and brought new ones to the fore, creating an increasingly complex — and sometimes messy — news environment," Gallup says. "While individual news consumers have better access to news and to journalists than ever before, the struggles of the news industry seem to be affecting Americans' confidence in it."
Additionally, Gallup says, the increasingly partisan nature of cable news in particular could be related to Americans' declining confidence in television news specifically, with confidence dropping among conservatives, moderates, and liberals since the early 2000s. Conservatives seem to be most critical not only of television news, but also of the mass media in general, according to other Gallup survey results.
Well it's no wonder considering how Republican politicians are always bashing "the media" to get themselves elected.
Survey Methods
Results for this Gallup poll are based on telephone interviews conducted June 1-4, 2013, with a random sample of 1,529 adults, aged 18 and older, living in all 50 U.S. states and the District of Columbia. For results based on the total sample of national adults, one can say with 95 percent confidence that the maximum margin of sampling error is plus or minus 3 percentage points.
© 2013, Glynn Wilson. All rights reserved.