The Birmingham Barons minor league baseball team will welcome former members of the 1964 Barons to the new Regions Field in downtown Birmingham on Tuesday, May 14 to commemorate the release of SOUTHERN LEAGUE: A True Story of Baseball, Civil Rights, and the Deep South's Most Compelling Pennant Race from Grand Central Publishing, written by bestselling and award-winning author Larry Colton.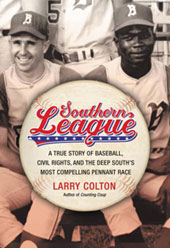 'Southern League' brings readers unprecedented access to the most volatile year in Civil Rights history and the incredible story of the '64 Birmingham Barons, the first racially-integrated team of any sport in the state of Alabama.
Tracing the entire season from spring training until the following September, Colton brings to life the incredible exploits of legendary players like John "Blue Moon" Odom, outfielder Tommie Reynolds, Hoss Bowlin, Paul Lindblad and manager Haywood Sullivan, a white former major leaguer, who grew up in nearby Dothan, Alabama.
The book also explores the unique and extraordinary relationships between the players themselves. While the Barons were fighting right down to the last day of the season for a championship, the team battled racial tensions that accompanied everyday life in Birmingham in 1964.
Colton, a former pitcher for the Philadelphia Phillies, is the author of several books, including Counting Coup, Goat Brothers and No Ordinary Joes. He has written for Esquire, Sports Illustrated, and the New York Times Magazine. In 1966 Colton played in the Southern League for a farm team in Macon, GA.
"Those who say that sports do not, or should not, make us think about anything beyond the field itself have always been wrong. The summer of '64 and the stories found in SOUTHERN LEAGUE demonstrate that once again," said legendary Sportscaster Bob Costas.
Members of the '64 team including Blue Moon Odom, Tommie Reynolds, Ron Tompkins, Joe Grzenda, Hoss Bowlin, Paul Seitz, Rich Allen and others will be on hand for a special pre-game ceremony as the Barons take on the Montgomery Biscuits.
Gates open at 5:30 p.m. with first pitch scheduled for 7:05 p.m. Fans will have the opportunity to purchase the book and collect autographs from the players during the game. A portion of the book proceeds will be donated to the Birmingham Civil Rights Institute.
I will be there to cover it and do a story with photos and video about the new field, an idea I pitched to Birmingham Mayor William Bell when he was running for mayor a few years back.
The Birmingham Barons team is a double-A farm club team for the Chicago White Sox.
© 2013, Glynn Wilson. All rights reserved.