"…I've seen the promised land. I may not get there with you, but I want you to know … that we as a people will get to the promised land. So I'm happy tonight. I'm not worried about anything. I'm not fearing any man.
– Martin Luther King Jr., Speech in Memphis, April 3, 1968, the day before he was assassinated –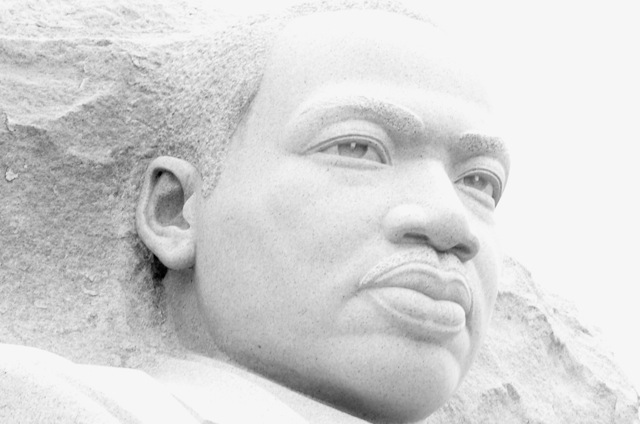 A shot of the Martin Luther King Memorial
The Big Picture
–
By Glynn Wilson –
The first quarter of 2013 has been eye-opening to say the least. I have witnessed some ground-breaking events that have the potential to remove the scales from the eyes of a people so blinded by misinformation and fear that they are paralyzed beyond belief.

But I honestly believe we have it within our grasp to move the ball past the goal post on the football field and into a brighter future – if only a few more key people in leadership positions would get onboard this peace train and stop simply reacting to the poison tea.
If I had remained stuck in my home state of Alabama and sucked up to the powers that be in the mainstream media I would not have had the ability to see what I have seen. You can't play it safe in this post-Bush world and make a difference. Making change requires risk. It requires taking a chance. A leap of faith.
In February, I braved the cold and traveled to the nation's capital to cover the march on the White House calling for bold action on climate change due to global warming from the burning of fossil fuels.
About 35,000 March on Washington for Action on Climate Change
This was not your average protest march on Washington, where organized protests take place on a regular basis as a matter of course. As far as I know, it was the first protest of its kind where environmental activists, labor leaders and civil rights activists took up the charge of focusing on a problem that is global in nature. While Martin Luther King marched here for the voting rights of African-Americans, the head of the Sierra Club and others got arrested at the White House to try to protect us all from the ravages of global warming. That is something.
Then, after a few trips to Montgomery and watching the tea party Republicans in action to try to take the people of my home state back in time to a day before there was a Martin Luther King, I went back to Washington again and witnessed one of the most powerful things I've ever seen in my life. Not that many people know about it, because the BlueGreen Alliance conference for "Good Jobs, Green Jobs" was not covered by the mainstream media. And even my stories about it were not shared by that many of my own friends on Facebook.
I guess it just seems too weird that labor leaders and environmentalists are getting on the same page to tackle a huge, international problem, while mostly the press and the public just tend to focus on what's happening right in front of their faces on the local level.
But I'm writing this column today to give folks one more chance to see this for themselves. You won't find this coverage in the New York Times, the Washington Post, the Huffington Post, or at al.com.
I mean can anyone even imagine seeing and hearing the head of the most powerful coalition of unions in America say something like this?
"For the record, I want to make it crystal clear that we firmly believe in and trust a science based approach to regulating our environment and we know that climate change is real," said Richard Trumka of the AFL-CIO. "We also know that responding to climate change will give America a competitive economic advantage in the global marketplace."
You don't believe me? You can watch the video here. Share it with your friends. Otherwise, they probably won't believe it actually happened since it was not televised or covered by their local newspapers.
AFL-CIO's Richard Trumka Joins Labor With Environmentalists in BlueGreen Alliance
At the same conference, I actually witnessed seeing the head of the Sierra Club at the same table as Leo Gerard, the leader of the United Steelworkers union, who put out a report saying global warming was going to be the nation's top problem in 1990, more than 20 years ago.
You can see that on video too.
Union Leaders, Environmentalists Discuss Building a National Dialogue on Climate Change, Good Jobs and Reclaiming Democracy
I am not making this up.
After all that traveling, I got back and finally finished a story that runs more than 6,000 words on the proposal to bring fracking on a massive scale to public forest lands in my home state. When is the last time you saw a story this in-depth in any newspaper or magazine in the U.S.? It just doesn't happen anymore, except on the Web Press.
Fracking in the Talladega National Forest is Not in the National, State or Local Interest
Then I attended a so-called "public meeting" in Montgomery and grilled officials there on the fracking plan, and actually caught that on video. I mean, does "60 Minutes" even ask questions like this anymore? The newspapers and television news stations in Alabama certainly don't and never have.
Fracking Leases Proposed for National Forests White Washed at 'Public Meeting'
I have a feeling that one day very soon, enough people are going to get tired of the way things are and wake up to the way things could be. When that happens, and people decide it's worth paying to see the real show, we will be right here to document it for you.
The revolution may not be televised, but there will be video — on the Web.
If Thomas Jefferson were alive today, he would be watching — and sharing.
"No experiment can be more interesting than that we are now trying, and which we trust will end in establishing the fact, that man may be governed by reason and truth. Our first object should therefore be, to leave open to him all the avenues to truth. The most effectual hitherto found, is the freedom of the press. It is, therefore, the first shut up by those who fear the investigation of their actions."
– Thomas Jefferson, talking about the press and democracy, to John Tyler in 1804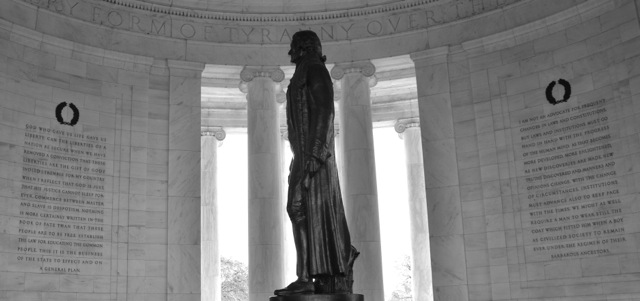 A shot of the Jefferson Memorial
© 2013, Glynn Wilson. All rights reserved.