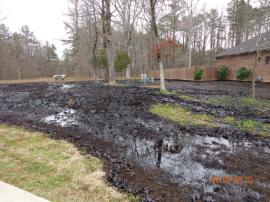 You Can Help by Signing the Petition Below –
Imagine you are a proud new home owner, but just two hours after signing the papers, your realtor texts you saying that there is a massive oil spill. Toxic tar sands are literally flooding your new backyard.
To make matters worse, ExxonMobil, the company responsible, won't tell you anything. The oil giant has even threatened the press with arrest and is controlling a no-fly zone in Mayflower, Arkansas, preventing any aerial photographs of the site.
This really did happen last weekend to Dr. Jonathan Jameson and his family. ExxonMobil's tar sands pipeline, carrying nearly 100,000 gallons of the toxic sludge, broke open causing families to evacuate, flooding yards, and threatening local waterways.
What else is ExxonMobil hiding?
In just a few hours, Dr. Jameson has gone from thinking about when to mow the lawn to worrying about whether or not his two-year old daughter could be exposed to hazardous fumes and chemicals. The terrifying reality is this could happen to any of us.
Right now, Big Oil is pushing hard for the Keystone XL tar sands pipeline — an export pipeline nine times the size of the one in Arkansas, according to the Sierra Club.
"But all of Big Oil's money and Washington lobbyists will mean nothing if the public learns about the dangers of the tar sands," says Michael Marx, Sierra Club Oil Campaign Director.
He is urging the public to get involved to help get journalists into Mayflower and the truth out.
"The truth shouldn't need ExxonMobil's permission," he said. "Even as I write, news is breaking about the third major oil spill in a week — this one a Shell pipeline in Texas. When it comes to Big Oil, spills aren't a question of 'if,' but 'when'," he said.
ExxonMobil thinks they can get away with it, he said. "But they haven't heard from you yet. Let's draw a line in the tar sands and tell ExxonMobil no more. No more secrets. No more tar sands. No more spills."
The Sierra Club is urging people to stand with the citizens of Mayflower and tell ExxonMobil to come clean.
Click here to sign the petition and tell ExxonMobil to come clean, stop threatening reporters, and release information about the tar sands spilled in Arkansas.
© 2013, Glynn Wilson. All rights reserved.