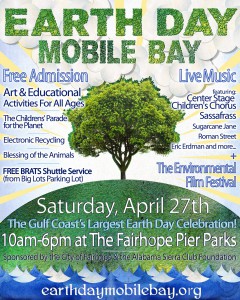 On Saturday, April 27, thousands of people in South Alabama will head to the Fairhope Pier to celebrate the state's largest Earth Day festival.
Earth Day Mobile Bay will be observing the three-year anniversary of the BP oil disaster and will feature the many organizations involved in a healthy and sustainable Gulf Coast recovery, said organizer Carol Adams-Davis of the Mobile Bay Sierra Club
"Earth Day Mobile Bay 2013 supports the issues of our Alabama Gulf Coast, acknowledging the environmental challenges we all face, and invites the public to integrate sustainable practices into everyday life," she said.
The all-day free event will feature "A Childrens' Parade for the Planet," live music, an Environmental Film Festival and "Blessing of the Animals."
The nearly 100 exhibits and hands-on activities are hosted by community groups, environmental organizations, (federal, state, county and city) government agencies, museums, schools, and local businesses and will showcase renewable energy and environmental technology, provide the tools and inspiration to pursue Earth-friendly solutions and introduce prominent green educators and organizations talking about green sustainability and solutions.
The Alabama 4-H Center will present Raptor Trek and Herp Journey Programs throughout the day to educate about the care and protection of wildlife and birds of prey. Raptor Trek is Alabama's premier bird of prey experience offering many live birds of prey. The Herp Journey will introduce Alabama's native reptiles and amphibians.
The first annual Children's Parade for the Planet, sponsored by the Center for Family and Community Development, meet at the corner of St James and South Summit St. at 9 a.m. where they will begin the parade. Strollers, wagons and costumes are welcome. Children must be accompanied by an adult.
"Our children should know that Earth Day is every day," Carol Adams-Davis said.
'Arts for the Earth' is an education program developed to teach sustainability and environmental education through museum and arts community networks. The Mobile Museum of Art Outreach Program sponsors the Children's Art Activity Area called the 'Creation Station', which will be helping children and adults explore their creative ideas, develop their observation and innovation abilities, and enhance their self-expression skills. The 'Creation Station' is actively encouraging the many possibilities in the re-utilization of our earth's resources.
Live music including Center Stage Children's Chorus, Woodshed, Sassafrass, Sugarcane Jane, Roman Street, Eric Erdman, and more will add to a great Earth Day Mobile Bay experience.
If you are an animal lover, you and your animal friends are invited to attend the "Blessing of the Animals" at 1 p.m.. If you are not able to bring your pet, you may wish to bring a picture of an animal you love or an endangered species in the wild.
This year's Environmental Film Festival will feature thought-provoking documentary films, which raise awareness of current environmental issues and help provide solutions. Films on the schedule are: "Fracking in America," as well as "Last Call at the Oasis," and "Dirty Energy," "Vanishing of the Bees" and "Surviving Progress" along with "Here Comes the Sun."
"Our goal is to not just get people concerned, but to get people motivated, by offering great transforming solutions," Carol Adams-Davis said.
The Environmental Film Festival will be under the big tent and is sponsored by the Mobile Bay Sierra Club. Admission is free, and popcorn is complimentary.
New 2013 hybrid and electric vehicles will be on display. Avid car enthusiasts, environmentalists and everyday consumers will be provided information about all of the green vehicles. Terry Thompson Chevrolet will be demonstrating the Chevy Volt and the GEM. Chris Myers Nissan will show the all electric Nissan LEAF. Lexus of Mobile will display more luxury hybids than any other manufacturer, the CT Hybrid, RX Hybrid, ES Hybrid, LS Hybrid, and GS Hybrid. Tameron Honda, Eastern Shore, will show the 2013 Honda Civic Hybrid sedan, the CR-Z Sport Hybrid, and the all-new 2014 ACCORD PLUG-IN. Eastern Shore Toyoto will show the new Toyota Hybrids. The proven Prius family of hybrids are still convincing as the perfect commuters. Sandy Sansing Ford will demonstrate the 2013 Ford C-Max Hybrid SE Hatchback which offers the best combined MPGe in its class.
"Learn about local sources for organic foods, and organizations supporting the development of a stronger local food economy," Carol Adams-Davis said. "Buying food from local farmers keeps dollars in the local economy, preserves our valuable land and adds to our good health."
Recycling options will have a strong emphasis. The City of Fairhope will sponsor free onsite electronic recycling, and you are encouraged to drop-off old TV's, computers, cell phones and other old household electronics.
A great line-up of local live music entertainment will continue throughout the day with Center Stage Children's Chorus, Sassafrass, Woodshed, Sugarcane Jane, Roman Street, Eric Erdman and more.
Attendees are encouraged to take the Green Route options to Earth Day such as walking, bicycling, ridesharing, sailing, kayaking, and riding public transit.
Earth Day Mobile Bay is sponsoring the FREE Shuttle Bus Service to and from the Fairhope Pier. The designated Shuttle Pick-Up Parking Lot is the Big Lots parking lot, (N. Greeno Road, Fairhope).
The shuttles will run continuously throughout the event, from 10 a.m. to 6 p.m.
The event os organized and sponsored by Earth Day Mobile Bay volunteers,the City of Fairhope, the Mobile Bay Sierra Club and the Alabama Sierra Club Foundation.
For directions and more event details, please visit the Web site at http://www.earthdaymobilebay.org.
For more information, contact Carol Adams-Davis at 702.496.5050 or mcadamsdavis@earthlink.net.
© 2013, Glynn Wilson. All rights reserved.