By Glynn Wilson –
President Barack Obama nominated Tom Perez, a Hispanic who has served as the Justice Department's assistant attorney general for civil rights for the past four years, to join his cabinet on Monday as the new Secretary of Labor.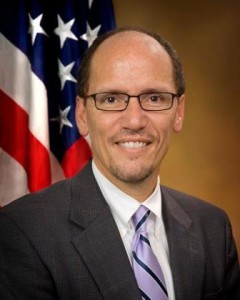 Perez, Maryland's former labor secretary, has attracted a fair amount of media attention for opening a record number of civil rights investigations into local police departments accused of brutality and/or discrimination, including the lawsuit against Arizona's Sheriff Joe Arpaio, accusing his department of illegally discriminating against Hispanics in its immigration crackdown. He also initiated an inquiry into Trayvon Martin's death and led the successful prosecution of police officers found guilty of police misconduct in the aftermath of Hurricane Katrina.
Perez led the push to challenge voter ID laws in Texas and South Carolina, and spearheaded the department's rejection of the laws on the grounds that they discriminated against minorities.
Civil rights groups and labor unions are reacting positively to his nomination.
AFL-CIO President Richard Trumka said working men and women will be well served by President Obama's choice of Tom Perez to lead the Department of Labor.
"Throughout his career, Perez has fought to level the playing field and create opportunities for working people, whether in the workplace, the marketplace or the voting booth. He has worked to eliminate discrimination in housing, provide access to education and health care, end hate crimes, crack down on employers who cheat workers out of wages and expand our democracy by protecting the fundamental right of every American to vote," Trumka said. "In the 1990's, he worked on the front lines of the effort to pass comprehensive immigration reform under the leadership of the great Senator Ted Kennedy — a job that will serve him well in today's drive for commonsense immigration reform.
"At a time when our politics tilts so heavily toward corporations and the very wealthy, our country needs leaders like Tom Perez to champion the cause of ordinary working people," Trumka said. "Working families need and deserve a strong advocate as their Secretary of Labor — one who will vigorously enforce job safety standards, wage laws, and anti-discrimination rules, and who will speak out forcefully for working families and their workplace rights, including their right to join together to improve their lives and working conditions."
Laura Murphy, director of the American Civil Liberty's Union's Washington legislative office, said Perez has been a very accomplished head of the civil rights division, strong on hate crimes and police abuse.
"He's been visible, saying basically the civil rights division is open for business," Murphy said.
Some Washington insiders see the nomination as a sign that the White House will continue to make an aggressive push to raise the minimum wage.
Republicans in Congress have already raised major concerns about Perez's work at DOJ, which could set the stage for a confirmation fight. In September, Sen. Chuck Grassley and Rep. Darrell Issa launched a GOP-led investigation into Perez's role in convincing the city of St. Paul, Minn. to drop a housing discrimination lawsuit that was slated to go to the Supreme Court. The case involved a group of landlords who were suing the city for forcing them to comply with housing regulations that raised costs in a manner that was unduly burdensome to minority tenants, allegedly violating the Fair Housing Act.
Republicans are accusing Perez and DOJ of arranging a "quid pro quo" deal in which St. Paul agreed to drop the lawsuit in exchange for the federal government's agreement not to back a separate whistleblower's case against the city. Grassley has already indicated that he's going to press the issue against Perez.
Perez is a lifelong public servant, but he also has a personal connection to labor issues. He was 12 when his father died of a heart attack, and a friend's father stepped in as a surrogate. The man was a Teamster who'd lost his job, and the union helped support him.
He previously worked as an aide to Sen. Ted Kennedy, as a member of Montgomery County Council in Maryland and an assistant to former AG Janet Reno, in addition to his work in the Maryland Governor's office.
During an White House East Room nominating ceremony, President Obama said he was living up to his promise to do "everything we need to do to make sure that we're growing our economy and that we're strengthening our middle class."
"As I said in my State of the Union address last month, every day we should be asking ourselves three questions: One, how do we make sure America is a magnet for good jobs? Number two, how do we equip people with the skills they need to get those jobs? And number three, how do we make sure that hard work actually pays off in a decent living?"
He said having an outstanding Secretary of Labor is "instrumental to tackling these challenges."
"Like so many Americans, Tom knows what it's like to climb the ladder of opportunity," the president said. "He is the son of Dominican immigrants. He helped pay his way through college as a garbage collector and working at a warehouse. He went on to become the first lawyer in his family. So his story reminds us of this country's promise, that if you're willing to work hard, it doesn't matter who you are, where you come from, what your last name is — you can make it if you try."
The president said Perez has made protecting that promise the cause of his life.
"As a civil rights attorney, an aide to Senator Ted Kennedy, a member of the Montgomery, Maryland County Council, Tom fought for a level playing field where hard work and responsibility are rewarded and working families can get ahead," the president said.
In his role as the head of the U.S. Justice Department's Civil Rights Division, Perez has fought to open pathways into the workforce for everyone willing to contribute, including people with disabilities, LGBT Americans, and immigrants, the president said.
"And he has helped settle some of the largest cases ever on behalf of families targeted by unfair mortgage lending. Now, while he's tackled plenty of tough issues, Tom has also spent a career as a consensus-builder," President Obama said. "He's worked with CEOs, he's worked with labor leaders. He's worked at federal, state, and local government levels. And throughout, he understands that our economy works best when the middle class and those working to get into the middle class have the security they need on the job, a democratic voice in the workplace, everybody playing by the same set of rules."
In accepting the nomination, Perez said his parents taught he and his four siblings and to work hard, to give back to our community, and to make sure that the ladder of opportunity was there for those coming after us.
"Over my career, I've learned that true progress is possible if you keep an open mind, listen to all sides, and focus on results," Perez said. "As you well know, our nation still faces critical economic challenges, and the department's mission is as important as ever. I am confident that together with our partners in organized labor, the business community, grassroots communities, Republicans, Democrats, and independents alike, we can keep making progress for all working families."
© 2013, Glynn Wilson. All rights reserved.