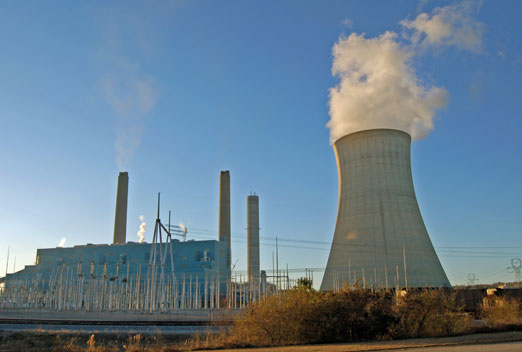 Alabama Power's Miller Steam Plant on the Locust Fork River emits more mercury into the air than any other power plant in the country. It is also a source of fine particulate pollution and ozone. –
By Glynn Wilson –
Under the leadership of the Obama administration, the U.S. Environmental Protection Agency released the results of the first comprehensive survey looking at the health of thousands of miles of rivers and streams across the country on Tuesday, and what they found was not encouraging. More than half the nation's rivers and streams — 55 percent — were found to be in poor condition for aquatic life.
"The health of our nation's rivers, lakes, bays and coastal waters depends on the vast network of streams where they begin, and this new science shows that America's streams and rivers are under significant pressure," Office of Water acting assistant administrator Nancy Stoner said. "We must continue to invest in protecting and restoring our nation's streams and rivers as they are vital sources of our drinking water, provide many recreational opportunities, and play a critical role in the economy."
The 2008-2009 National Rivers and Stream Assessment reflects the most recent data available, and is part of EPA's expanded effort to monitor waterways in the U.S. and gather scientific data on the condition of the nation's water resources.
EPA partners, including states and tribes, collected data from approximately 2,000 sites across the country. EPA, state and university scientists analyzed the data to determine the extent to which rivers and streams support aquatic life, how major stressors may be affecting them and how conditions are changing over time.
The survey found nitrogen and phosphorus at excessive levels, streams and rivers at an increased risk due to decreased vegetation cover and increased human disturbance, along with increased bacteria and mercury levels.
Twenty-seven percent of the nation's rivers and streams have excessive levels of nitrogen, and 40 percent have high levels of phosphorus, according to the data. Too much nitrogen and phosphorus in the water — also called nutrient pollution — causes significant increases in algae, which harms water quality, food resources and habitats. It also decreases the oxygen that fish and other aquatic life need to survive.
"Nutrient pollution has impacted many streams, rivers, lakes, bays and coastal waters for the past several decades, resulting in serious environmental and human health issues," according to the EPA press release announcing the release of the survey. All these issues also directly impact the economy.
Decreased vegetation cover and increased human disturbance can cause streams and rivers to be more vulnerable to flooding, erosion and other types of pollution.
"Vegetation along rivers and streams slows the flow of rainwater so it does not erode stream banks, removes pollutants carried by rainwater and helps maintain water temperatures that support healthy streams for aquatic life," according to the report.
The EPA estimates that about 24 percent of the rivers and streams monitored were rated poor due to the loss of healthy vegetative cover.
High bacteria levels were found in nine percent of stream and river miles, "making those waters potentially unsafe for swimming and other recreation," the EPA says.
More than 13,000 miles of rivers were found to have fish with mercury levels that may be unsafe for human consumption.
"For most people, the health risk from mercury by eating fish and shellfish is not a health concern, but some fish and shellfish contain higher levels of mercury that may harm an unborn baby or young child's developing nervous system," the EPA concludes.
The agency plans to use this new data to inform decision making about addressing critical needs around the country for rivers, streams and other waterbodies.
"This comprehensive survey will also help develop improvements to monitoring these rivers and streams across jurisdictional boundaries and enhance the ability of states and tribes to assess and manage water quality to help protect our water, aquatic life and human health," the agency concludes.
Results are available for a dozen geographic and ecological regions of the country at this EPA Website: http://www.epa.gov/aquaticsurveys.
© 2013 – 2016, Glynn Wilson. All rights reserved.