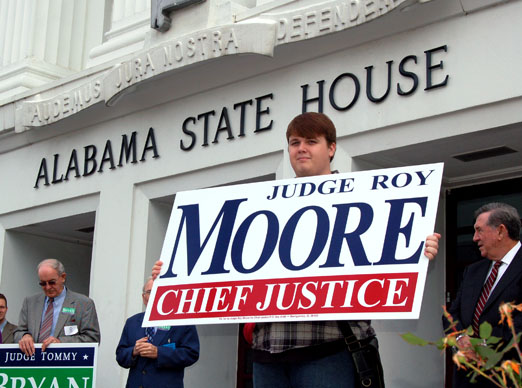 The Big Picture
–
by Glynn Wilson –
Here we go again.

Get ready to laugh, Jon Stewart and every other comic in America.
Tea party Republicans in control of the Alabama Senate voted Tuesday to pass a proposed constitutional amendment to allow public display of the Ten Commandments in public buildings across the state, including public schools.
Nevermind that if it passes the House and is signed by the governor and approved by voters, it will still violate the U.S. Constitution's separation of church and state clause as ruled on numerous times by the United States Supreme Court, including former Justice Hugo Black of Alabama. The high court will once again be forced to ultimately decide the fate of the amendment in a costly court battle.
The bill's sponsor, the Lineville Republican state senator Gerald Dial, admitted he is no constitutional attorney. But he said when he talks to people in his rural district, people seem to think displaying the Ten Commandments would do something "to turn this country around."
Right.
One of the bill's few opponents, Senator Bobby Singleton, a Democrat from Greensboro, indicated he does not believe the amendment would be constitutional and would violate the freedom of religion of some people.
In an attempt to appear as if they are just interested in displaying "historically significant" documents, an amendment was added to include other documents such as the Declaration of Independence, supposedly because they also hold some "religious significance" and mention God or a creator.
Stupid is as stupid does. There is nothing illegal now about displaying historical documents in schools. The law prohibits state-sponsored religious displays, which this bill would authorize.
The U.S. Supreme Court has consistently ruled that the government should stay out of the religion business, since the First Amendment prohibits any government establishment of religion. All of the historical and legal evidence supports this position, in spite of an attempt by religious/political opportunists to argue otherwise.
Alabama Supreme Court Chief Justice Roy Moore, recently reelected even though he was removed from office before for failing to comply with a federal judge's order to remove his hand-carved granite display of the Ten Commandments from the state Supreme Court building, has been mum since his reelection. Apparently Dial would like to garner the kind of fame thrust upon Judge Moore by pushing this fake, wedge issue before a gullible public yet again.
Oddly, since if the law were to pass there would inevitably be a costly court fight over it, Dial added a clause prohibiting the use of public funds to defend the constitutionality of the amendment.
So, it's just another politician trying to use religion to make a name for himself, knowing full well that the law would not stand up in court. Voters should reject any politician who abuses the public trust in this way and vote his dumb ass out of office.
The Southern Poverty Law Center, which led the court fight to get Roy's Rock removed from the premises before, could not be reached for comment on this bill. Apparently Richard Cohen, the executive director, will no longer return my phone calls because he thinks I should be on the CIA watch list for "eco-terrorism."
I only quoted him in the New York Times and the Christian Science Monitor during the case, and somewhere around here, I have copies of Spider Martin's photos of Morris Dees by Roy's Rock.
Is the SPLC now an obsolete non-profit organization?
Even the Alabama Democratic Party is mum on this proposal. Who will stand up against it?
What about the teacher's unions?
Will Governor Robert Bentley really sign a law that could cost the state dearly as it struggles to rebound economically?
Stay tuned. Only in tea party Alabamaland.
© 2013, Glynn Wilson. All rights reserved.