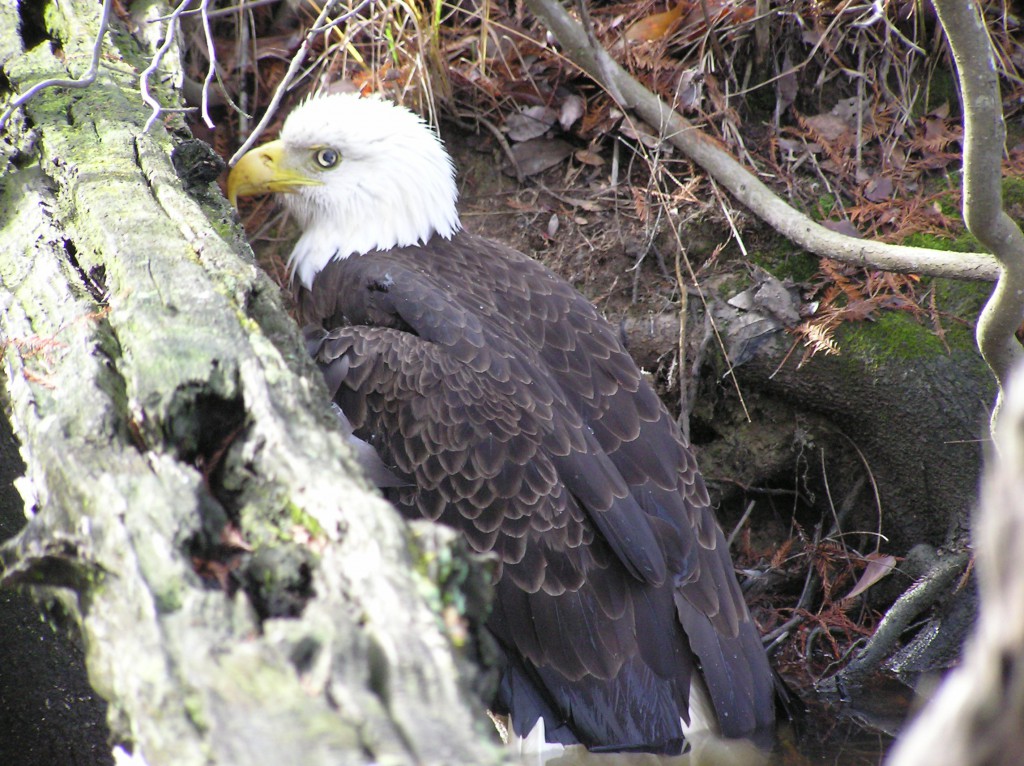 This American bald eagle, with its tail submerged at the water's edge, took refuge behind a log after it was shot down in Neshoba County. The wounds to the eagle's wings, leg, and eye were too severe for survival, so this representative of our national symbol had to be euthanized. Photo by Paul Windham, Mississippi Department of Wildlife, Fisheries, and Parks.
The U.S. Fish and Wildlife Service and the Mississippi Department of Wildlife, Fisheries and Parks are investigating the shooting of a bald eagle in Neshoba County, Mississippi.
A reward of up to $5,000 is being offered by the U.S. Fish and Wildlife Service, the Humane Society of the United States and the Humane Society Wildlife Land Trust for information that leads to the arrest and conviction of the person or persons responsible for the shooting.
The bald eagle was discovered on the Nanih Waiya Wildlife Management Area near the Coy Community in Neshoba County. The investigation revealed the eagle was shot between the dates of December 1-9, 2012. Due to its injuries, the eagle could not have flown far from where it was shot.
X-rays performed on the eagle confirmed that it had multiple shot shell pellet wounds in the wings, leg and eye. The bald eagle had to be euthanized due to its severe injuries.
Bald eagles are protected by the Bald and Golden Eagle Protection Act and the Migratory Bird Treaty Act, both federal and state wildlife statutes. Violations of these statutes carry maximum criminal penalties of up to $100,000 and/or one year in federal prison.
Anyone with information concerning this eagle is asked to contact the USFWS's Jackson Office of Law Enforcement at 601-331-0292 or call the MDWFP Law Enforcement Bureau at 601-432-2074.
© 2013, Glynn Wilson. All rights reserved.