"One touch of nature makes all the world kin."
– John Muir, in The Cruise of the Corwin (1917) Chapter 3 (echoing William Shakespeare's Troilus and Cressida: "One touch of nature makes the whole world kin.") –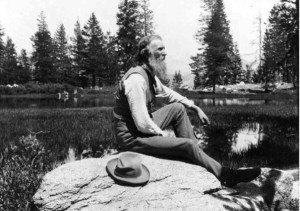 By Glynn Wilson –
Under the Microscope –
It has come to my attention that there will be a special celebration in Scotland in April of this year to commemorate the 175th anniversary of John Muir's birth. John Muir Day is to be celebrated across the country on April 21 as part of the "Year of Natural Scotland," a year-long event to promote tourism in natural areas of the ruddy region.
Often called the father of conservation in America and credited with founding this nation's protected national parks, Muir was born on April 21, 1838 in Dunbar, East Lothian. His family emigrated to Wisconsin when he was 11. From there as a young man he set out on a wilderness pilgrimage to the Gulf Coast and wrote a book about his adventure, A Thousand-Mile Walk to the Gulf.
Then from there, between 1870 and 1890, Muir went West, exploring the High Sierra and Alaska. It was there that he became aware of the threats posed to the natural environment from development, according to a special Sierra Club Website devoted to the man. Seeing these places as beautiful lands that needed to be maintained, as the legend goes, Muir began his life's work that led to campaigns for the protection of natural areas such as Yosemite and the Sierra region in California.
In order to do this work, fund and promote it, Muir established the Sierra Club in 1892, he said, in order to "do something for wildness and make the mountains glad." The group now boasts more than 750,000 members, and that includes me as of this morning.
Why now?
I have avoided joining groups like this for many years because of my position as a professional journalist, even when I often agreed with much of the work of non-profit groups like the Sierra Club. But as this new Web journalism evolves and we strive to redefine objective journalism into something more closely resembling the science-based objectivity envisioned by the term's founder, Adolph Ochs, and since I am no longer simply a newspaper reporter or a magazine writer but a Web publisher, I have finally decided that the membership clause should be abolished from my professional policy.
Why the Sierra Club?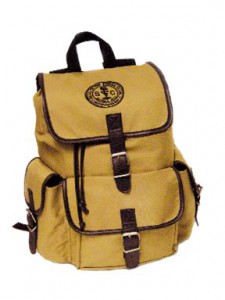 After an extensive, academic investigation into non-profit groups in the United States and my native state of Alabama — as a trained communications scholar and environmental sociologist as well as an experienced environmental journalist — I have come to the conclusion that the Sierra Club is the most worthy of my membership. Besides, what other group offers a replica of John Muir's 1892 rucksack for a mere $15 membership fee?
I will be traveling to Camp McDowell this weekend in Nauvoo, Alabama, to make a presentation to the state chapter's executive committee, and will have some kind of a report from there, depending of course on Internet access.
After signing up this morning, I started poking around on the group's Website, and found a story just out from The Scotsman about the celebration of the life of John Muir.
It is all part of one big tourism campaign, but what the heck. It seems 5 million pounds is being spent on the campaign to celebrate Muir's legacy "to persuade visitors to flock to his homeland from around the world."
"…grants are being made available to groups and organizations the length and breadth of the country for initiatives to persuade people to discover the great outdoors and explore Scotland's vast wilderness areas," according to the report.
A coast-to-coast John Muir Trail is also being developed over the next year to celebrate the naturalist and author, who is perhaps best known for securing protected status for the Yosemite Valley national park in the U.S.
Muir was the founder and first president of the Sierra Club, the conservation group which was to be the forerunner of other non-profit activist groups like Friends of the Earth. By the time of his death, the U.S. government had designated 230 million acres of land as protected national parks.
Creative Scotland and Scottish Natural Heritage have each allocated 1 million pounds for the initiative, intended to build momentum towards the next Year of Homecoming in 2014. VisitScotland has pledged a further 2.6 million pounds, some of which will be allocated through sister agency EventScotland. Other backers include Historic Scotland and the National Trust for Scotland.
A spokesman for Scottish Natural Heritage said John Muir was renowned as the founding father of "national parks" around the world and was being recognized because his work had "inspired people all over the world."
"We will celebrate his life and work and encourage locals and visitors to connect with Scotland's outdoors — its nature and landscapes — by experiencing it, exploring it and helping look after it," he added.
Initial plans for the Year of Natural Scotland, which will be launched officially next week, also include celebrating Scotland's "big five" animals, which are yet to be announced, and highlighting the best places to spot them.
Special nature-themed events are to be held at some of Scotland's best-known events and festivals, including the Celtic Connections music festival which is about to kick off in Glasgow, and the Royal Highland Show in Edinburgh in June.
Hey, I've always wanted to visit Scotland to sample the local whiskey and play a little golf. Perhaps this will be the year? If we can put together the funding, perhaps we could produce a story on Muir which would include scenes from the land of his birth.
A few of my favorite Muir quotes from the Sierra Club's quotable John Muir Web page:
"Any fool can destroy trees. They cannot run away; and if they could, they would still be destroyed — chased and hunted down as long as fun or a dollar could be got out of their bark hides, branching horns, or magnificent bole backbones. Few that fell trees plant them; nor would planting avail much towards getting back anything like the noble primeval forests. … It took more than three thousand years to make some of the trees in these Western woods — trees that are still standing in perfect strength and beauty, waving and singing in the mighty forests of the Sierra. Through all the wonderful, eventful centuries … God has cared for these trees, saved them from drought, disease, avalanches, and a thousand straining, leveling tempests and floods; but he cannot save them from fools — only Uncle Sam can do that."
– Our National Parks (1901) Chapter 10.
"Most people are on the world, not in it — have no conscious sympathy or relationship to anything about them — undiffused, separate, and rigidly alone like marbles of polished stone, touching but separate."
– John of the Mountains: The Unpublished Journals of John Muir, (1938), page 320.
"These temple-destroyers, devotees of ravaging commercialism, seem to have a perfect contempt for Nature, and instead of lifting their eyes to the God of the mountains, lift them to the Almighty Dollar. Dam Hetch Hetchy! As well dam for water-tanks the people's cathedrals and churches, for no holier temple has ever been consecrated by the heart of man."
– The Yosemite (1912) chapter 15.
On a Sierra Club outing, author Albert Palmer tells of a conversation he had with John Muir on the trail. He asked Muir, "someone told me you did not approve of the word ˜hike." Is that so?" His blue eyes flashed, and with his Scotch accent he replied:
"I don't like either the word or the thing. People ought to saunter in the mountains — not hike! Do you know the origin of that word 'saunter?' It's a beautiful word. Away back in the Middle Ages people used to go on pilgrimages to the Holy Land, and when people in the villages through which they passed asked where they were going, they would reply, 'A la sainte terre,' 'To the Holy Land.' And so they became known as sainte-terre-ers or saunterers. Now these mountains are our Holy Land, and we ought to saunter through them reverently, not 'hike' through them."
– John Muir, as quoted by Albert W. Palmer, The Mountain Trail and its Message (1911) pages 27-28 – excerpted in A Parable of Sauntering.
© 2013 – 2016, Glynn Wilson. All rights reserved.