By Glynn Wilson –
Ken Salazar announced Wednesday that he will be leaving President Obama's cabinet as Secretary of the Interior to return to his home state of Colorado. According to a press release from the U.S. Fish and Wildlife Service, Salazar informed President Obama that he intends to leave the department by the end of March.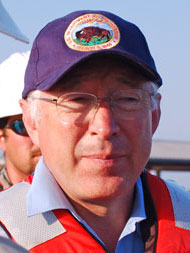 "Colorado is and will always be my home. I look forward to returning to my family and Colorado," Salazar said. "I am forever grateful to President Obama for his friendship in the U.S. Senate and the opportunity he gave me to serve as a member of his cabinet during this historic presidency."
Secretary Salazar claims he helped "usher in a new era of conservation to protect America's lands, wildlife and heritage."
Under the banner of President Obama's America's Great Outdoors program, the Interior Department has established ten national wildlife refuges and seven national parks since 2009, as well as "forward-thinking protections for wildlife" and preserved millions of acres of land. He also boasts of implementing a "community-driven, science-based" conservation strategies that take into account entire ecosystems and working landscapes
"I have had the privilege of reforming the Department of the Interior to help lead the United States in securing a new energy frontier, ushering in a conservation agenda for the 21st century, and honoring our word to the nation's first Americans," Salazar said. "I thank the more than 70,000 employees at the department for their dedication to our mission as custodians of America's natural and cultural resources. I look forward to helping my successor in a seamless transition in the months ahead."
During Salazar's tenure, Interior has played a "keystone role" in developing a secure energy future for the United States, both for renewable and conventional energy.
"From the Crown of the Continent in Montana to the prairie grasslands of Kansas to the Everglades Headwaters in Florida, we are partnering with landowners, farmers, and ranchers to preserve their way of life and the irreplaceable land and wildlife that together we cherish," Salazar said. "We have established an enduring vision for conservation in the 21st century that recognizes all people from all walks of life."
Since 2009, the department has authorized 34 solar, wind and geothermal energy projects on public lands that total 10,400 megawatts — enough to power over 3 million homes. Salazar also oversaw a "visionary" blueprint for solar energy development in the West and established the nation's first program for offshore wind leasing and permitting in America's oceans.
"Today, the largest solar energy projects in the world are under construction on America's public lands in the West, and we've issued the first leases for offshore wind in the Atlantic," Salazar said. "I am proud of the renewable energy revolution that we have launched."
Salazar has also undertaken an "historic" overhaul of Interior's management of oil and gas resources, and implemented "tough new ethics standards for all employees." When he took over under President Obama, the Minerals Management Service, an agency of the Department of the Interior charged with regulating the oil and gas industry, had been ensconced under a cloud of an ethics scandal under President George W. Bush's administration for cozying up to the oil and gas industry. Allegations included financial self-dealing, accepting gifts from energy companies, cocaine use and sexual misconduct.
BP Oil Spill
Salazar takes credit for leading the response to the Deepwater Horizon oil spill and for splitting the former Minerals Management Service into three independent agencies with "clear, independent missions" to oversee ocean energy management and revenue collection.
But the fact is, Salazar's name will always remain on the permit that authorized BP's Deepwater Horizon without a proper, legal Environmental Impact Study. It is unclear whether he is leaving of his own accord or whether his handling of the spill had something to do with President Obama wanting to make a change in his cabinet.
The best story in the country on this was published in The Locust Fork News-Journal on May 6, 2010, when I confronted Salazar on that very question in the Bon Secour National Wildlife Refuge on the Fort Morgan peninsula, before BP's oil made landfall in Baldwin County, Alabama. You can still read that story here and watch the video here.
Interior has offered millions of acres offshore in the Gulf of Mexico for "safe and responsible exploration and development and is proceeding with cautious exploration of Arctic resources," according to Salazar's statement.
In the years following the disaster, Mr. Salazar pushed for greater regulation of oil drilling, often clashing with Republicans in Congress who had pushed for an expansion of oil exploration, according to the New York Times.
In a speech at the National Press Club in Washington last year, Mr. Salazar said some Republicans in Congress are "members of the Flat Earth Society."
Onshore, Interior has also leased millions of acres for oil and gas development over the last four years while protecting special landscapes for hunting and fishing and other uses, according to Salazar.
"We have undertaken the most aggressive oil and gas safety and reform agenda in U.S. history, raising the bar on offshore drilling safety, practices and technology and ensuring that energy development is done in the right way and in the right places," Salazar said. "Today, drilling activity in the Gulf is surpassing levels seen before the spill, and our nation is on a promising path to energy independence."
Secretary Salazar's term was marked by historic progress for Indian Country with the passage of the Cobell settlement that honorably and responsibly addressed long-standing injustices regarding the U.S. government's trust management. The President also signed into law six Indian water rights settlements, totaling over $1 billion, that will help deliver clean drinking water to tribal communities and provide certainty to water users across the West. Salazar spearheaded a sweeping reform – the first in 50 years – of federal surface leasing regulations for American Indian lands that will streamline the approval process for home ownership, expedite economic development, and spur renewable energy in Indian Country.
"President Obama has made it a priority to empower our nation's first Americans by helping to build stronger, safer and more prosperous tribal communities," Salazar said. "This administration has been marked by a renewed commitment to honoring a nation-to-nation relationship and ensuring tribes have a greater role in federal decisions affecting Indian Country."
According to Sierra Club Executive Director Michael Brune, Salazar's leadership has helped put the nation on a path where protecting our natural legacy and wild lands is a priority, and not an afterthought.
"Thanks to Secretary Salazar, more national parks and wildlife refuges are open, more of America's pristine Arctic is off limits to dangerous drilling, and more public lands are in public hands. He also led the overhaul of safety standards for drilling in the wake of the BP oil disaster and stood up to defend American wilderness by protecting Drakes Estero national seashore," Brune said in a statement.
"On behalf of the Sierra Club's 2.1 million members and supporters, I am honored to thank Ken Salazar for his service to our country and for his commitment to ensuring that future generations can enjoy our nation's great outdoors and natural beauty for generations to come," he said. "We look forward to building on his achievements with his successor, working to designate new national monuments and keeping dirty energy developers off our public lands and out of the Arctic."
Salazar, a fifth-generation Coloradoan, has served his state and the nation for 14 continuous years as Colorado Attorney General, U.S. Senator and as the 50th Interior Department secretary. His press release has a lot of information about achievements, and it is worded in a way that shows he is interested in demonstrating his place in history.
But the pull of family obligations — he and his wife are primary caretakers of their 5-year-old granddaughter who has autism and is enrolled in a special school — was too great to commit to four more years, Salazar's office said, according to the Denver Post.
© 2013, Glynn Wilson. All rights reserved.