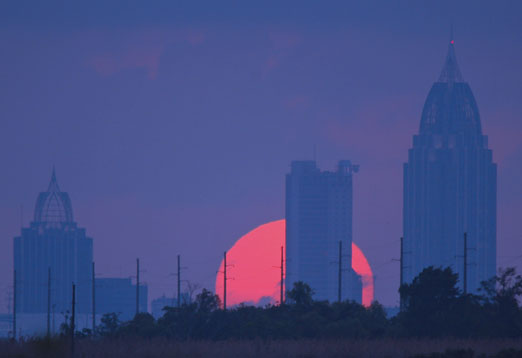 Sunset over Mobile Bay from Meaher State Park
–
All Alabama citizens, stakeholders and elected officials who want their voices to be heard in the discussion about the development of a comprehensive water management plan in Alabama — one of the last states in the country to get onboard to develop such a plan — might want to consider attending an upcoming Water Policy Symposium scheduled for Tuesday, Jan. 29 in Spanish Fort near Mobile.
It will be from 1-5 p.m. at the Five Rivers Delta Resource Center on the old Mobile Bay causeway. There is no charge to attend and refreshments will be served during breaks.
"Now that the governor has taken leadership and put this process into motion, we, as concerned citizens, have a responsibility to play our part," Carol Adams-Davis of the Alabama Sierra Club said in a press release announcing the event.
"We must insist on water for all, not water for a select few," she said. " We must also insist on the protection of flows in our rivers to ensure that 'clean water for all' continues to be possible for many generations to come."
State Rep. Chad Fincher, a Republican from Mobile, will open the meeting with information about his work with the Permanent Joint Legislative Committee on Water Policy and Management. The agenda also includes speakers from key state agencies who will hold question and answer sessions.
Lance LaFleur, Director of the Alabama Department of Environmental Management, will discuss the stakeholder partcipation process and a timeline for the creation of state water policy.
Stan Cook, Chair of Fisheries for the Alabama Department of Conservation and Natural Resources, will discuss the process of developing a water policy that is protective of the flows necessary to preserve the environmental health of Alabama's river ecosystems.
The Nature Conservancy of Alabama will share information on in-stream flows and some of their experiences in working on this issue in other states.
Alabama Rivers Alliance and Southern Environmental Law Center will provide background on the process of developing a statewide water management plan, experiences in other states, and lead a strategy discussion on "where we go from here."
"Attendees will gain a better understanding of what Alabama needs in a water management policy, and take home the tools to help advocate a good water policy," Adams-Davis said.
The event is being sponsored by Alabama Sierra Club Foundation and the Mobile Bay Sierra Club.
For more information, please contact Carol Adams-Davis, 702-496-5050 or email: mcadamsdavis@earthlink.net.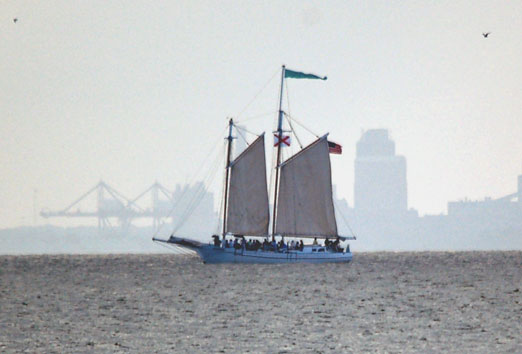 A clipper ship in Mobile Bay
© 2013 – 2015, Glynn Wilson. All rights reserved.