Updated Rule Protects Public Health, Lowers Cost of Compliance –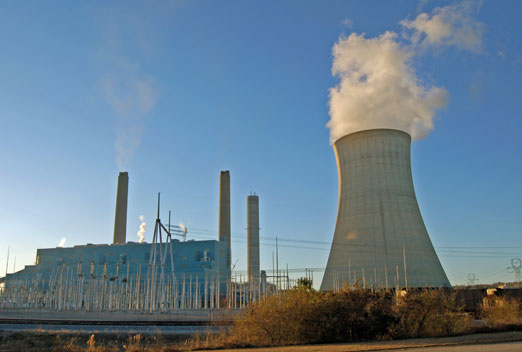 Alabama Power's Miller Steam Plant on the Locust Fork River –
WASHINGTON, D.C. – The U.S. Environmental Protection Agency has finalized revisions to Clean Air Act standards reducing air pollution from stationary engines that generate electricity and power equipment at industrial, agricultural, oil and gas production and power generation plants in compliance with federal court settlement agreements, according to a press release just out from the nation's capitol.
The final revised rule will reduce the capital by $287 million and annual costs of the original 2010 rules by $139 million, while still reducing harmful pollutants, according to EPA. This includes 2,800 tons of hazardous air pollutants each year, along with 36,000 tons of carbon monoxide, 2,800 tons of particulate matter, 9,600 tons of nitrogen oxides and 36,000 tons of volatile organic compounds.
"The updates will ensure that the standards are cost-effective, achievable, and protective, while continuing to provide significant emission reductions," the agency release says. "The amendments also specify how the standards apply to emergency engines used for emergency demand response."
But according to the Sierra Club and other environmental advocacy groups, the revised regulations create large loopholes for dirty diesel and gas electricity generators, allowing them to expand their hours of operation without installing serious protections to clean up dangerous environmental toxins.
"Public health suffered a serious blow with these loopholes for dirty diesel and gas generators. Although EPA made some progress by cutting back on some of the loopholes they initially proposed and tightening up reporting and cleaner fuel requirements, this rule still represents an enormous gift to polluters at the public's expense," Christina Simeone, director of the PennFuture Energy Center, said in a press release reacting to the news.
"No one should get a free pass on air pollution. Pollution that harms our families and our communities, whether from a small local generator or a major plant, should be treated equally under the law," said Liz Perera, a senior policy analyst at the Sierra Club. "Don't tell mothers that the only way to ensure a stable electric supply is to put their kids' health in danger. We have the technology to filter out most of the pollutants from these generators and it's irresponsible for us not to do so."
Pollution emitted from the engines can cause cancer and other serious health effects. They aggravate respiratory and cardiovascular disease, cause premature deaths in people with heart or lung disease, and can cause neurological problems and cardiovascular disease. They also negatively affect people's liver and kidneys, the immune system and reproductive organs.
The agency projects annual health benefits of the updated standards to be worth $830 million to $2.1 billion.
The final amendments to the 2010 National Emission Standards for Hazardous Air Pollutants for Reciprocating Internal Combustion Engines reflect new technical information submitted by stakeholders after the 2010 standards were issued.
There's more information about the standards online at this link.
This is a breaking news story based on a press release sent out by e-mail. More comments may be added when stakeholders have time to react to the news. But for now we can report that these standards will create jobs, not cause the loss of jobs, and the jobs it creates are high paying, union jobs.
© 2013, Glynn Wilson. All rights reserved.