But It's Also Home to The Number Two Worst Power Plant in the Country for Mercury Pollution –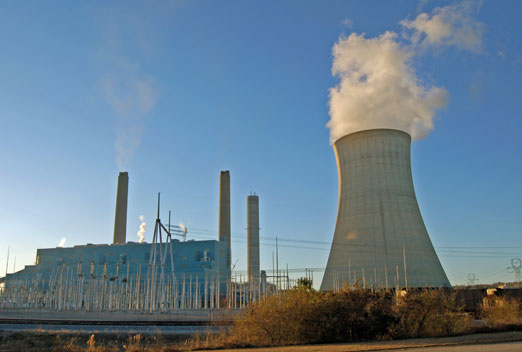 Alabama Power's Miller Steam Plant on the Locust Fork River held the number one distinction for a few years –
By Glynn Wilson –
Alabama has a chance to be number one in the nation in football again this year, if Nick Saban's Crimson Tide can beat Notre Dame in Miami on Monday, Jan. 7. But the state also holds the distinction of being home to some of the worst air and water pollution generating plants in the country, especially from Southern Company's coal-fired power plants.
A new report out from the Environmental Integrity Project ranks Alabama Power's Gaston Steam Plant in Shelby County, south of Birmingham, second worst in the country as a source of mercury, with 1,244 pounds of the toxic substance dumped into the air and water in 2011.
Only one plant in the country ranked worse, the Luminant Generation plant in Rusk, Texas, with 1,501 pounds of total mercury emitted. Texas holds the not-so-great distinction of being home to four of the top five plants in the country for mercury emissions.
These 10 facilities account for about 18 percent of mercury emissions from all coal burning power plants nationwide in 2011, according to the report. The numbers for the report come from federal public records called the Toxic Release Inventory, data maintained by the U.S. Environmental Protection Agency in the public interest, made possible by citizens groups and watchdog media that fought for national Right to Know laws over the past 40 years.
Of course Alabama Power released a statement defending itself, talking up all the money it has spent to reduce pollution from its power plants, and of course the Newhouse version of the story played up the Alabama Power angle, quoting a company public relations man more than the report itself.
"Coal-burning power plants release millions of pounds of toxic pollutants into the air every year, including mercury and other metals like arsenic and chromium, and acid gases like hydrogen chloride," according to the report. "Nationwide, equipment installed to reduce emissions of sulfur dioxide and particulate matter has … helped cut down on the release of mercury, toxic metals and acid gases from power plants over the last ten years. But that progress is uneven, and the dirtiest plants continue to churn out thousands of pounds of toxins that can be hazardous to human health even in small concentrations."
Mercury is a potent neurotoxin, according to scientific experts. It only takes a tiny amount of exposure to cause health problems, especially an increased risk of heart attacks, high blood pressure, mental problems and birth defects.
While there are a number of fairly new laws regulating the use and export of mercury, the U.S. remains the top exporter in the world, according to the EPA.
Mercury levels are still on the rise worldwide, and one of the most insidious sources remains coal burning power plants, from which small particles make their way into the air from discharge smokestacks and mix with other air pollutants to make air unsafe to breath. Those particles also fall from the sky into lakes and rivers, where they mix with other bacteria to form methylmercury. This chemical compound builds up in marine species and makes its way up the food chain from small fish to big fish, species consumed by birds and humans.
Many of the nation's waterways are off limits to fishing due to mercury contamination, and some of Alabama's rivers and lakes have been shown to contain more mercury than any in the country, especially in the Birmingham and Mobile areas.
The thing is, technology exists to reduce mercury pollution from power plants by up to 90 percent, according to the environmental group's report. In spite of the amounts of money Southern Company and other power generators have spent to reduce other pollutants, the technology to reduce mercury is not being implemented. The money is not being spent.
If the federal government were to require this, or if the companies would decide to do it on their own, this would provide hundreds of high paying jobs for union workers and help get the U.S. economy moving faster. It could also lead to an increase in electricity rates for consumers.
But that might not be such a bad thing for the long-term future of the economy, the state, the country and the planet.
According to James Hansen, head of the National Aeronautics and Space Administration's Goddard Institute for Space Studies, there is only one simple answer for beginning to deal with the effects of burning fossil fuels that have caused global warming and climate change as well as air and water pollution: Place a tax on carbon usage.
Watch a couple of videos of a recent presentation by Hansen on C-SPAN here.
The top ten plants for mercury pollution are:
1. Luminant Generation, Martin Lake Steam Electric Station & Lignite Mine in Rusk County, TX (1,501 lbs. of mercury emissions)
2. Southern Co., Gaston Steam Plant in Shelby, AL (1,244 lbs. of mercury emissions)
3. Luminant Generation, Big Brown Steam Electric Station & Lignite Mine in Freestone County, TX (1,240 lbs. of mercury emissions)
4. Luminant Generation, Monticello Steam Electric Station & Lignite Mine in Titus County, TX (911 lbs. of mercury emissions)
5. Luminant Generation, Sandow Steam Electric Station in Milam County, TX (841 lbs. of mercury emissions)
6. Great River Energy, Coal Creek Station in Mclean County, ND (812 lbs. of mercury emissions)
7. Ameren Corp., Ameren Missouri Labadie Energy Center in Franklin, MO (795 lbs. of mercury emissions)
8. Grand River Dam Authority, Grand River Coal Fired Complex in Mayes County, OK (722 lbs. of mercury emissions)
9. DTE Energy Co., Detroit Edison Monroe Power Plant in Monroe County, MI (708 lbs. of mercury emissions)
10. American Electric Power, H.W. Pirkey Power Plant in Harrison County, TX (683 lbs. of mercury emissions).
© 2013 – 2015, Glynn Wilson. All rights reserved.