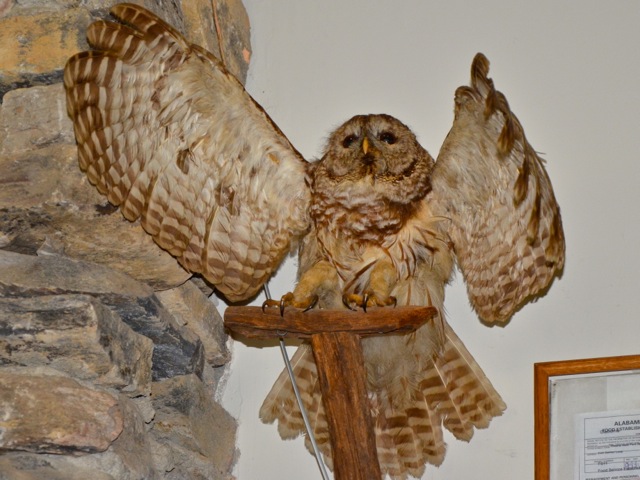 A stuffed owl on the wall of the Cheaha State Park Restaurant –
The Big Picture –
By Glynn Wilson –
LAKE CHINNABEE CAMPGROUND, Ala. — Sitting quietly by the fire in the woods on a windless, moonlit night, with only the sound of firewood crackling and coon dogs off in the distance — and my dog Jefferson snoring — I was wondering where all the wildlife has gone in the Talladega Ranger District of the Talladega National Forest?
We spent about 12 days here last year and five days and four nights this year and I have yet to see a raccoon or a fox, much less a deer, a bobcat, a bear or a mountain lion. While this area is being marketed to tourists as part of the Alabama Birding Trail, there was not a single duck on the lake the entire week and we saw precious few birds, just the usual suspects like chickadees and cardinals.
Last year we photographed a pileated woodpecker on the other side of Lake Chinnabee. This year we only heard one way off in the distance.
My friend and excellent wildlife photographer Kenny Walters said he heard two screech owls one night just as I drove out of the campground to make a run up the mountain to Cheaha State Park.
Of course we missed the peak autumn color and the bird migration this year since they both occurred in the run up to the presidential election and everybody was preoccupied with that.
But now it is hunting season in the forests of Alabama and the white-tailed deer are on the run.
Now don't get me wrong. I totally understand the genetic and cultural drive to hunt game. It is in our genes as surely as it is in the culture of rural Alabama, since we are descended from hunter-gathering people from about a million and a half years back and the people here love their guns.
It is true that the white-tailed deer population has increased in recent decades due to conservation efforts, and there is a need to shoot some of the lovely, tasty creatures.
But I'm wondering if some irresponsible rednecks with loaded guns aren't killing more than the deer?
There is a reality show on the National Geographic Channel now called "Wild Justice" where camera crews follow around 240 California Game Wardens patrolling 159,000 square miles catching poachers, polluters and making sure hunters and anglers follow the rules.
You rarely ever hear of these kinds of arrests in the South, although the U.S. Fish and Wildlife Service catches someone every once in awhile, like that Naples, Florida man who finally pleaded guilty to shooting a Florida panther back in the spring.
But with all the Republican hiring from the Bush years and the Riley years in Alabama, I've not heard a peep from forest rangers in Alabama catching any poachers or hunters illegally killing wildlife or even so much as hunting without a license. Some of the people of my home state are so anti-government and anti-taxes, I suspect there are more than a few armed rednecks killing more than just deer illegally. The Lake Chinnabee area is supposed to be home to flying squirrels, but all we saw were a few grey squirrels.
On our most recent trip to the Talladega National Forest, we passed at least a dozen pickup trucks loaded down with hunters in orange vests. Funny, but we never saw any of them carrying a big buck in the back of their trucks, or even a doe. Is is possible that this part of the forest is already so overburdened with timber harvesting and hunting that it is largely devoid of wildlife? Two different private contractors had just completed cutting the timber in a nine mile stretch of road between Cheaha State Park and the Lake Chinnabee Campground, leaving only a few young pines behind to cut again in 20-25 years.
We saw way more more wildlife up in the Shoal Creek Ranger District on our last trip, so we're considering heading back up toward Heflin and Piedmont again this week for more photos and video interviews with people who might be negatively impacted if fracking comes to town.
Besides, it's going to be another beautiful week to get out in nature even if it is past peak fall color. If you want to hook up somewhere out in the woods, let us know. We always like a little company by the fire.
All this brings up another closing thought I've had for awhile. This looks like as good a place as any to say it out loud, so to speak. It is a note of criticism about how conservation groups promoted the renewal of Forest Wild in this year's election. While the popular and successful Forever Wild program was renewed for another 20 years by a voting margin of 75-25 percent, the entire campaign to promote its passage was based on preserving land for hunters.
Why is that? Is fishing not just as important a sport for average Alabamians? Since the voters would probably have approved the passage of Forest Wild without a lot of television advertising featuring former Alabama and Auburn football coaches Gene Stallings and Pat Dye holding guns and sporting hunter camouflage, would it not have been better to use the opportunity to educate the public of this state on the real reasons proponents wanted the Forever Wild program in the first place? To preserve some wild lands in nature not just for people to use now, but for future generations of wildlife as well?
While it is a good thing that Forever Wild passed, what good is it if all the wildlife is run off by timber harvesting, killed by shotgun blasts and pollution from gas drilling operations?
We just report. You decide. Feel free to post your comments below.
© 2012, Glynn Wilson. All rights reserved.