President Obama's Approval Rating Beats Republicans Two to One –
By Glynn Wilson –
Americans have become even more convinced over the past week that government leaders in Washington should compromise on their principles on no tax increases and spending cuts in order to reach an agreement that avoids the federal budget going over the "fiscal cliff" on Jan. 1. Now, 70 percent of the American people say the president and Congress should compromise, up from 62 percent just last week, according to the latest Gallup poll on the subject.
President Barack Obama and Speaker of the House John Boehner met at the White House on Sunday, and there are some indications that a compromise may be in the works, but there has yet been no announcement of a negotiated agreement to avoid the mandated sequestration of government funds for defense and other federal spending, along with an automatic increase in tax rates for most Americans.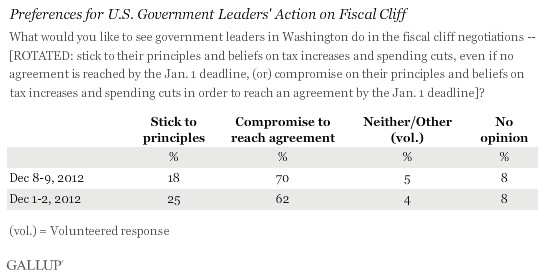 Seventy-three percent of Democrats want their leaders to compromise, little changed from 71 percent last week. But Republicans and independents express more widespread interest in compromise than they did last week — with Republicans moving from 55 percent to 67 percent in favor of compromise, while independents moved from 61 percent to 70 percent.
While Republican rhetoric has not changed and they are still holding the president and the country hostage to their "no new taxes" pledge, Americans remain more optimistic than pessimistic about the likelihood that a solution to the fiscal cliff situation will be reached before Jan. 1, with 59 percent saying such a solution is "very" or "somewhat likely." This is essentially the same level of optimism that Gallup found the first time it asked the question, but sometimes you have to wonder if the people know what they are talking about.
At least a majority of Americans continue to give higher approval ratings to the way President Obama is handling the fiscal cliff negotiations than they give to the leadership in Congress. Overall, Obama's approval rating on handling the negotiations remains almost twice as high as that of the Republican leaders in Congress. While 52 percent of the people approve of the job president Obama is doing to offer a compromise plan, only 26 percent of the people approve of Republican opposition to compromise.
According to Gallup, this suggests that "the president continues to have the upper hand in his ongoing discussions with Republicans Boehner and Senate Minority Leader Mitch McConnell."
Gallup's Bottom Line
"Americans' interest in their elected leaders in Washington seeking compromise and not doggedly adhering to principle in the fiscal cliff negotiations has accelerated over the last week," Gallup concludes from its analysis of the public opinion data. "A dwindling 18 percent of Americans believe that leaders should stick to their principles and beliefs on tax increases and spending cuts, while seven in 10 say leaders should compromise their principles and beliefs in order to get an agreement. The average American has not given up hope that the 'cliff' will be avoided; about six in 10 say it is likely that a settlement will be reached before the Jan. 1 deadline."
Survey Methods
Results are based on telephone interviews conducted as part of Gallup Daily tracking Dec. 8-9, with a random sample of 1,069 adults, aged 18 and older, living in all 50 U.S. states and the District of Columbia. For results based on the total sample of national adults, one can say with 95 percent confidence that the maximum margin of sampling error is plus or minus 4 percentage points.
The Biggest Scandal in 50 Years?
According to Atlanta Journal-Constitution columnist Jay Bookman, however, the way the Republicans are handling the issue could be the biggest scandal in American politics in 50 years, and that includes Nixon's Watergate, Reagan's trading arms for hostages, Clinton's sex scandal and Bush's WMD deception that got us into the war in Iraq.
"…while presidents Nixon and Clinton were led astray by their weakness for power and sex, neither consciously put the security of the country at risk," Bookman writes. "Reagan made a serious mistake, but he was at least motivated by sincere concern for the lives of U.S. hostages. The invasion of Iraq is a closer call, but even there, President Bush and his administration weren't consciously choosing to do damage to our country.
"By that standard, the most disturbing political scandal of the past half century is playing out today before our very eyes, to too little notice or comprehension."
Bookman says the Republicans are treating Obama's concern for the country and its people as a "fatal (political) weakness," while the Republicans "don't care about 'catastrophic' consequences that would be 'indelible, incurable' and 'last for generations.'"
The Republicans are using political "amorality" as a "strength" to demand what they want, no taxes for the rich, "or else."
"Since when is it OK for a major political party to hold a gun to the country's head, figuratively speaking of course? Has patriotism become so diluted by cynicism that such strategies can now be publicly embraced and advocated?"
The U.S. Constitution offers an alternative means of resolving such disputes, Bookman points out.
"It's called free and open debate. It's called elections. We just had one, focused largely on the issues at stake here; they (the Republicans) spent well over $1 billion trying to sell their viewpoint, and they lost," he says. "Now, having failed to convince the rest of their country of their wisdom, they believe that their desperation gives them the right to impose it under threat of grievous harm?
"That isn't leadership. That isn't patriotism. It is the act of a petulant, frustrated three-year-old threatening to hold his breath until the country turns blue."
If you are a Republican or an independent who cares about your country and your fellow man, this might be good time to pick up the phone and call your representatives and tell them at least this once, raising taxes is OK. We now have no choice. The Democrats have done their part. They re-elected President Obama. The next step in this compromise is up to the Republicans. Their party is about dead already.
Will the current leadership go down with the sinking ship? Or offer up a lifeboat? Their legacy, and our economy, depend upon that life boat.
I mean all they have to do is let the Bush tax cuts for the top 2 percent expire. That's what got us into this budget deficit mess in the first place. Clinton eliminated the deficit over eight years and left office with a surplus. Remember the "peace dividend?"
© 2012 – 2015, Glynn Wilson. All rights reserved.