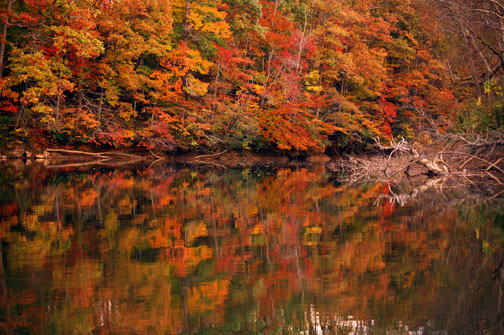 Peak autumn color in the Catawba River near Marion, North Carolina
By Glynn Wilson –
BIRMINGHAM, Ala. — Life is like a river.
This is the ultimate metaphor for life.
Many an American writer has compared life to the game of baseball. Myself included.
But when I took this turn in life seven years ago to abandon chasing careers in traditional news organizations and academic institutions to go independent on the Web as a publisher, I had come to the conclusion that comparing life to a river made more sense in the abstract and as a matter of practicality.
Rivers start with a trickle of air and water born of the earth, just like we do.
Rivers start out slowly and quietly and learn to crawl along in meandering fashion before they take off down a hill, eventually building up to a roaring, noisy life pouring down the side of a mountain.
We start out slowly and learn to crawl before we walk and talk and then run and yell.
Then reaching a plateau in their path, rivers slow back down and move in leisurely fashion again, in some places even becoming stagnant.
Our lives are like that too. We hit peaks and valleys along the way. But most of the time we just get by doing next to nothing.
Some rivers achieve fame and move great fortunes, feeding the world's great oceans. Others hit dead ends and die out, just like us. They may just become part of a dirty little man-made lake where nothing much happens and no one notices.
I had already figured all this out before I ever hit 50. The trick was to explain it to readers so they would keep coming back to visit the river that is my life as a newsman, a writer, photographer and aspiring film maker.
We've done pretty well at it, if I do say so myself. But this river of life is not over yet. We have a long way to go before we disappear into the gulf.
Some people will never get it. Nothing I can do about that except to continue trying to explain it from time to time.
But at least with the help of a new partner and friend in Tuscaloosa, Alabama, where I spent a couple of major stints in my life, we have now finally moved beyond the old-fashioned html news links page and linear blog and found a new Word Press theme we can use to move onto the next phase of things, to take the turn around another bend in this river of life.
There are a thousand ways people can get their news these days. They can cling to their local print newspaper or read one of the few truly national newspapers. They can listen to the radio or have the news read to them on local or national television. Over the Internet, they can get news headlines, stories and links e-mailed to them. On the Web, they can use news links pages, read online newspapers, magazines or bloggers, or they can simply subscribe to a bunch of RSS feeds. They can get their news on social networking sites such as Facebook or watch the feed for Twitter Tweets.
The beautiful thing is that people have all these choices, and we take advantage of them too.
But there are still a couple of critical things we think we can do better than just about anybody else. After many years of following news and 32 years reporting it, including 10 years teaching how to do it and researching how it's done, we believe readers will respond favorably to all this experience and news judgement wrapped up into one coherent package delivered to your Web browser every day.
There are plenty of other places to turn for "infotainment" on the Web. Whether you are obsessed with keeping up with the lives of celebrities, you are a sensational crime news junkie, or your river of life revolves around every grimy detail of what's going on with your favorite sports teams, you are free to follow your bliss.
Our philosophy of life, however, includes one of the central tenants that made America great in the first place. That is, the men who wrote the First Amendment to the U.S. Constitution granting special privileges to "the press" were concerned that freedom of the press was critical to the future of the new country and the goal of creating and fostering individual and collective liberty and democracy.
They could never have envisioned that the newspapers who profited from those special privileges would let people down so badly over the centuries by diverting our attention away from the big rivers and down every little side creek and deadend stream that looked like it might go somewhere. They knew even then that the big river, the big picture, involved basic coverage of government and public affairs as well as investigative reporting on public and private corruption. How else could citizens navigate this great river of life without falling in, or being pushed in by evil men, and drowning in a sea of ignorance?
There have been many days over the past few years when the situation appeared hopeless and the fear was palpable that this river of life could end in a massive conflagration of idiocy. But without hope, how can there be life?
We still cling to hope.
While it is quite possible that around the next bend we will run into a rock wall or cascade over a giant waterfall into a pool of deadly boulders, there is also an equal chance that we will encounter a lovely day on a beautiful stretch of blue water where the fish are jumping and the living is fine.
Battling this thing called the river of life can be incredibly difficult at times. But if you have ever fought the frothing white water of the Locust Fork River or any river and dodged the rocks for yourself, you know that a peaceful stretch of water is just around the next bend. If you remember to take along some fine food and good beer, you will have a fine time again and again.
We hope you like the Website redesign and will continue on this journey with us. Wish us luck. Happy paddling to you.
PS: In case you have not gotten this by now, the name of this Website has nothing do with with the small town of Locust Fork, Alabama. It was inspired by the kind of journalism and action that stopped a dam on the Locust Fork of the Black Warrior River 20 years ago. I explained that a long time ago, in case you missed it.
© 2012, Glynn Wilson. All rights reserved.