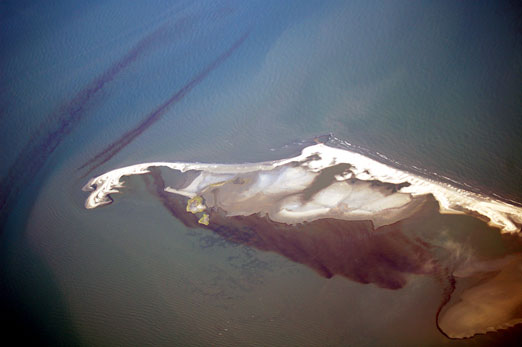 By Glynn Wilson –
Less than two weeks after President Barack Obama won reelection to a second term, the Obama administration announced a major settlement agreement with the British Petroleum corporation in the largest and worst environmental disaster in U.S. history when BP's Deepwater Horizon exploded and began leaking millions of barrels of sweet crude into the Gulf of Mexico on April 20, 2010 that went on for three months before the well was finally capped.
The Obama Justice Department's negotiated settlement includes fines of $4 billion over five years, the largest criminal fine ever levied. The company also agreed to plead guilty to 14 criminal charges, including manslaughter, but that's still not the end of it. BP has already agreed to pay $20 million to compensate businesses negatively impacted by the disaster and to begin cleanup efforts in the Gulf, and the company still faces further civil penalties under the Clean Water Act.
In an effort to show some of the faces of responsibility for the disaster, manslaughter charges were also filed against two BP rig supervisors, and obstruction charges were filed against a BP executive who allegedly lied to Congress.
"I hope this sends a clear message to those who would engage in this wanton misconduct that there will be a penalty paid," Attorney General Eric H. Holder Jr. said during a news conference announcing the settlement on Thursday in New Orleans.
The two top-ranking BP supervisors on the Deepwater Horizon drilling rig — Robert M. Kaluza, 62, of Henderson, Nev., and Donald J. Vidrine, 65, of Lafayette, La. — were indicted on 23 counts, including involuntary and seaman's manslaughter, for allegedly ignoring warning signs of the blowout that set fire to the rig.
A separate indictment accused David Rainey, a former BP vice president, of hiding information from Congress and lying to law enforcement officials by understating the rate at which oil was gushing into the Gulf of Mexico. Rainey, 58, was BP's deputy incident commander and BP's second-highest-ranking representative at the Coast Guard's unified command for the spill response.
"Make no mistake: While the company is guilty, individuals committed these crimes," said Assistant Attorney General Lanny A. Breuer, head of the criminal division. Of the two rig supervisors, Breuer said, "In the face of glaring red flags indicating that the well was not secure, both men allegedly failed to take appropriate action to prevent the blowout."
The London-based oil giant will also pay an additional $525 million over three years to settle claims with the Securities and Exchange Commission, which said the firm concealed information from investors. The company also agreed to increase its existing $38.1 billion charge against earnings for the spill by $3.85 billion.
Yet in spite of all this, BP refused to settle with the Justice Department on a separate federal and state civil claims on damages to natural resources. Clean Water Act fines alone could total $5 billion to nearly $20 billion, depending on whether BP is found to be guilty of "gross negligence" or "willful misconduct."
BP said it is "prepared to vigorously defend itself against remaining civil claims."
The settlement does resolve all criminal charges, according to the Justice Department, as BP agreed to plead guilty to 11 felony counts of "misconduct or neglect of ships' officers."
The settlement surpasses the $1 billion paid by Exxon for the 1989 Exxon Valdez oil spill off Alaska's coast. No Exxon executives were charged in that case, although ship captain Joseph Hazelwood was ultimately convicted of negligent discharge of oil and fined $50,000. He was cleared of earlier charges of being drunk when the ship ran aground.
BP has previously paid $63 million to settle federal charges of safety violations in the 2005 explosion at its Texas City oil refinery, which killed 15 workers. No individuals were charged in that case.
More recently, Alpha Natural Resources reached a $210 million settlement that spared the company criminal charges over the 2010 West Virginia coal mine explosion that killed 29 workers. The worst U.S. coal mining disaster in 40 years led to criminal charges against a former superintendent and security chief at the Upper Big Branch Mine.
The BP deal, which is subject to approval by a federal judge, includes payments of nearly $2.4 billion to the National Fish and Wildlife Foundation, $350 million to the National Academy of Sciences and about $500 million to the Securities and Exchange Commission. The SEC accused BP of misleading investors by lowballing the amount of crude that was spilling.
"We believe this resolution is in the best interest of BP and its shareholders," said Carl-Henric Svanberg, BP chairman. "It removes two significant legal risks and allows us to vigorously defend the company against the remaining civil claims."
The settlement appears to be well within BP's means, considering the oil giant made a record $25.8 billion in profits last year. And it will be given five years to pay.
Also, a federal judge in New Orleans is deciding whether to approve an estimated $7.8 billion settlement between BP and more than 100,000 businesses and individuals who say they were harmed by the spill. They include fishermen, charter boat captains, restaurants, hotels and property owners.
Some observers wondered if this decision would have come down so hard on BP if Republican Mitt Romney had been elected instead of this president. Obama took a lot of heat from residents and activists on the Gulf Coast for his handling of the disaster. How do they feel now?
Feel free to post your comments below.
© 2012, Glynn Wilson. All rights reserved.