No Threat to Earth, This Time –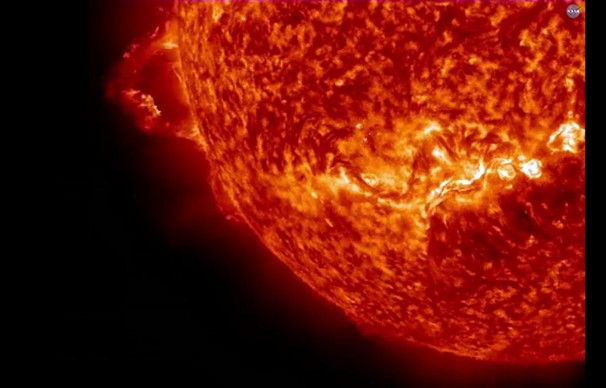 NASA/SDO –
The National Aeronautics and Space Administration captured video footage of massive storms on the sun last week that could have caused major problems on earth, including shutting down entire electrical grids – if it had occurred on the other side.
The action was captured Nov. 16 in the 304 Angstrom wavelength of extreme ultraviolet light, according to NASA, on the side of the sun facing away from Earth. Scientists speculated that the disruption to the sun's magnetic field might have triggered a second event due to their close proximity.
The active star has an 11-year weather cycle, and is currently in the middle of what is known as its active phase. The current cycle, known as Cycle 24, is expected to peak in 2013, and there is some concern that earth's electrical and computer systems could be impacted at some point.
The events occur when there is a disruption to the magnetic fields generated by the sun, causing plasma to shoot outwards.
The particles ejected from the sun could have an effect on satellites and the international space station, experts say, although technological advancements have allowed for a two-to-three-day warning period between the time of a coronal mass ejection, or CME, and when it stands to affect Earth or surrounding satellites.
Related Solar activity earlier in the week could be witnessed in the form of brilliant northern lights.
As for whether the sun's period of heightened activity could lead to the December 2012 apocalypse some credit to the Mayan calendar, don't believe it.
"We understand the sun well enough," said Alex Young, a heliophysicist with NASA's Goddard Space Flight Center, "to know that this super storm that's going to wipe out the Earth simply isn't going to happen."
© 2012, Glynn Wilson. All rights reserved.