By Glynn Wilson –
A majority of Americans are upbeat about the future and believe the country will be better off four years from now, according to the latest Gallup poll on the subject.
Fifty-four percent express this optimistic view, especially Democrats, while 41 percent say we could be worse off in four years, mainly Republicans.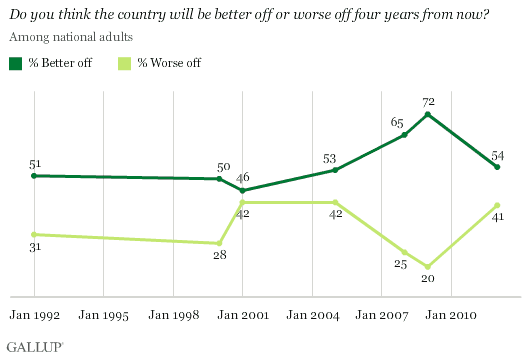 This level of optimism is down from four years ago, following President Barack Obama's first election victory, when 65 percent said the country would be better off in four years, and prior to his first inauguration, when 72 percent said the same thing.
But at least for now, Gallup concludes, the majority of Americans agree with what President Obama said in his election-night victory speech — "the American people … know in our hearts that for the United States of America, the best is yet to come."
While the high levels of optimism recorded shortly after Obama's 2008 election have faded somewhat, the nation's optimism resembles or exceeds levels following other recent elections. In particular, a few months after George W. Bush's re-election in 2004, a contest that also saw the incumbent president narrowly re-elected, only 53 percent were optimistic.
Democrats are nearly unanimous in their positive feelings that the next four years will be better for the country, with 94 percent saying so versus 4 percent who think things will be worse. Republicans are nearly as united but in the opposite direction, with 11 percent saying the country will be better off and 86 percent seeing the country souring. Independents are more upbeat than not about the future, 51 percent to 40 percent.
Party affiliation is typically highly related to how Americans assess the direction of the next four years. Democrats' outlook has been generally positive since Obama's election in 2008. Republicans', by contrast, has been mostly negative, though a slim majority said they expected the country to improve prior to Obama's 2009 inauguration.
On the other hand, in 2001 and 2005 — years associated with a Republican president — GOP supporters were extremely positive as a whole, while Democrats were much less likely to share this view. Independents have generally been positive following each presidential election, with the exception of George W. Bush's re-election in 2004.
Of course we saw what happened in Bush's second term, when the intelligence for the war in Iraq was proved to be flawed, the federal government failed miserably in its response to Hurricane Katrina in New Orleans, and then Bush's anti-government, laissez-faire policies led to a deep recession that nearly sent the global economy spiraling into a depression. Sometimes the public's partisan views don't compare to reality.
Implications
While a majority of Americans are optimistic that the country will better off four years from now, the optimism is down from 2008-2009 when Obama was first elected, Gallup says, but the national mood compares favorably with other recent presidential elections.
"As President Obama probably knows, however, the percentage saying things will be better off in four years can quickly fade as the hard work of a new term begins, especially given the size of the nation's upcoming challenges — in particular the "fiscal cliff," unemployment, and the many other priorities facing the president," Gallup says. "Obama needs only look at his first term as proof positive of this: Despite 72 percent expressing optimism in early 2009, Obama's agenda was met with strong opposition on Capitol Hill, and eventually the president and his party were dealt a setback with the 2010 congressional elections. Many Americans have sanguine expectations for the next four years, but it will nonetheless be a challenging task to meet those goals."
Yes it will, especially with some tea party Republicans still in a majority in the House and some obstructionist Republicans still willing to use the filibuster to block progress in the Senate, and with a majority of the Supreme Court still in conservative hands. That could change in the next two years.
Survey Methods
Results for this Gallup poll are based on telephone interviews conducted Nov. 9-12, 2012, with a random sample of 1,009 adults, aged 18 and older, living in all 50 U.S. states and the District of Columbia. For results based on the total sample of national adults, one can say with 95 percent confidence that the maximum margin of sampling error is plus or minus 3 percentage points.
© 2012, Glynn Wilson. All rights reserved.