by Glynn Wilson
The Americans public's trust of the news media hit a new low this year. Sixty percent of the people say they have little or no trust in the mass media to report the news fully, accurately and fairly, according to the latest Gallup poll on the subject.
The record distrust of the media means that negativity toward the media is at an all-time high for a presidential election year.
"Distrust is up from the past few years, when Americans were already more negative about the media than they had been in years prior to 2004," Gallup says in commenting on its analysis of the data.
But on a broad level, Gallup concludes, and perhaps more importantly, the high level of distrust in the media on the part of American citizens "poses a challenge to democracy and to creating a fully engaged citizenry."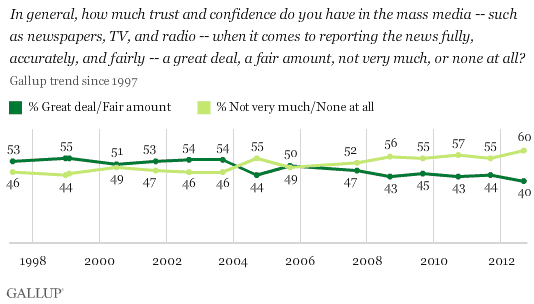 "This reflects the continuation of a pattern in which negativity increases every election year compared with the year prior," Gallup concludes. "The current gap between negative and positive views — 20 percentage points — is by far the highest Gallup has recorded since it began regularly asking the question in the 1990s. Trust in the media was much higher, and more positive than negative, in the years prior to 2004 — as high as 72 percent when Gallup asked this question three times in the 1970s."

This year's decline in media trust is driven by independents and Republicans. Only 31 percent of independents and 26 percent of Republicans express a great deal or fair amount of trust in the news media, record lows. Republicans' level of trust this year is similar to what they expressed in the fall of 2008, implying that they are especially critical of election coverage.
Independents are sharply more negative compared with 2008, suggesting the group that is most closely divided between President Barack Obama and Republican Mitt Romney is quite dissatisfied with its ability to get fair and accurate news coverage of this election.
More broadly, Republicans continue to express the least trust in the media, while Democrats express the most. Independents' trust fell below the majority level in 2004 and has continued to steadily decline.
Attention Paid to Political News Down
Americans tend to pay more attention to political news in presidential election years, and that is the case in 2012, Gallup says.
"However, Americans are less likely this year to be paying close attention to news about national politics than they were in 2008," Gallup says.
The 39 percent who say they are paying close attention is up from last year — when Americans were paying a high level of attention compared with other non-election years — but down from 43 percent in September 2008.
Despite their record-low trust in media, Republicans are the partisan group most likely to be paying close attention to news about national politics, with the 48 percent who are doing so similar to the 50 percent in 2008 and up significantly from 38 percent in 2004. Independents and Democrats are less likely than Republicans to be paying close attention, with their levels of attention similar to 2008 and 2004.
Other Institutions Compared
Looked at another way, the 40 percent of the public who have at least some trust in the American news media is still way higher than the public's esteem for Congress, but much lower than the public's approval of labor unions, and now the president's approval rating stands at about 50 percent.
Implications
"Americans are clearly down on the news media this election year, with a record-high six in 10 expressing little or no trust in the mass media's ability to report the news fully, accurately and fairly," Gallup concludes in its analysis. "This likely reflects the continuation of the trend seen in recent years, combined with the increased negativity toward the media that election years tend to bring. This is particularly consequential at a time when Americans need to rely on the media to learn about the platforms and perspectives of the two candidates vying to lead the country for the next four years."
The lower level of interest in news about national politics during this election year may also reflect the level of interest in the presidential election specifically, according to Gallup. This survey was conducted immediately after the conclusion of both political conventions and thus may indicate the level of attention paid to those events in particular.
Significantly since this survey was conducted Democrats' enthusiasm about voting has swelled nationally and in swing states.
An Opportunity
"Media sources must clearly do more to earn the trust of Americans, the majority of whom see the media as biased one way or the other," Gallup concludes. "At the same time, there is an opportunity for others outside the 'mass media' to serve as information sources that Americans do trust."
We submit that while this survey does not take into account Internet media use or the public's increasing reliance on social networking programs to keep up with what's going on in the world online, these findings create an opportunity for those of us engaged in trying to build platforms that do a better job of informing the American public about news on public affairs on the Web. Gallup's analysis tends to be shallow on this point, but it is not all about perceptions of bias from both sides of the political spectrum. Media research shows that bias is in the eye of the beholder.
Hard core, right-wing Republicans tend to like their biased media like talk radio and Fox News, as do solid Democrats, who turn to liberal blogs or MSNBC. Independents and more intelligent readers and citizens want the media to tell the truth in spite of partisan considerations. This more influential public demands something more scientifically rigorous than simply one side's opinion vs. the other. To the extent that newspapers or television news publishes lies alongside truth to pretend painting a "balanced" picture, smart readers reject that sort of fake economic objectivity and turn to more scientifically objective sources for news.
Survey Methods
Results are based on telephone interviews conducted Sept. 6-9, 2012, with a random sample of 1,017 adults, aged 18 and older, living in all 50 U.S. states and the District of Columbia. For results based on the total sample of national adults, one can say with 95 percent confidence that the margin of error is plus or minus 4 percentage points.
© 2012, Glynn Wilson. All rights reserved.